Only nine questions in the mailbag this week, but they're nine good ones, and some of the answers are longer than usual. RABmailbag (at) gmail (dot) com is the place to send us questions and comments throughout the week.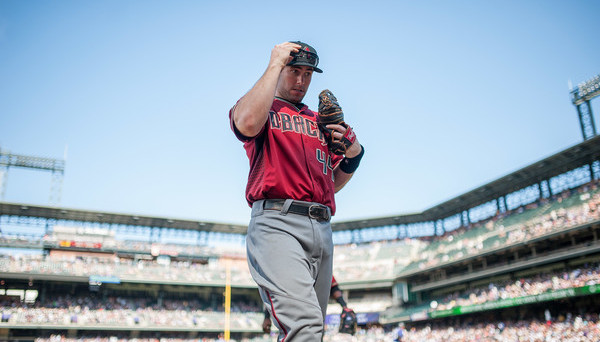 Nate asks: I'm hearing rumors that Goldschmidt could be traded. What kind of package would it take for the Yankees to land him?
They aren't really rumors, it's mostly just speculation. The Diamondbacks just hired Mike Hazen away from the Red Sox to be their new GM, and anytime a new GM is hired, the assumption seems to be he'll tear it all down and rebuild. With Arizona, you could argue that rebuild is necessary. I think they might be a little closer to contention than the consensus though. Who knows.
If the D'Backs do put Paul Goldschmidt on the market — and assuming Hazen doesn't trade him to Boston for a bunch of prospects he fell in love with while there — then yes, the Yankees should absolutely, 100% be in on him. Goldschmidt is a bonafide franchise player and MVP caliber performer. You open the farm system and make everyone available, even the Gleyber Torreses and Clint Fraziers.
The facts: Goldschmidt turned 29 in September and he hit .297/.411/.489 (134 wRC+) with 24 home runs and 32 steals in 37 attempts in 2016. That was his worst season since 2012. The guy hit .309/.412/.556 (158 wRC+) from 2013-15 and averaged 29 homers and 15 steals per season, and he's maybe the smartest hitter in MLB in terms of making adjustments and reading pitchers. Goldschmidt is also a top notch defensive first baseman and an all-around swell guy. Assuming his club options are picked up, he's owed only $34.475M from 2017-19. Peanuts.
I can't think of a comparable player who's been traded in recent years. Josh Donaldson? He was four years from free agency, not three, and the Athletics gave him away. Miguel Cabrera? He was two years from free agency and that was nearly a decade ago now. Hanley Ramirez? He was two and a half years from free agency when the Marlins sent him to the Dodgers, and the Marlins were sick of him. There's no good trade benchmark.
If I were the D'Backs, I couldn't trade Goldschmidt to the Yankees without getting Gary Sanchez in return. He's a must have. Sanchez, Torres, and Greg Bird is my starting point, then I want another piece or two. I'm thinking one of the MLB ready starters (Luis Cessa, Chad Green, Bryan Mitchell, etc.) and a lower profile prospect like Chance Adams. Sanchez, Bird, Torres, Adams, and say Cessa for Goldschmidt. Yay or nay? I think you could argue a) it's not unreasonable for the D'Backs to demand that, and b) it doesn't make sense for the Yankees to do that at this point in time.
Eugene asks: In the never gonna happen department, is someone like Andrew Cashner a candidate to become the next Miller-ian relief monster? He's a tall semi-failed starter named Andrew with facial hair.
No. The big difference between Andrew Miller and all these "throws hard as a starter but still kind sucks anyway" guys like Cashner and Nathan Eovaldi is his slider. Miller has that devastating slider to go with his big fastball. (It also helps being 6-foot-7 with those long arms and long extension.) Cashner and Eovaldi don't have that dominant secondary pitch. I do think those guys would be more effective in relief — almost everyone is more effective in relief — but not Miller-esque. Miller's a different animal.
Matt asks: I know this is nitpicky but it's been reported several places (including the BA Yankees top 10) that Cashman had the choice between Gleyber Torres and Eloy Jimenez. I know what the rankings say and that decision like this should be about talent and not position but I've definitely been left wondering if this was a mistake. With the glut of SS prospects the Yankees have and the lack of power in the MLB, was passing on a guy like Jimenez, who has the pedigree, athleticism, and power to be come a middle of the order bat in favor of Torres a mistake?
That's what was reported at the time of the trade. The Yankees had their pick of Torres and Jimenez, and opted for the shortstop over the corner outfielder even with their glut of shortstops. Why? Because shortstops tend to be the best athletes are most capable of moving to other positions. The Yankees have some quality corner outfield bats — to be fair, they hadn't yet acquired Frazier at the time of the Aroldis Chapman/Torres trade — but not as many as they do shortstops.
Jimenez, 19, hit .329/.369/.432 (169 wRC+) with 14 homers in 464 plate appearances in Low-A ball this year. He really jumped into the national spotlight at the Futures Game this summer.
For what it's worth,
Baseball America
ranked Torres and Jimenez as the 27th and 46th best prospects in baseball, respectively, in their midseason top 100, about three weeks before the trade deadline.
Keith Law
(subs. req'd) had Torres 26th and Jimenez 29th at midseason.
MLB.com
currently has Torres 17th and Jimenez 23rd. So they're close. These are two very highly regarded teenage prospects.
There's really no wrong answer here. The Yankees could have had the brute force corner outfield masher, or the more well-rounded shortstop. I would have gone with the shortstop as well. There are some plate discipline concerns with Jimenez, and he's already playing a non-premium position. Gleyber projects to be a pretty damn good hitter himself, and he does more on the bases and in the field. I'd be happy with either guy. All other things being equal though, give me the shortstop and the better athlete. (And the guy who is a level closer to MLB too.)
P.J. asks: Assuming Jason Hammel is healthy and considering he'll pitch most of 2017 at 34 years old is he worth it for the Yankees to make a serious run at this winter on a 2 or 3 year deal? Does he fit the bill as a #2 to slot in behind Tanaka and in front of Sabathia?
I was really surprised the Cubs declined Hammel's $12M option. They had to pay him a $2M buyout anyway, so it was essentially a $10M decision. In this market $10M buys you about 120 league average innings, maybe less. For what it's worth, Jesse Rogers says the Cubs let Hammel make the decision. He could either return to Chicago or test the market, so of course he picked free agency. Weird.
Anyway, I'm not sure I'd pencil Hammel in as a No. 2 starter, but I do think he'd be a solid addition to the rotation. He had a 3.83 ERA (4.48 FIP) in 30 starts and 166.2 innings this year, though his peripherals were pretty mediocre: 20.8% strikeouts, 7.7% walks, 42.1% grounders, and 1.35 HR/9. Hammel played in front of a historically great defense this season, something he probably won't get to do next year regardless where he signs.
MLBTR projects three years and $42M for Hammel and that sounds about right to me. He just turned 34 in September, and it's worth noting he ran out of gas the last two seasons. Hammel really limped to the finish, so much so that he wasn't even on the Cubs' postseason roster. I don't think he's a No. 2 at all, but I do think Hammel would be a nice add to the back of the rotation. He'd help, for sure.
Michael asks: Any interest in trading for Evan Longoria? His contract is not unreasonable and the Rays might be anxious to move him as they rebuild before his 10/5 rights kick in.
It would behoove the Rays to make him available, I think. Longoria just turned 31 and his best years are likely behind him. There's also six years and $99M left on his contract, and for a small payroll club like Tampa, that could turn into a real albatross whenever his game slips for good. Chances are Longoria's trade value is only going down from here, so this is their best chance to deal him and his remaining contract for a big prospect package.
As good as he is, I'm actually going to say pass on Longoria. I doubt the Rays would trade him to the Yankees anyway, but still. I'm totally cool with riding it out with Chase Headley for another two years, seeing what happens with Miguel Andujar, and leaving the door open for the Manny Machado (after 2018) and Nolan Arenado (after 2019) free agencies. Plus there's a chance Torres winds up at third base in deference to Didi Gregorius too.
Jesse asks: Given the high trade value of elite relievers, does it make any sense to sign more than one of the top bullpen arms, then trade one at the deadline again?
Sure, in theory, but I imagine those guys are going to want a no-trade clause as part of their free agent contracts. They're in position to demand it. Chapman was traded twice in the last year and Mark Melancon has been traded four times total. I doubt they want to go through that again. Kenley Jansen has never been traded, but he doesn't need to experience it to know it can be hectic. These guys will get no-trades, I'm sure.
Also, one thing to keep in mind is potential damage to the team's reputation. The Marlins have been signing players to big free agent contracts and trading them a year later for a while now. It doesn't look good. A few players have turned down more money from the Marlins to sign elsewhere because of that. C.J. Wilson is the most notable. We can say "sign this free agent and just trade him," but agents and other players around the league will notice, and you don't want to develop a reputation for being player unfriendly.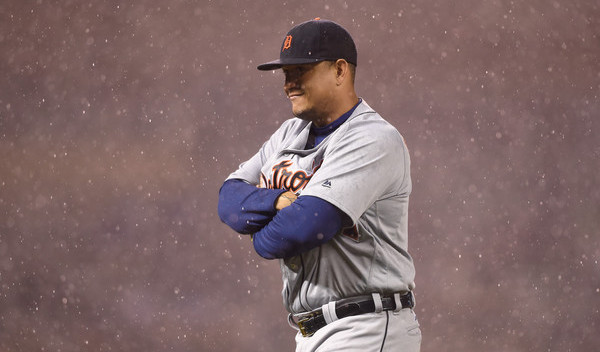 Julian asks: I know we all want Greg Bird to fit in and immediately succeed as the new full time first basement, but with the Tigers apparently putting Miggy (Miguel Cabrera) on the table – should the Yankees look to him as another option? He's expensive, but still only 33 and owed a ton of money for a long time but if the Tigers ate some (similar to Prince Fielder) would it be worth it?
Expensive is putting it mildly. There's $212M (!) left on Cabrera's contract through 2023. He turns 34 in April and is signed through age 40. Cabrera is still great! He hit .316/.393/.563 (152 wRC+) with 38 home runs this year and will go down as one of the ten best right-handed hitters in history when it's all said and done. Maybe even one of the top five. I don't want to undersell his greatness. Miggy is truly one of the best hitters baseball has ever seen.
Now, that said, this is the kind of contract the Yankees have been trying to get away from the last few years. Contracts with huge dollars committed to players over 30 whose best years are behind them. As good as Cabrera is, he's not the hitter he was three or four years ago, and chances are he's only going to get worse from here. Goldschmidt is in his prime and he's signed dirt cheap. Cabrera isn't. If the Yankees were a bonafide contender looking to get over the top, circumstances would be different. But they're not. They're a quasi-rebuilding team that needs more youth, not another albatross.
Chris asks: Any interest in Zimmermann with the Tigers? If so, what sort of haul would you expect it to take in terms of prospects?
Remember back in April when everyone was like "see I told you we should have signed Jordan Zimmermann, best contract of the offseason!" because he made three or four great starts? Good times. The guy finished the year with a 4.87 ERA (4.42 FIP) in 105.1 innings while visiting the disabled list a few times. The Tigers would probably love to unload this contract now.
The only way I'd trade for Zimmermann right now is in a bad contract-for-bad contract swap with Jacoby Ellsbury. There's four years and $92M left on Zimmermann's deal and four years and $89.5M left on Ellsbury's deal. The Yankees need a starter more than they need an outfielder. I don't see why the Tigers would want do that though. They're trying to get younger and shed payroll. Zimmermann-for-Ellsbury does neither.
There are too many red flags for me to consider giving up actual prospects for Zimmermann and his contract. His strikeout rate (14.7%) was by far a career worst this year, and both his walk (5.8%) and homer (1.22 HR/9) rates were his worst since his rookie year way back when. There's also this, via Brooks Baseball: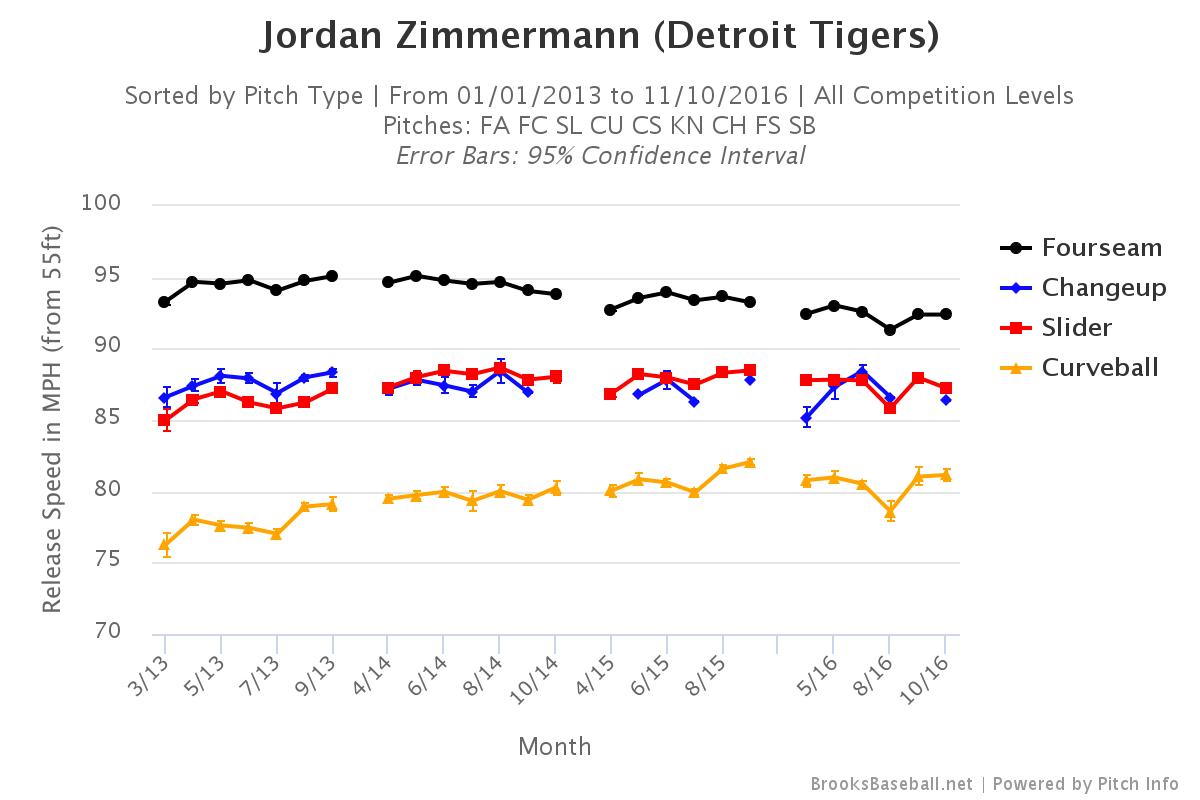 Hmmm. Ominous trend is ominous. Yeah, I'm going to say steer clear. I do think Zimmermann-for-Ellsbury would be worthwhile for the Yankees because it clears a logjam in the outfield and potentially addresses a need in the rotation. You've got to pay all that money anyway. You'd just be redistributing it to another part of the roster. But actual prospects with real value for Zimmermann? Nah. Not at this point of his career.
Steve asks: Classic hindsight question: given the SP "market", was holding Nova and making a qualified offer the better route?
No way. Ivan Nova was so very far from a qualifying offer candidate when the Yankees traded him. The only reason he and his agent are talking about a $75M deal (!) right now are those eleven good starts with the Pirates, more than half of which were against the rebuilding Reds, Brewers, and Phillies. Could you imagine dropping a one-year deal worth $17.2M in front of Nova earlier this season? Not a chance. Someone's going to pay big money to Nova assuming the Pirates version is the real him, and based on Ivan's track record, they're going to be disappointed.