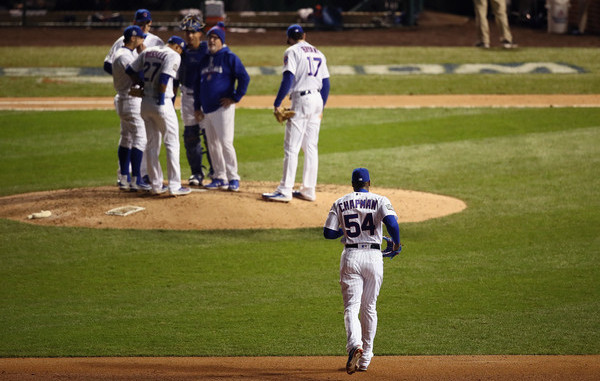 The 2016 Winter Meetings came and went last week with a fair amount of action around the league. It wasn't a crazy week like we often see, mostly because the current free agent class stinks. The Yankees handled maybe their biggest piece of offseason business by signing Aroldis Chapman to resume closing duties, and that's about it. I have some thoughts on the Winter Meetings and other stuff as well.
1. I remain unconvinced the Yankees would have shifted gears and focused on Kenley Jansen had they missed out on Chapman. I really think they want to keep their first round pick. Sure, there's always a point where Jansen's asking price drops low enough that giving up the pick is worthwhile, but it was never going to get to that point. The five-year, $80M deal he took from the Dodgers yesterday proves it. I think Plan A was Chapman, and Plan B was someone like Brad Ziegler or Greg Holland, not Jansen. At the moment, the Yankees hold the 17th overall pick in the 2017 draft, and it'll drop to 16th once Ian Desmond's deal with the Rockies is official. The 16th pick is not a premium pick at the top of the draft, but it's juuust high enough to get someone like Blake Rutherford, a talented top ten guy who slips for whatever reason. (Rutherford was the 18th overall pick.) With the youth movement in full swing, I think the Yankees want to keep that pick. It was Chapman or bust in the ninth inning.
2. A theory: It costs more to acquire a reliever at the trade deadline than it does in the offseason. I say that because it absolutely blows my mind the Royals got Jorge Soler and nothing else for one full season of Wade Davis while the Yankees got four players, including a tippy top prospect in Gleyber Torres, for a half-season of Chapman. The same team (Cubs) made both trades too. Did Davis' forearm injury drag his stock down that much? It's not like he finished the year hurt. He was healthy (and dominant) in September. Maybe the Royals are just really high on Soler. That has to be it. Anyway, the offseason is the time for optimism and patience. There is less urgency to get the piece that can put you over the top. At least it seems that way to me. But, at the trade deadline, when you're staring your roster in the face and that urgency exists, clubs appear to be more willing to pay big for that final piece. That could very well be what happened with Chapman. By any objective measure, a full season of Davis should cost more than a half-season of Chapman. Trades are not objective though. They're completely subjective based on the state of the team and the rest of the league.
3. In the realm of non-roster invitees, Ruben Tejada is a really nice pickup. The Yankees got him on a minor league deal yesterday. He had a .340 OBP in over 800 plate appearances with the Mets from 2014-15, plus he's a good defensive player, so Tejada's someone who can do a little of something on both sides of the ball. His 2016 season was littered with injuries — he also had his leg broken by Chase Utley's take-out slide in the 2015 NLDS, remember– and now that he'll have a healthy and normal offseason, he should be good to go come Spring Training. At a minimum, Tejada figures to compete with Ronald Torreyes for the backup infielder's job. Should the Yankees find a taker for Chase Headley in the coming weeks, Tejada could end up coming to camp with a chance to play third base everyday. I don't love that idea, but it is a possibility. Tejada is only 27 and he has some on-base/defense skills. Not a bad little minor league contract pickup.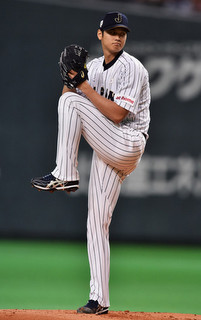 4. I'm really curious to see how Shohei Otani affects the 2017-18 international signing period. MLB insists they won't create an exemption for him, probably because they don't want to set any kind of precedent, which means he will count against the international hard cap and have his earning potential severely limited. Teams have been scouting Latin America and lining up deals for years now. That's not an exaggeration. Do those deals suddenly get put on hold because Otani may be posted? Or do teams follow through and forget about Otani? Teams are allowed to trade for an additional 75% of cap space, which means the maximum pool for the Yankees is $8.3125M. The problem? You can only trade cap space after the signing period opens July 2nd. It's not something the Yankees could do right now to get their ducks in a row. It's risky, man. Do you sign those Latin American kids in July and punt on Otani, or wait and hope to get Otani, knowing full well there's a chance you won't get him or any Latin American players? All the top kids will still sign in July. They're not going to wait to get paid. Intrigue!
5. You know that monster 2018-19 free agent class everyone is looking forward too? The Bryce Harper/Manny Machado class? The talent pool is already starting to thin out. Andrew McCutchen might not be an elite player anymore. Matt Harvey had surgery to treat Thoracic Outlet Syndrome, which is potentially very serious. Dallas Keuchel's performance slipped big time this summer. Heck, so did Harper's. And, as uncomfortable as this is to talk about from a baseball perspective, Jose Fernandez died tragically in September. Last offseason, when everyone started to put the pieces together and saw just how talent-laden that 2018-19 free agent class could be, we all know the talent pool would thin out. Guys would sign extensions, others would get hurt, others would see their performance slip. And it's happening already. I seriously doubt the Yankees or any other team is planning to pursue one specific free agent two years in advance, but I do think the Yankees are hoping to reset their luxury tax rate and have more payroll flexibility for that 2018-19 offseason in case they decide to spend big.
6. My first thought when the Yankees non-tendered and lost Jacob Lindgren was Al Aceves 2.0, but nah. Different situations. Aceves broke his clavicle in a bicycle incident during the 2010-11 offseason, and hey, accidents happen, but Aceves wasn't supposed to be on his bike in the first place because he was rehabbing the back injury that sidelined him almost all season. Also, Aceves was kinda crazy, so the Yankees dumped him. With Lindgren, the Yankees wanted to get him off the 40-man roster and re-sign him to a minor league deal, which they've done a few times before. Slade Heathcott, Domingo German, and Vicente Campos all went through the non-tender/re-sign move. The Braves jumped in and gave Lindgren in a sweetheart deal though — they gave him a $425,000 bonus upfront and will pay him a $600,000 salary while rehabbing from Tommy John surgery in 2017, so yeah — and there's no way he could have turned that down. Sucks. I still thinking Lindgren can be really good when healthy, like a bonafide high-leverage reliever who faces lefties and righties, but he's not healthy right now, and the Yankees don't have any spare 40-man space. My guess is he (and Luis Torrens?) will not be the first good prospect the Yankees lose for nothing over the next few months. The farm system is robust and there are only so many roster spots to go around.