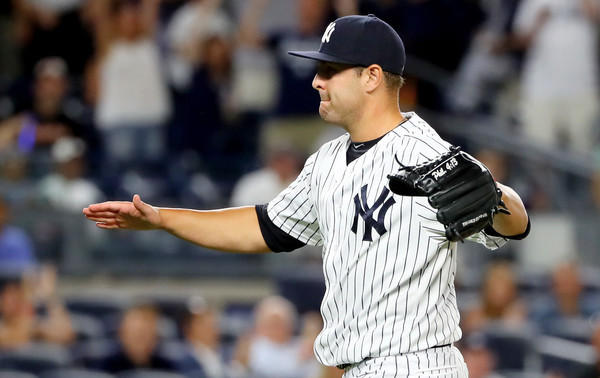 Tuesday: The Yankees have traded Goody to the Indians for cash or a player to be named later, the team announced earlier today. That almost certainly means cash. I can't remember the last time "cash or a player to be named later" was actually a player to be named later. Anyway, at least the Yankees got something for Goody rather than losing him for nothing on waivers.
Monday: Late last week, the Yankees finalized and officially announced the Aroldis Chapman signing. Jon Heyman says Chapman will receive an $11M signing bonus and a $15M salary each year of the five-year deal. That means he'll make $56M during the first three years of the contract, before the opt-out. It's still a $17.2M luxury tax hit.
"The Marlins were close to signing me," said Chapman in a conference call Friday. "But in the end my wish was to come back to the Yankees. I wanted to be part of a young team like the Yankees have now, and not go to the Marlins because we all know sometimes from time to time they change their team a lot."
To clear a 40-man roster spot for Chapman, the Yankees designated right-hander Nick Goody for assignment. The 25-year-old Goody pitched to a 4.67 ERA (5.11 FIP) with 24.0% strikeouts and 9.7% walks in 34.2 big league innings spread across multiple stints the last two seasons. New York selected him in the sixth round of the 2012 draft.
I've always liked Goody. His Triple-A numbers are ridiculous — he has a 1.64 ERA (2.37 FIP) with 35.5% strikeouts and 6.5% walks in 44 career Triple-A innings — and, more importantly, his slider is a bonafide big league out pitch with a 20.8% swing-and-miss rate. (The MLB average on sliders is 15.2%.)
At the same time, Goody doesn't get ground balls (career 27.3%) and is homer prone (1.82 HR/9), and he didn't get grounders in Triple-A either (30.8%). That might just be who he is given his low-90s fastball — Goody's fastest pitch in MLB is 95.0 mph — and if that's the case, it's hard to think Goody could ever be a high-leverage option.
So anyway, the Yankees now have seven days to trade, release, or waive Goody. It used to be ten days, but now it's seven thanks to the new Collective Bargaining Agreement. A healthy reliever with a good slider and a minor league option remaining might not slip through waivers, especially with bullpens such a focal point these days.