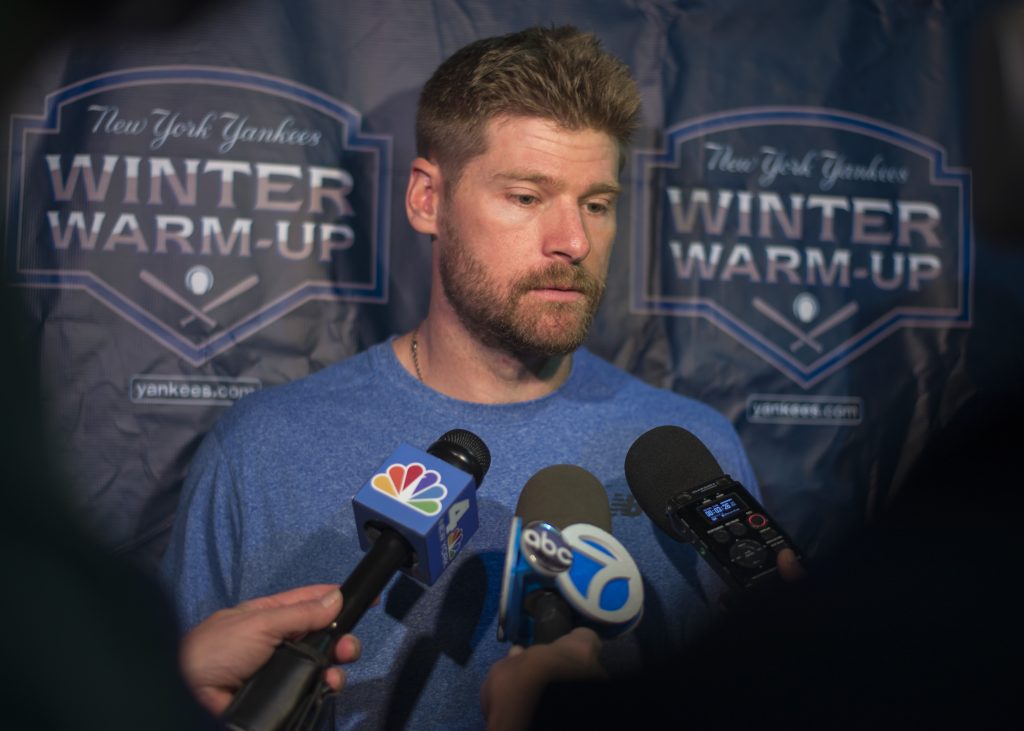 Chase Headley showed up to Yankee Stadium yesterday with a beard, as if he had been traded away to another team awhile ago. However, he still remains a member of the New York Yankees. He will shave his face clean before showing up to the Spring Training next month.
When it's all said and done, it's unlikely fans will remember Headley as a part of the great Yankee lore. As we know, he is an average hitter with solid glove and, well, that doesn't exactly sell a lot of jerseys. The club also owes him $26 million for the next two years.
Therefore, it wasn't a surprise when the Yankees looked to trade Headley during this offseason. At yesterday's press conference, Brian Cashman sounded off when asked about Headley's future with the organization.
"I can't predict that. I expect him to be here as a starter at the third base," Cashman said while adding he shopped Headley around this winter, but couldn't find a return that he liked. There weren't many replacement options at third available either.
Headley admitted he saw heard the trade rumors, though he didn't pay attention to them.
"I've dealt with that for a lot of my Major League career," he said. "I don't act like I'm angry about it … I understand that those are certainly business decisions that are made and me worrying about that isn't going to change one thing one way or another."
But still, to Cashman, Headley is a valuable commodity.
"Tell you what, in New York, when you struggle, everyone lets you know about it," said Cashman. "It's tough to pull yourself out of it, so he showed some serious mental confidence to continue to stay focused and (bounce back). He showed some toughness and I really respect that. I'm looking forward to a bigger year this year because I think he's even better for that kind of experience."
Two and half seasons into being a Yankee, the fans have an idea what to expect from their starting third baseman: a reliable glove and a decent-but-forgettable bat. In these past two seasons, Headley registered a 92 wRC+ each, which means he was a bit below average in runs created metrics. It's safe to say we are not getting the guy who led the NL in RBI in 2012 anytime soon.
Entering the third year of the four-year, $52 million contract, Headley seems determined to set the tone this coming season by diagnosing one of the things that went wrong with him last year: that brutal 9-for-60 start in April.
"Trying to get a couple hits in April would be great," he said. "There was a mechanical thing from the left side of the plate and once I got corrected, I started to swing a bat a little bit better … Hopefully I'll be a mechanically better."
The encouraging part of that statement is that Headley hit for a .265/.338/.418 line the rest of the season after April. Not the sexiest numbers, but they look better than the .252/.315/.405 line that the entire team averaged in 2016.
The discouraging part is that Headley is not getting any younger. The 2017 season will be his age 32 season, and we shouldn't expect some kind of renaissance with his bat. If anything, the fans can be realistically optimistic by hoping he avoids a slow start and puts up slash line similar to what he did after the dreadful April last season.
However, as long as he is the member of the 2017 Yankees, Headley has a bigger off-the-field aspect to look forward to: being a more vocal clubhouse leader amidst the Yankee youth movement.
"I am looking forward to getting know (the younger players) and, hopefully, offering them help that I can to help them to this level and to help (the Yankees) to be successful," Headley said. "I am excited about having the opportunity to have a little bit more leadership in the clubhouse … I'm excited to be able to be more vocal and speak my mind a little bit more."
I don't know if the Yankees will win a division title while Headley is under his current contract. This year is looking like a rebuilding year. The 2018 season could feature some exciting young talent on the ML roster, but I don't think the Yankees will really compete until 2019, when they will possibly have added one of big 2018-19 free agents (Bryce Harper, Manny Machado and Clayton Kershaw, if he ops out, just to name a few) and fuse them with the talented youngsters.
If the Yankees manage to find a young big league ready third baseman, Headley will probably not be the starter going forward. However, because there are games to be played and valuable youngsters to be taught, Headley is a perfectly fine team asset for now, and I think it is in the team's best interest to play him and hope for the best possible performance.