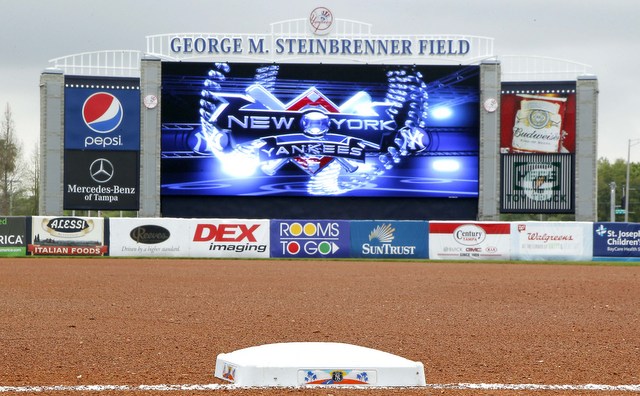 Four weeks from yesterday, pitchers and catchers will report to Tampa and the Yankees will open Spring Training. It's the best non-news day of the year. Nothing really happens that day, but hey, it's the start of Spring Training, and that's exciting. The offseason is boring. This one especially so.
At some point in these next three weeks and six days the Yankees will announce their Spring Training non-roster invitees. There are usually 20-something of them. The number varies year to year. The 20-something non-roster players plus the 40-man roster means 60-something players in big league camp. This is a World Baseball Classic year though, so the Yankees might bring a few extra bodies to camp to cover for the guys who leave to play for their country.
Non-roster players take on all shapes and sizes. Some are veteran journeymen trying to hang on. Others are top prospects. Heck, some are middling prospects. Very few of them actually have a chance to win an Opening Day roster spot. Most non-roster players are hoping to open eyes in camp and earn an early-season call-up whenever reinforcements are inevitably needed. That's what Preston Claiborne did a few years back. He pitched well in camp and made himself a name to remember.
This spring should be extra exciting because the Yankees have such a robust farm system, and so many of their top prospects are close to the big leagues. Spring Training is a great time of year for prospect watchers. The Yankees will surely bring a bunch of their top youngsters to camp, even if only for a few weeks, just to expose them to big league life. So, with all of that in mind, let's preview this year's crop of potential non-roster players. Let's call this … educated speculation.
Catchers
The Yankees, like every other team, invite a ton of non-roster catchers to Spring Training. Why? Well, who else is supposed to catch all those bullpen sessions? That's really all it is. Teams need lots of catchers in camp because there are lots of pitchers in camp, and someone has to behind the plate for those guys. Last year the Yankees brought six non-roster catchers to camp. The year before it was five.
New York is pretty devoid of catching prospects at the moment, now that Luis Torrens is (temporarily?) a member of the Padres. Gary Sanchez, Austin Romine, and Kyle Higashioka are all on the 40-man roster, so they'll be in camp. Donny Sands and Miguel Flames, the team's two best catching prospects, are rookie ball kids still transitioning behind the plate, so they won't be in big league Spring Training. Too soon. Their time will come. That means an unexciting crop of minor league signees and journeyman roster fillers behind the plate.
Mike's Prediction: Wilkin Castillo, Kellin Deglan, Francisco Diaz, Jorge Saez, plus one or two others yet to be signed. Diaz was in camp as a non-roster player last year and re-signed with the Yankees as a minor league free agent earlier this offseason. Castillo and Deglan signed as minor league free agents over the winter. Saez, 26, was a minor league Rule 5 Draft pick from the Blue Jays. The Yankees brought Santiago Nessy to camp last spring after picking him in the minor league phase of the Rule 5 Draft. I'm guessing Saez gets the same treatment.
Infielders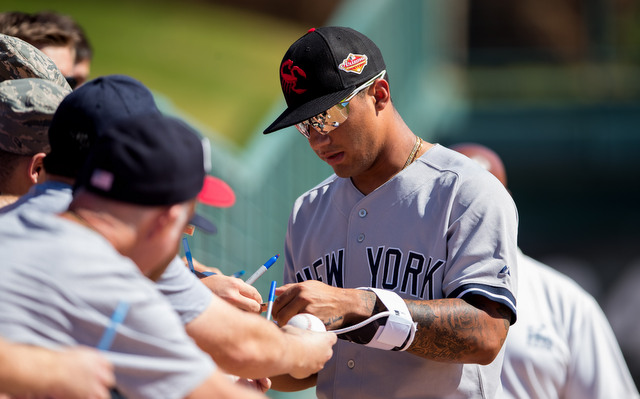 Alright, now we're talking. Gleyber Torres, the best prospect in the system and one of the best prospects in all of baseball, is a lock to be invited to big league camp, I believe. The Yankees have historically brought their tippy top prospects to camp — Jorge Mateo was there last year, remember — and Gleyber is the best they have to offer. Torres could hang around until mid-to-late March too, depending on how much playing time is available.
Among the other prospects, Tyler Wade is the other non-roster lock in my opinion. He's not a Torres-caliber prospect, but he's pretty darn good himself, and he's slated to open the 2017 season in Triple-A. The Yankees had Wade play some outfield in the Arizona Fall League last year, so they're starting to groom him for a big league utility job. Getting him in camp so he can work with the big league instructors is the next logical step.
The Yankees have a small army of infield prospects in the low minors, guys who are better served going to minor league camp. Wilkerman Garcia, Hoy Jun Park, Kyle Holder, and Thairo Estrada fit into this group. I thought maybe the Yankees would bring Mike Ford to camp as an extra first baseman, but the recent Ji-Man Choi signing takes care of that. Choi will "compete" with Greg Bird and Tyler Austin (and Rob Refsnyder?) for the first base job.
Mike's Prediction: Choi, Torres, Wade, Cito Culver, Donovan Solano, and Ruben Tejada. Solano and Tejada are big league veterans on minor league deals, so yeah, they'll be in camp. Culver gets the call because both Didi Gregorius and Starlin Castro could end up playing in the WBC, meaning the Yankees will need infielders. Cito re-signed with New York as a minor league free agent a few weeks ago, and it wouldn't surprise me if an invite to Spring Training was part of the deal. Keep in mind Mateo and Miguel Andujar are on the 40-man roster and will be in Spring Training automatically.
Outfielders
Remember last spring, when the Yankees had both Mateo and Aaron Judge in camp as non-roster players? That was so fun. They even hit home runs in the same game (against the Red Sox!). To the very necessary action footage:
Ah yes, that's the good stuff. Anyway, I bring this up because Torres and Clint Frazier and going to be this year's Mateo and Judge. The top prospect infielder-outfielder tandem we all tune in to see every Spring Training broadcast. Frazier is one of the Yankees' best prospects and he's already played in Triple-A, making a non-roster invitation to Spring Training is a no-brainer.
One top outfield prospect I don't expect to see in big league camp is Blake Rutherford. The Yankees bought James Kaprielian to camp last year and that was a rarity — Kaprielian was the first first round pick the Yankees brought to Spring Training as a non-roster player one year after the draft in at least a decade. Not even Ian Kennedy and Joba Chamberlain got non-roster invites in 2007. Rutherford is fresh out of high school. Big league camp isn't the appropriate place for him. Lame, but it is what it is.
Mike's Prediction: Frazier, Dustin Fowler, Mark Payton, and Jake Cave. I'm going to go against the grain and say Payton over the more heralded Billy McKinney. Payton is not a top prospect by any stretch, but he can do a little of everything and is a performer. He's going to carve out a career as a fourth outfielder, and I think the Yankees will want to get him in camp at least once before he becomes Rule 5 Draft eligible next winter. Cave is a Triple-A vet, hence the non-roster invite. Fowler is one of the team's top prospects and he'll be in Triple-A this year, so I expect to see him too. Mason Williams (and Judge) is already on the 40-man.
Right-handers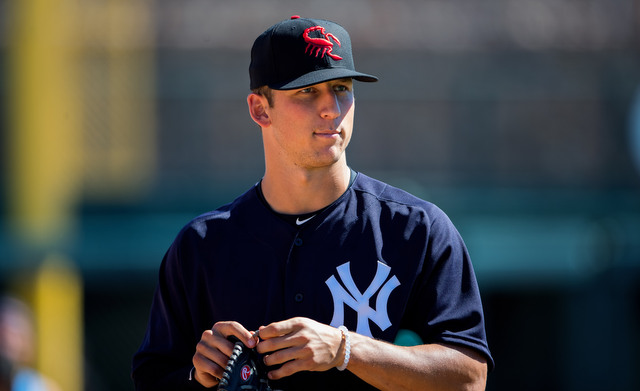 We're going to see some nice prospects arms in camp this year, me thinks. Kaprielian, Chance Adams, and Dillon Tate are the three big names. Kaprielian was in Spring Training last season, and since he was healthy enough to pitch in the Arizona Fall League, I don't think the Yankees will hesitate to bring him to camp this year. Adams broke out last year and is going to start the season in Triple-A. Prime non-roster fodder.
Tate is the interesting one and I don't think a non-roster invite is a lock, but I do think it's likely. He regained velocity after the trade last year and threw well in the AzFL. Tate is going back to starting this season and I think the Yankees will look to move him quickly. And you know what? I think the Yankees want to show him off too. Tate was the fourth overall pick in the draft two years ago and one of the big name prospects they acquired at the deadline last summer. They'll strut him out there and let him air it out for a few Grapefruit League innings because hey, why not?
Other big name prospects, like Domingo Acevedo and Albert Abreu, seem unlikely to get an invite to big league Spring Training this year. There are only so many innings to go around, and the Yankees will need them to a) decide the fourth and fifth starter race, and b) sort through a bunch of candidates for the remaining bullpen spots. This might be a year ahead of schedule for Acevedo and Abreu. I'm open to being wrong. We'll see.
Mike's Prediction: Adams, Kaprielian, Tate, J.P. Feyereisen, Branden Pinder, Nick Rumbelow, plus two or three others yet to be signed. At some point soon the Yankees will sign some pitchers to minor league deals for depth and Triple-A roster filler. The Anthony Swarzaks of the world we all love to hate. Feyereisen is a reliever with a chance to pitch in the show next year, hence the invite. Pinder and Rumbelow are still rehabbing from Tommy John surgery, so they won't actually pitch this spring, but they have big league service time and the non-roster invite is basically a courtesy. They'll get big league meal money and lodging. It's better than rehabbing in minor league camp.
Left-handers
As with the righties, I think we'll see some good left-handed pitching prospects in Spring Training, most notably Jordan Montgomery and Justus Sheffield. Montgomery pitched very well at Double-A and Triple-A last summer, and the odds are strongly in favor of him making his MLB debut at some point in 2017. Spring Training is a chance for Joe Girardi and Larry Rothschild to get their eyes on him. Giving Montgomery a non-roster invite makes all the sense in the world.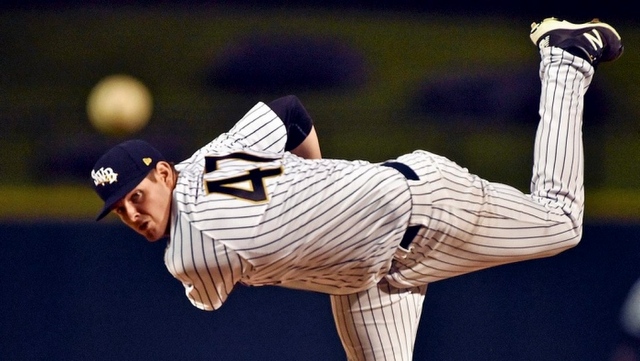 As for Sheffield, I do think he'll get the invite to big league camp even though the odds of him pitching in the show this year are extremely small. Sheffield is a top prospect who reached Double-A last year, and he's going to spend much of 2017 there as well, which could be enough to make him a non-roster candidate. And like Tate, I think the Yankees are going to want to show him off a bit. Sheffield could be one of those guys who makes one Grapefruit League appearance before being sent to minor league camp.
Mike's Prediction: Montgomery, Sheffield, Jason Gurka, Joe Mantiply, plus one yet to be signed. Gurka signed a minor league deal a few weeks ago and has big league time with the Rockies, so he'll get the non-roster invite. Mantiply is in a similar situation. Other southpaw prospects like Ian Clarkin, Nestor Cortes, Stephen Tarpley, and Josh Rogers will have to settle for minor league camp and a possible one-day call-up for a split squad game or something.
* * *
I'd be remiss if I didn't point out the chances of me being wrong (very wrong) here are quite high. This is all nothing more than guesswork based on the farm system and New York's recent non-roster tendencies. Okay, so after all of that, I came up with 30 possible non-roster invitees:
Catchers (6): Castillo, Deglan, Diaz, Saez, plus up to two others yet to be signed.
Infielders (6): Choi, Culver, Solano, Tejada, Torres, and Wade.
Outfielders (4): Cave, Fowler, Frazier, and Payton.
Pitchers (14): Adams, Feyereisen, Gurka, Kaprielian, Mantiply, Montgomery, Pinder, Rumbelow, Sheffield, Tate, plus as many as four yet to be signed.
Last year the Yankees brought 25 non-roster players to camp. The year before it was 26 and the year before that it was also 26, so my total of 30 is in ballpark when you consider each team will probably bring a few more players to camp to help cover for the WBC. If anything, 30 might be a little light since Pinder and Rumbelow won't actually pitch. (The Yankees brought 44 players to camp in 2013, the last WBC year, which was insane.)
The Yankees announced their non-roster invitees on February 5th each of the last two years. Three years ago it was January 29th. They tend to do it very late in the offseason, so we still have a few weeks to go before things are made official. Either way, this promises to be a very prospect filled Spring Training. Guys like Torres, Frazier, Kaprielian, Montgomery, Fowler, and Wade will all be in camp, plus all the 40-man guys like Mateo, Andujar, Judge, and Bird. Should be fun.