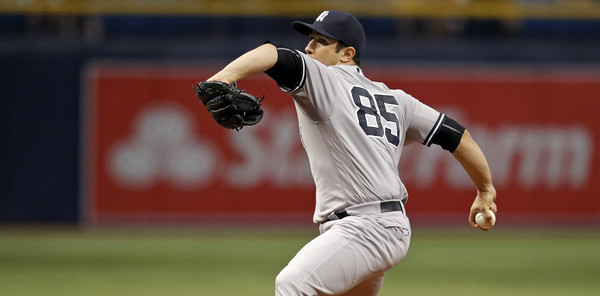 It feels like only a matter of time until a six-man rotation becomes the norm around baseball. Individual pitchers are generally throwing fewer and fewer innings with each passing season, and with a full-time 26th roster spot seemingly on the horizon, soon it'll be much easier to carry that extra starter. Right now it takes a little roster creativity to make a sixth starter work.
The Yankees, like many teams, have used a spot sixth starter at times the last few years. Someone gets called up, makes one start to give the rest of the rotation an extra day of rest, then gets sent back down the next day. We've seen Chase Whitley, Bryan Mitchell, and Chad Green used in this way the last three seasons. Mitchell, Green, Luis Cessa, and Luis Severino are candidates to do this in 2017. Jordan Montgomery and Chance Adams too, possibly.
Yesterday I wrote about the possibility of a tandem fifth starter system, which sounds great in theory, but probably wouldn't fly in reality. It could work for a team in a deep rebuild with nothing to play for — the Rockies tried a four-man rotation and with four sets of tandem starters in 2012, when they lost 98 games — but a team trying to contend like the Yankees? Nah. Seems like it would be tough to pull off.
Tandem starters might not be doable. But some sort of six-man rotation? That definitely seems possible. It doesn't have to be a full-time six-man rotation, remember. That would require playing with a six-man bullpen (nope) or a three-man bench (yup). Let's call it a modified six-man rotation, in which the Yankees use their young pitching depth as a series of sixth starters.
In a nutshell, you call one guy up for a spot start, send him down the next day, then six days later you call up another young starter to make the next spot start. The Yankees wouldn't be able to call up the same guy for both starts — players must remain in the minors ten days after being sent down, unless someone is placed on the disabled list — but they have the depth to swing it. Something like this:
Day One: Masahiro Tanaka
Day Two: CC Sabathia
Day Three: Michael Pineda
Day Four: Severino (or whoever wins the rotation spot)
Day Five: Cessa (or whoever wins the rotation spot)
Day Six: Mitchell as spot sixth starter
Day Seven: Tanaka
Day Eight: Sabathia
Day Nine: Pineda
Day Ten: Severino
Day Eleven: Cessa
Day Twelve: Green as the spot sixth starter (Mitchell can't be recalled yet due to the ten-day rule)
The exact names may change, but that's the idea. And this is doable because the young starters have minor league option years remaining. Mitchell has one left while Cessa, Severino, and Green each have two. Montgomery and Adams, who are also spot sixth starter candidates, have yet to be added to the 40-man roster, so they have all three options remaining. Dietrich Enns and Ronald Herrera were just added to the 40-man and have all three options too. Can't forget them.
Furthermore, the Yankees have optionable relievers, which is a necessity to make this spot sixth starter thing work. Guys like Johnny Barbato, Richard Bleier, Gio Gallegos, Ben Heller, Jonathan Holder, and Chasen Shreve can all be sent up and down without being exposed to waivers in 2017. Send a reliever down one day, call up the spot sixth starter the next, then send down the spot sixth starter and call up another reliever the day after that. See? Simple.
Keep in mind the Yankees don't have to do this all season. April is, as always, loaded with off-days. The Yankees have three off-days in the first ten days of the regular season. They have eight off-days in the first 43 days of the regular season. Basically one every five days. Yeah. It's not until mid-May, when they begin a stretch of 20 games in 20 days on May 16th, that the Yankees need to seriously consider using a spot sixth starter to give their regular rotation extra rest.
With any luck, the Yankees will be in position to consider using a spot sixth starter (or tandem starters!) all season. That will mean everyone will have stayed healthy and all the young starters won't be needed to plug big league rotation spots. We know that's very unlikely, which is why depth is important. Counting guys like Montgomery, Adams, Enns, and Herrera, the Yankees just might have enough arms to use spot sixth starters all year.
Remember, this is as much about the veterans as it is the kids. Tanaka and Sabathia would benefit from the extra rest now and then, as would the younger pitchers, especially since they'll all presumably be on some workload limit. Cessa led the kids with only 147.2 innings in 2016. It's not like these guys are all set to throw 190 innings in 2017, you know? Using a spot sixth starter, something the Yankees have done in the past and have the personnel to do this coming season, benefits everyone.