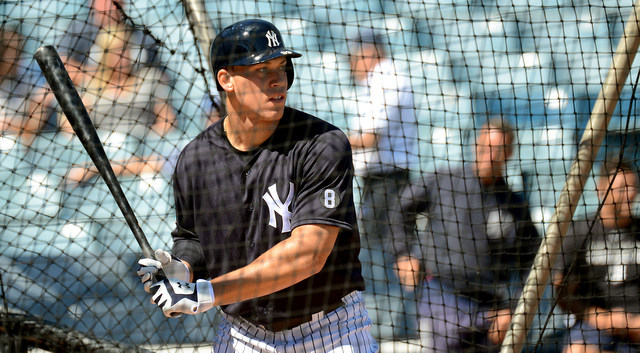 Last year Yankees fans got their first glimpse of Aaron Judge at the big league level, and it started out great with a home run off the top the Mohegan Sun Sports Bar in center field. Things went downhill after that. Judge struck out 42 times in his 95 big league plate appearances before an oblique strain ended his season in September. The occasional dinger was nice. The strikeouts were not.
Earlier this offseason, Brian Cashman confirmed Judge was working with hitting coach Alan Cockrell on some adjustments, particularly with his lower half. "Alan Cockrell was working with him on his lower half, and continuing the efforts and adjustments they started last year," said the GM. "The lower half is the final adjustment that they're working through — his front side and staying calm and trying to stay balanced — and so I think that'll help."
Judge has made a lot of changes with his lower half over the last two years, specifically with his leg kick. He had a relatively small leg kick two years ago, then came to camp with a much bigger leg kick last spring, after working with the organization's hitting coaches over the winter. Now Judge has no leg kick. Here's a clip of Judge in the batting cage last week, via Bryan Hoch:
.@TheJudge44 in the cage #Yankees #MLB #SpringTraining pic.twitter.com/iVXc4dsI9Q

— Bryan Hoch (@BryanHoch) February 10, 2017
It's only batting practice and we should be careful not to read too much into it, but there's no leg kick there. None at all. Considering he's been working on his lower half since at least last offseason, I don't think Judge is just messing around there. It's pretty safe to assume the lack of a leg kick is a result of whatever he and Cockrell (and others?) worked on earlier this offseason.
In theory, eliminating a leg kick increases contact and reduces power. Dumping the extra pre-swing movement makes it easier to get the bat on the ball. At the same time, the leg kick generates momentum. Fortunately, Judge is so damn big and strong he has power to spare. "I try not to think of myself as a power hitter. I try to be — honestly — a contact hitter. I feel like with my strength and size, it allows me to drive balls out of the park," said Judge to Dan Martin last week.
If nothing else, all these lower half changes — small leg kick in 2015, big leg kick in 2016, no leg kick in 2017 — tell us Judge is willing and able to make adjustments. He struggled in his first taste of Triple-A in 2015, added the bigger leg kick over the winter, then had success in Triple-A in 2016. Judge then struggled in his first taste of MLB last year, and now he's making another adjustment.
"I don't want to strike out. Nobody does. It's just something I've got to work at," said Judge to Martin last week. "I went out there and a lot of times didn't get the job done. You have to handle failure. I've got plenty of that. My first year at Fresno State, in freshman fall ball, I think I hit .190. It's frustrating. You deal with it and make the right adjustment."
I can understand why all the tinkering would make someone nervous about Judge going forward. He and the Yankees keep changing his swing mechanics — he also lowered his hands a bunch last year too — and at some point it might be too much. They risk breaking something that didn't need to be fixed, you know? I don't see it that way though. Judge has shown the ability to make adjustments in the past. He did it just last year to conquer Triple-A. This is a positive.
Now Judge is working to conquer big league pitching, and that's a never-ending battle. He came up last year, pitchers took his lunch money, and now he's working to fight back. Having the baseball aptitude and the willingness to made significant changes — what Judge has done with his leg kick the last two years qualifies as significant to me — is in no way a bad thing.
"Failure always gives you an opportunity to see something you need to improve on. It's a learning experience," added Judge while talking to Martin. "I got a chance in the Major Leagues. It was kind of like a practice test in school: You get a feel for it, so next year coming in I kind of know what to expect and prepare for."
Will the no leg kick approach work? Who knows. The right field job is there for the taking this year and long-term, and you know the Yankees want Judge to hold the job for the next six years. If he needs more time to adjust to MLB pitching the way he needed time to adjust to Triple-A pitching, so be it. Judge is trying though, and that's really all you could ask for.