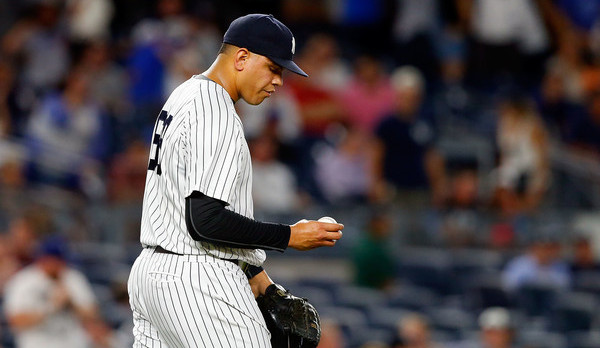 Last September, all the flaws of Dellin Betances were on full display. He struggled to throw strikes, possibly due to fatigue considering it was the second straight season his control vanished in the season's final month, and he was still unable to hold runners. Runners went 9-for-9 stealing bases against Betances in the second half.
Dellin, who has never been great at fielding his position, also made some errors. He threw away a ball that led to a run against the Dodgers (video) and also bobbled a bunt against the Blue Jays (video). Betances also made a critical error against the Astros on Opening Day (video), and there were other throwing issues that didn't go for errors, like this one:
This offseason, at the behest of pitching coach Larry Rothschild, Betances has worked on his fielding, specifically throwing according to
George King
. He's not the only pitcher to struggle throwing to the bases, lots of guys have a similar problem — they're so used to throwing off a mound that throwing off flat ground feels weird — but Dellin's throws were far from textbook. He'd shot put the ball, not throw it with conviction.
"We pretty much worked on (pitchers' fielding practice)," said Betances to King over the weekend. "It was mutual. He wanted a couple of days and it helped me. I feel good right now. He gave me drills to do while I am in the (Dominican Republic). I will continue to work on it in Spring Training … Right now I am throwing the ball. Before I was lobbing it over. I am in good position with my feet and making the throw."
Obvious statement is obvious: players working to correct their flaws is a wonderful thing. Fielding is something a pitcher can work on at any time too. He can't get up on a mound and throw, say, 50 changeups a day in the dead of winter, for example. He can go out on the field, scoop some grounders, and make throws to first though. I'm glad to hear Betances is working on this. Some quick thoughts:
1. Betances won't be with the Yankees for part of Spring Training. The Dominican Republic plays their first World Baseball Classic game on March 9th, 22 days after the pitchers and catchers report to Tampa, though I'm not sure when Betances is leaving camp to join his WBC squad. In previous years the WBC teams got together a few days before their first game to work out and play a tune-up exhibition game. (The Yankees are playing Canada on March 8th this year.)
The WBC will cut into Betances' time with the Yankees this spring no matter when he leaves camp. The WBC Championship Game is March 22nd at Dodger Stadium and the Dominican Republic team, which won the 2013 WBC, is very much a contender. Dellin could miss up to three weeks of Spring Training, which cuts into his time to work with Rothschild and the rest of the staff on his fielding. It's not ideal, but what can you do? The Yankees can't force Betances to stay, and while fans may be apathetic about the WBC, players are eager to represent their countries.
2. The throwing issues are real, but perhaps a bit overblown. There is no doubt Betances has had issues throwing to the bases. The impact of his poor fielding is generally overblown, however. Dellin faced 299 batters last season and he fielded the baseball 13 times. That's all. The year before? Thirteen times. The year before that? Fourteen times. So in his three full seasons as a big leaguer, Betances has faced 972 batters and had to field the ball only 40 times.
Furthermore, 15 of those 40 fielding chances were Dellin covering first base, not making a throw. He's made four throwing errors (five errors total) in the 25 times he's had a baseball hit his way in the last three years. There's been a ball hit his way roughly once every ten innings. That's it. But Mike, what about bunts!? Fine point, RAB reader, but trying to bunt a dude throwing in the high-90s with a breaking ball that is literally the hardest pitch to hit in the PitchFX era ain't easy.
Over the last three seasons ten batters have successfully laid down a bunt against Betances. And buy successfully I mean simply bunt the ball in play, not necessarily beat it out. Only three got a bunt down last year, and two were thrown out. More bunt attempts have resulted in foul balls (seven) than baserunners (four) against Betances the last three seasons. This isn't a video game where you just push a button and bunt. A 6-foot-8 dude throwing 100 mph without much control is scary as hell. You try squaring around against him.
3. What about holding runners? To me, holding runners is a far bigger issue than throwing to the bases. Runners went 21-for-21 stealing bases against Betances last year, including 6-for-6 when Gary Sanchez's rocket arm was behind the plate. They're 50-for-57 over the last three seasons. Runners have attempted a stolen base in 15.9% of their opportunities against Betances since 2014. It was 17.7% in 2016. The league average is 5.5%.
Because he's a high-leverage reliever, Betances pitches most often in the late innings of close games, when that extra 90-feet can be really valuable. He does have a slide step and he does vary his times to the plate, but obviously that's not enough. No one is asking Dellin to develop an Andy Pettitte (or Nathan Eovaldi!) pickoff move. But he has to at least put something in the back of the runner's mind. Something to keep them on their toes.
Hopefully all this fielding work will make Betances more comfortable throwing to the bases, and also make him more comfortable making a pickoff throw over the first. Again, he doesn't need to actually pick guys off. He just has to keep them closer to the bag and reduce their chances of stealing the base. Dellin fields the ball so infrequently that his throwing issues don't worry me much. The stolen bases are a far bigger concern.