I've got 14 questions for you this week, in the penultimate mailbag before pitchers and catchers report to Spring Training. Feels good. RABmailbag (at) gmail (dot) com is where you can send us your questions, comments, links, guest post proposals, whatever.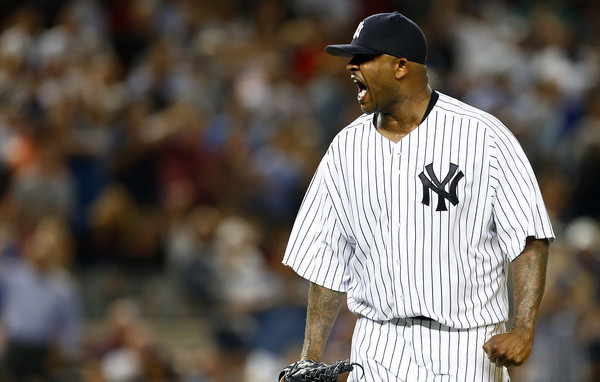 Ben asks: Is CC Sabathia a Hall of Famer and does he go in as a Yankee?
Right now, no on the Hall of Fame. Sabathia was on a Hall of Fame track earlier in his career, but those dreadful 2013-15 seasons really threw a wrench into things. Sabathia is sitting on 223 wins and getting over 250 feels like a must — heck, Mike Mussina can't get in and he has 270 wins, how long until someone does that again? — and he probably can't afford to let his career ERA climb any more. It was 3.50 (125 ERA+) prior to 2013. Now it's 3.70 (117 ERA+). Also, Jay Jaffe's JAWS system says Sabathia is well below the established Hall of Fame standards for starting pitchers.
Now, should Sabathia actually get into the Hall of Fame at some point, it's possible he could go in as a Yankee. He did come up with the Indians and win his Cy Young with Cleveland, but he has more top five Cy Young finishes with New York (three to two) and the same number of All-Star Games with each team (three). And Sabathia also won his World Series with the Yankees. Here are the side-by-side stats:
| | GS | W-L | IP | ERA | ERA+ | FIP | bWAR | fWAR |
| --- | --- | --- | --- | --- | --- | --- | --- | --- |
| Indians | 237 | 106-71 | 1,528.2 | 3.83 | 115 | 3.72 | 27.5 | 30.2 |
| Yankees | 228 | 106-68 | 1,509 | 3.75 | 114 | 3.72 | 25.6 | 28.6 |
Holy cow that's close! Barring injury, Sabathia will have made more starts and thrown more innings with the Yankees than the Indians by the end of the upcoming season. He could have more bWAR and fWAR too. Crazy.
Sabathia has said he wants to keep pitching as long as he's healthy. If he spends a few more years with the Yankees, preferably on perpetual one-year contracts a la late career Andy Pettitte, he could very well wind up with the interlocking NY on his Hall of Fame bust. I never would have guessed it. Then again, Sabathia has to get into the Hall of Fame first, and right now it appears his case is borderline at the absolute best.
Several asked: Is Jordan Montgomery comparable to Andy Pettitte?
A few people asked this after the Montgomery prospect profile went up earlier this week. Montgomery and Pettitte are similar in that they're tall fastball/cutter/changeup/curveball left-handers, and that's really about it. I get why Yankees fans are eager to see the next Pettitte, but he's a borderline Hall of Famer, and it's not fair to Montgomery to compare him to Andy. Let Jordan Montgomery be Jordan Montgomery.
The differences between the two are the quality of their cutter and curveball, and their overall command. Pettitte was a master at busting righties in on the hands with the cutter, a pitch Montgomery only learned two summers ago. Pettitte also had a true out-pitch curveball, and better command across the board. Montgomery has a chance to be a rock solid big league starter for a long time! Pettitte was a borderline ace for a while and an above-average starter for close to two decades though. It's hard to compare any prospect to him.
Jaremy asks: Since Ellsbury broke the record for catcher's interference last year – if it was factored into batting statistics (I believe it isn't a factor for OBP), would it be enough to make Ellsbury a league average hitter?
It's not factored into batting stats at all. A catcher's interference goes into the books as an error on the catcher and the hitter is not charged with an at-bat, so, if anything, it helps the hitter's AVG and SLG by removing an at-bat. Jacoby Ellsbury hit .263/.330/.374 last season. If we count his 12 catcher's interferences as a time on base equal to a walk or hit-by-pitch, his batting line jumps to .263/.340/.374. Ten extra points of OBP. Ellsbury's OPS+ goes from 88 to 94 — calculating wRC+ is way too complicated, so we'll stick with OPS+ — so no, they wouldn't have been enough to make him a league average hitter.
Andrew asks: Are you surprised that Travis Wood hasn't latched on anywhere yet? We know he'd be a pretty good fit with us, but do you think there's any chance he winds up here?
Based on my experience following baseball far too closely for far too long, when a potentially useful player is unsigned this late into the offseason, there's usually a reason. Maybe Wood's medicals don't check out or teams are unwilling to bet on him repeating his success against lefties from a year ago. Or maybe he just wants a ton of money. Wood is not attached to draft pick compensation, so that's not an issue. If the Yankees could scoop him up as a potential swingman, say on a one-year deal worth $3M or so, it would probably be worthwhile. Would any other club top that offer and/or give Wood a clearer path to the rotation? So far the answer seems to be no.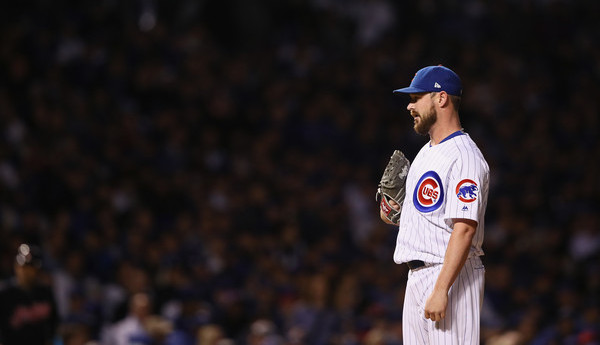 Jonathan asks: As a fan its frustrating to watch the Yankees try to "contend" when everyone knows they have no chance of getting anywhere past the wild card. If you were the GM would you have traded Tanaka and Dellin last year, essentially punting until 2018? They could really use a couple of top 25/50 pitching prospects. The system may be loaded but no one projects as higher then a 2 starter even in the best case scenario, and those are ridiculously expensive (and risky) in free agency.
Who's to say they have no chance of getting past the wildcard? You mean to tell me the Yankees, with Dellin Betances and Aroldis Chapman backing up Masahiro Tanaka, don't have a chance to win a wildcard game? Come on now. Get to the postseason and you have a chance to win the World Series. ( I have no idea why people continue to say the wildcard isn't really the postseason. It's so silly. The players get postseason shares and everything.)
As for the question, I've said repeatedly I'd be open to trading anyone on the roster, including Tanaka and Betances. In fact, if they're not going to sign Tanaka to an extension soon, trading him is probably the smart move. I also appreciate the team's attempts to remain competitive rather than tank. Everyone loves the idea of a tear down because you can dream on the future, but that's all you have, dreams about the future. The current club in that scenario is a disaster and no fun to watch. You could argue the Yankees should have torn things down after, say, 2013. And if they had, maybe they'd have a farm system as good as the one they have right now? Yeah, no complaints here.
Dan asks: Assuming expansion, what are the chances MLB moves to an East/West conference format like NBA, NHL & MLS? You could keep the existing divisions intact, just reorganize each league geographically. (e.g., NL East joins the American League and AL West to National League.) Plus, going back to only playing teams in your league should mean less jet lag, fewer 10pm starts and meaningful interleague play. And, just maybe, we finally get DH in both leagues!
I can't see it. The National League and American League are too ingrained in the sport to change now. And besides, how much will switching to an East-West format help anyway? Teams only play two series a year against clubs in the other two divisions in their league these days, so it wouldn't reduce travel that much. The AL-NL format has been in existence for over a century now and it's one of those things that defines baseball. Old school fans are freaking out about the possibility of adding the DH to the NL even though it would, unquestionably, increase scoring and add more excitement. Imagine how much of an uproar there would be if the league tried to eliminate the AL and NL to go with an East-West format? Gosh.
Andrew asks: If we define a successful major league starting pitcher as someone who is league average of better for at least four years, do you think Jordan Montgomery or Chance Adams is more likely to succeed?
This is an interesting question. Adams is the better prospect in my opinion, but I'd go with Montgomery as being more likely to put together four league average or better big league seasons. He's a safer bet to remain in the rotation long-term. Adams, on the hand, has the higher ceiling, though it also comes with a little more risk because he's on the short side and his fastball is pretty straight. He could end up fly ball and home run prone in the big leagues. I'm more confident in Montgomery remaining a starter, even if he has a lower ceiling than Adams.
Ryan asks: Yankees get 90 home runs and 9.5 WAR from Sanchez, Judge and Bird (ZiPS has them at 7 WAR) And 25+ starts from four of their starters, how many games do they win and do they make the playoffs?
I suppose that depends on the quality of those 25+ starts from each guy, right? If Tanaka is Tanaka, Sabathia and Michael Pineda repeat what they did last year, and one of the kids gives the team 25 average or better starts, I could see the Yankees winning 89 or so games, which would put them right on the postseason bubble. Maybe I'm underselling the Yankees in this case since they always seem to be a few wins better than everyone projects. Either way, the club's ability to contend this year will depend heavily on the kids. If they can limit the growing pains, the Yankees have a real chance to contend.
Sam asks: Have you heard about the new type of TJ surgery some injured pitchers qualify for, that cuts recovery time down dramatically? Early evidence shows it might even have a better percentage of full recovery outcomes. Seth Maness is looking to be the first MLB pitcher to have had the surgery & return to the big leagues. You should research this if you haven't heard about it. It's definitely worth a post on RAB.
Yeah, I've heard about it. Not every player is a candidate for the new procedure. It only works with a tear near the bone, not in the middle of the ligament. Derrick Goold has some details:
The "UCL repair with internal brace construction" – its full clunky name – begins with repairing the ligament and anchoring to the bone. A bracing system is then constructed out of tape to help promote healing in the area. That's the recent advancement, one made possible by Arthrex tape. Paletta said he and others are borrowing from procedures used to repair ankles and knees to address an injury in the elbow. The clear benefit of this "primary repair" is that it addresses the native ligament, and thus doesn't require a graft and the time that takes for a rebuilt ligament to assimilate.
Dr. George Paletta, who performed the surgery on Maness, told Goold he's performed roughly 150 of these surgeries, and so far it has a 100% success rate. Thirty-two of those pitchers have pitched two full seasons since their surgery. These days of a 12-month rehab for Tommy John surgery are basically over. It's a 14-16 month rehab now. Teams are being extra cautious. This new procedure can get players in game action in about seven months, according to Paletta.
I don't know whether anyone with the Yankees has had this procedure or is a candidate for it — Tanaka has a partial tear, but we don't know where that tear is in the ligament, exactly — but the important thing is that this seems to be a legitimate alternative to Tommy John surgery, assuming the conditions are right. That's exciting. The more we can keep the best arms on the field, the better.
David asks: After looking over your preseason top prospects from 2016 I started looking for information on Austin DeCarr and Jeff Degano but found very little. Can you tell what's happened to them?
DeCarr, 21, returned from his Tommy John surgery last June, and pitched to a 4.12 ERA (4.14 FIP) with 17.4% strikeouts and 9.6% walks in 39.1 innings with Short Season Staten Island. I'm not sure where he'll begin 2017. It could be back in Extended Spring Training, or maybe the Yankees think he's ready for full season ball and send him to Low-A Charleston. We'll find out in April. The important thing is he's healthy.
Degano, on the other hand, is a mess. He has the yips. It was odd when the 24-year-old wasn't assigned to a full season team to begin 2016, then, when he showed up to Rookie Pulaski in June and walked 25 batters (with ten wild pitches) in only 5.2 innings, it made sense. He faced 47 batters with Pulaski, so that's a 53.2% walk rate. Yikes. He's broken. The yips are a tough thing to overcome and I have no idea where Degano is right now in trying to get back to normal. Hopefully he can right the ship. He has a promising arm.
Ryan asks: Mike, were you surprised by the lack of veteran or reclamation project SPs/ RPs on the non-roster invites to Spring Training? I thought a few minor league deals would have been dealt out. Only real surprise was that Pete Kozma is back.
Yes and no. When I put together my little non-roster preview, I had the Yankees signing as many as four extra pitchers. Then, once I laid out the Triple-A Scranton roster situation, I saw the Yankees have basically no room for guys like that. They're going to have to send Triple-A caliber arms to Double-A to start the season because there's simply no room for them in Scranton. These things have a way of working themselves out, of course, but the Yankees are pretty deep on the mound. I'm so used to teams scooping up depth arms that I never bothered to notice the Yankees don't really need them.
Also, keep in mind free agency is a two-way street. Free agent pitchers and their agents are surely looking at New York's depth chart and wondering where the heck they would fit in. You could guarantee, say, Travis Wood a big league spot as a swingman. What about guy looking to hang on who is willing to start in Triple-A in exchange for a potential call-up down the road, like Anthony Swarzak last year? That guy may look at the club's pitching depth and say forget it, I'll have a better shot elsewhere. The Yankees have sneaky good pitching depth right now, so good they don't really need a veteran reclamation project guy.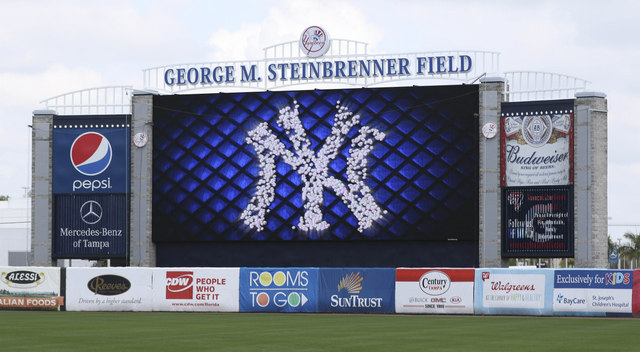 Daniel asks: How does payroll work for Spring Training? Is it a huge deal for the NRI guys, financially speaking?
Players don't get paid in Spring Training. Or in the offseason or postseason, for that matter. They get paid during the regular season only. (I remember Sabathia had it put into his contract that he gets paid year-round, but I can't remember hearing anyone else doing that.) Teams have to provide players a place to stay and meals during Spring Training, and I'm pretty sure transportation to and from the park too.
For most big leaguers, that's no big deal. They pass on the housing the team provides and rent their own condo for the spring, drive their own cars to the park, whatever. For rookies, that stuff is a little more important. Much like the regular season, big league camp accommodations are way better than minor league camp accommodations. Players don't get paid, so they're not getting a higher salary as a non-roster player, but they get a nicer place to live and better meals/more meal money.
Yogi asks: We're starting to hear about the results of arbitration hearings, but I can't seem to find the date for Dellin's hearing. Has a date been set? Any chance the hearing doesn't happen until after pitchers report? I would think both parties would want to get it finished and get to work.
I haven't seen anything. I'm sure it's been set though. We just don't know about it. The way these things usually work is one day we hear the player and the team had their hearing that day, and the next day the panel's decision is announced. That's what happened with Fernando Abad. On Monday it was reported Abad and the Red Sox had their hearing that day, then Tuesday morning the ruling was announced. (The Red Sox beat Abad and will pay him $2M instead of $2.7M.) The hearings have started, so I assume Betances' is any day now. Chances are we'll hear they had their hearing that day at some point, with the decision coming the following morning.
Rich asks: So if Yanks repeat last year's results leading up to the deadline, besides the obvious guys (Clippard, CC, etc.), wouldn't moving Pineda make the most sense?  And if so, what type of prospect package could he yield?  Has to be more than Nova did, right?  Also, any rumblings on an Eovaldi reunion on a multi-year incentive deal like they've done in the past?
I answered a similar question last week and completely forgot about Pineda. Yes, trading Pineda at the deadline would be a smart move if the Yankees are out of it. He's an impending free agent and it's hard to think he'll be a qualifying offer candidate. Remember, thanks to the new Collective Bargaining Agreement, the most the Yankees could get for any qualified free agent next winter is a pick after the fourth round. Not nearly enough of a reward to be worth the risk.
Pineda's value at the trade deadline is going to depend entirely on how he actually pitches. If he repeats what he did last year, could he get any more than what the Yankees acquired for Ivan Nova? The best case scenario would be the Andrew Cashner trade. He was an enigmatic impending free agent like Pineda last summer, when the Marlins traded arguably their best prospect (Josh Naylor) to get him. Then again, Miami has a history of paying big in trades. Hey, maybe that works for the Yankees. The Marlins were said to have interest in Pineda last trade deadline, and they could have interest again this year. Either way, yes, trading Pineda would be a no-brainer if the Yankees are out of it.