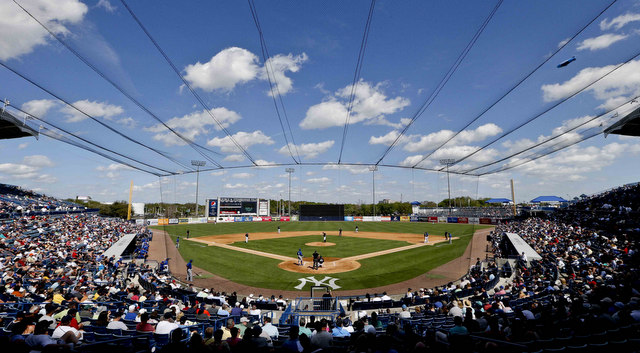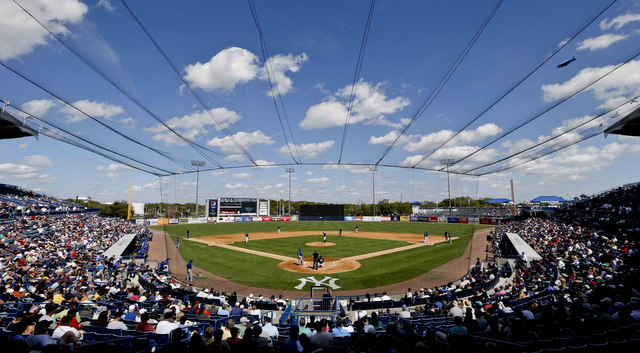 This is the penultimate weekend without baseball games until November. Pretty great, isn't it? The Yankees will play their first Grapefruit League game two weeks from yesterday. Thank goodness. Anyway, here's some news and notes to check out this weekend.
Yankees, Betances set for arbitration hearing Friday
According to George King, the Yankees and Dellin Betances are scheduled to have their arbitration hearing this coming Friday, February 17th, in St. Petersburg. "Nothing has changed, we haven't talked. We have no intention of talking. It's not close. Somebody else will make the decision," said Brian Cashman. Betances is seeking $5M while the Yankees countered with $3M, which, as far as I can tell, would still be a record salary for a first year arbitration-eligible setup man.
Since the arbitration hearing is Friday, chances are the three-person panel will announce their ruling Saturday morning. That's usually how it goes. The hearing is one day and the ruling is announced the next. Maybe they'll wait until Monday because it's the next business day. Eh, whatever. Each side will state their case at the hearing and the panel will pick either the $5M or $3M for Dellin's salary in 2017. Nothing in-between. My guess is the Yankees win. (There have been six arbitration hearings around the league so far and each side has won three, for what it's worth.)
Tanaka not thinking about opt-out
Earlier this week, Masahiro Tanaka told Dan Martin he hasn't put much thought into whether he will use his opt-out clause after the season. "Obviously, I'm aware of what my contract says, but it's something I put aside going into the season," he said. "You can't really be thinking about that while you go through the season. I'm really focused on this season. When the time comes after the season, then I'll probably have a chance to think about that more."
Back in 2012, we heard CC Sabathia say pretty much the exact same thing when his opt-out was looming. It's the best possible answer, right? "I'm only focused on trying to win, not my contract." That's what everyone wants to hear. These guys are human beings though. Of course Tanaka is aware a big season would mean a shot at a(nother) monster contract. We've been through this before with Sabathia. The opt-out is going to be a thing all year.
MLB considering new extra innings rules
According to Jeff Passan, MLB will test new and impossibly stupid extra innings rules in rookie ball this season, assuming Joe Torre, the league's chief baseball officer, signs off. Under the new rule, a runner would be placed at second base at the start of every inning after the ninth. The goal is, obviously, to cut down on extra innings and eliminate games that last long into the night.
"Let's see what it looks like," said Torre. "It's not fun to watch when you go through your whole pitching staff and wind up bringing a utility infielder in to pitch. As much as it's nice to talk about being at an 18-inning game, it takes time. It's baseball. I'm just trying to get back to that, where this is the game that people come to watch. It doesn't mean you're going to score. You're just trying to play baseball."
One, position players pitching is fun! Two, it doesn't happen all that often anyway. And three, they have this rule in many amateur leagues and international tournaments. Every inning plays out the same: they start with a runner at second, the first batter bunts him to third, and the second batter is intentionally walked to set up the double play. Every single time. It's terrible and horrible and I hope this rule change never ever ever comes to MLB.
Now, that said, I could understand implementing this in the minors as a way to avoid overusing pitchers. Maybe make them play 12 innings, allowing each team to go through the lineup one more time, then put a runner at second? This should never come to MLB though. Forget that. I like that commissioner Rob Manfred is open to new ideas. That's great. This one though? Bad. No thanks.
MLB proposed changes to intentional walks, strike zone
In addition to the stupid extra innings rule, MLB has formally proposed changes to intentional walks and the strike zone, reports Jayson Stark. The ball is now in the MLBPA's court. Neither side can implement a rule change unilaterally. Both MLB and the MLBPA have to sign off. For what it's worth, Passan hears there's no chance the players will approve any changes to the strike zone.
MLB proposed raising the bottom of the zone approximately two inches, which would undoubtedly increase offense. Jon Roegele's research has shown the strike zone has increased downward in recent years. So not only are more low pitches being called strikes, but now hitters have to protect against them too, and pitches down below the knees are hard to hit with authority. Raising the zone would mean more hitter's counts and more pitches in hittable locations.
The intentional walk rule change is simple: rather than making the pitcher throw four pitches, they issue a signal and the runner is sent to first automatically. I hate it. Intentional walks are a competitive play. Make the pitcher and catcher complete it. Pitchers are prone to losing the zone after intentional walks, plus we see a handful of wild pitches each year. Gary Sanchez did this last year:
There were 932 intentional walks in 2,428 games last season. It works out to one every 46.1 innings or so. I get MLB is looking to improve the pace of play, but this won't help much. Intentional walks are too infrequent to make a meaningful change to the time of game. Want to improve pace of play? Cut down on mound visits. The catcher gets one per inning, per pitcher. That's my proposed solution.