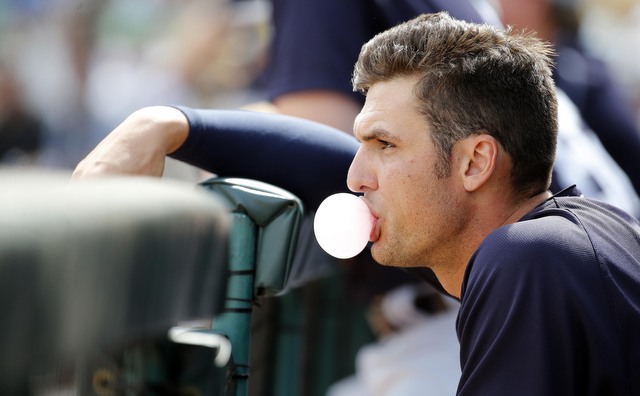 Okay, who's about ready for Spring Training to end and the season to start? Nevermind the fact that this area is, apparently, about to get hammered with snow; it's pretty much baseball season, dammit! At this point, all we can do is hope everyone gets through March healthy and heads into April charged up and ready to go. Additionally, all the principals of the Yankees seem to be performing well and, hair and arbitration cases aside (ugh), there isn't much drama surrounding the roster formation; all we're really waiting on is the fifth starter competition. In terms of the lineup, we know who's going to be there, just not how it's going to shake out.
I've touched on this a few times in the last month–there really hasn't been much to discuss, huh?–but I wanted to revisit something I briefly mentioned in my post about Chris Carter:
If the Yanks really want to hammer lefties and eschew defense a bit in the process, they can. They can accomplish this dual 'goal' by being aggressive with their platooning in the outfield. Aaron Hicks can play center in place of Jacoby Ellsbury. Matt Holliday can "play" left field in place of Brett Gardner. The latter move would free up a spot for Carter to DH, giving the Yankees an all-right handed lineup against lefties, save for Didi Gregorius at short.
Joe Girardi does like to play matchups, though I'm not sure he likes it so much as to do what I suggested there. Still, it's fun to draw up lineup scenarios and imagine what they would do. Frankly, the Yankees could destroy lefty pitching if they approached it with an eye towards ignoring defense (not likely). Taken to the extreme, they could go even farther than my suggestion.
C: Austin Romine
1B: Chris Carter
2B: Starlin Castro
3B: Chase Healdey
SS: Didi Gregorius
LF: Matt Holliday
CF: Aaron Hicks
RF: Aaron Judge
DH: Gary Sanchez
ON the plus side, as mentioned, this lineup would probably be death to left handed pitching. With Brett Gardner and Jacoby Ellsbury on the bench, late inning defense and match ups could be solved via substitution. The big snag in the plan, though, is using Sanchez as the DH. Every team in baseball hates using their second catcher. And, really, with Romine, is there really going to be that much of a boost? Probably not.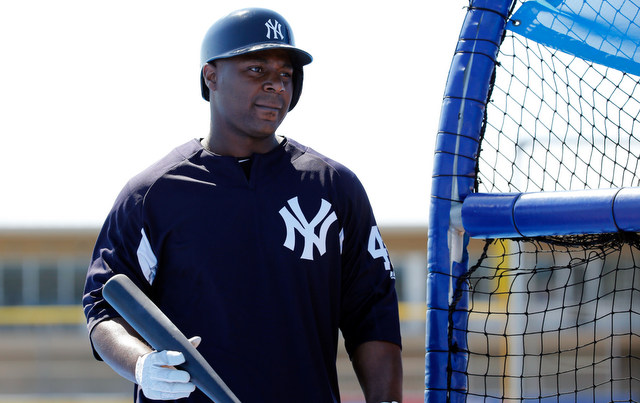 The best bet for a balance of platoon and potential is likely to be trotting out Sanchez at catcher, Greg Bird at first, and Carter at DH. Last year, it's worth noting, Hicks didn't live up to his potential against lefties, so if you buy that performance, you could swap out Gardner in center to help cover Holliday in left. Of the two, Gardner is preferable to Ellsbury against lefties.
For the first time in a while, the Yankees are going to be a bonafide threat to lefty pitching. When they want to, they'll be able to put out an immensely powerful lineup against southpaws, which should help them steal some games. If they can do that while also exposing Greg Bird to lefties in hopes of him improving, it's a win/win.