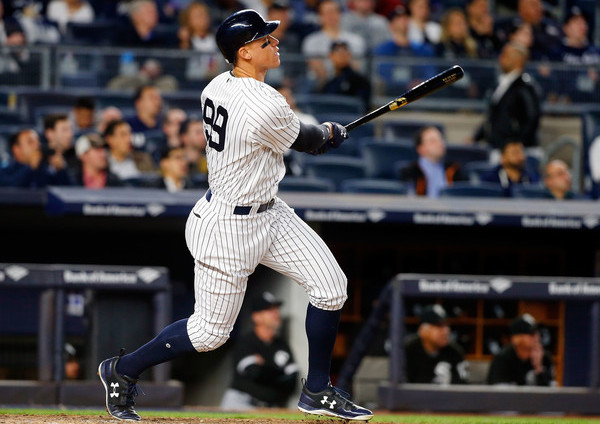 I don't know about you, but Aaron Judge has very quickly become one of my favorite players on the Yankees. He's so fun to watch because he's such an extreme outlier. Baseball players aren't supposed to be that big, and baseball players who are that big aren't supposed to be such good athletes and runners. We've seen Judge save some runs in right field and beat out infield singles already this season.
And, of course, there are the home runs. They're why everyone loves Judge. His four home runs have averaged a healthy 399 feet, and according to Statcast, Judge is responsible for five of the 14 hardest hit balls in baseball this season, including two of the top three. The ball just explodes off his bat. Judge has all the power you'd expect from a guy listed at 6-foot-7 and 275 pounds.
Given his early season exploits, folks are already starting to wonder whether Judge will participate in the Home Run Derby this summer. It makes sense, right? Put the big guy capable of hitting long home runs in the event dedicated to big guys hitting long home runs. Randy Miller asked Judge about the Home Run Derby earlier this week. Here's his response:
"The Home Run Derby is awesome. It's a fun event to watch and I'd probably do it if they asked me," said Judge. "No (I'm not worried about screwing up my swing). I've been in them before and I just take my normal swing that I do in batting practice and hopefully it would all work out. I'd just go out there and have fun. I wouldn't change anything. But it would be a fun thing to do."
Judge's batting practices are already the stuff of legend. YES has shown clips of Judge hitting balls over the Mohegan Sun Sports Bar in center field and onto the concourse over the last week and a half. I saw him do that with my own eyes before the home opener and was amazed. But it's normal for him. That's just something does every day during batting practice. It's incredible. There's no doubt he'd be a fun Home Run Derby contestant.
Yep, Aaron Judge hit that one over the restaurant at Yankee Stadium. pic.twitter.com/fC5LBgM43X

— YES Network (@YESNetwork) April 19, 2017
Personally, I'm not worried at all about a potential Home Run Derby hangover effect. There have been several studies showing it isn't real, like this one and this one. Pick eight players at random and inevitably one or two of them will perform worse in the second half than they did in the first. The same is true of guys who participate in the Home Run Derby. It's just normal baseball being baseball stuff.
Anyway, I'm getting off track here. Judge indicated he's open to participating in the Home Run Derby this summer and MLB should want him there. For a few reasons too. One, he's a Yankee! The last Yankee to participate in the Home Run Derby was Robinson Cano in 2013. The Yankees are the most popular team in the sport and one of the most recognizable brands in the world. Put a Yankee in a Home Run Derby and he will attract viewers. No doubt about it.
Two, Judge is an exciting young up-and-coming player. MLB is trying like crazy to cultivate young fans and the single best way to attract new young fans is by showcasing your most exciting players. Judge is a freak and I mean that in the nicest way possible. Put him in the Home Run Derby and people who don't know much about baseball are going to see him and not be able to take their eyes off him. Everything about him demands your attention.
(That's also a reason for the Yankees to want Judge in the Home Run Derby. As MLB works to cultivate more young fans, the Yankees want as many of them as possible rooting for their team. Judge mashing dingers in the Home Run Derby would be a great "hey come root for the Yankees" sales pitch.)
And three, the power. At the end of the day, the Home Run Derby is a "hit ball far" competition with some bells and whistles. In a batting practice setting, which is essentially what the Home Run Derby is, few offer as much power as Judge. He's going to hit the ball a mile and that's what people want to see. MLB has brought non-All-Stars to the Home Run Derby in recent years just to ensure they showcase their top power hitters. (Giancarlo Stanton won the Home Run Derby last year but was not an All-Star. Todd Frazier also participated in the event as a non-All-Star.)
Judge has some Home Run Derby experience — he won the 2012 College Home Run Derby while at Fresno State — and while doing it at the MLB level is a heck of a lot different than doing it at the college level, he has some sort of Home Run Derby experience. It won't be completely new to him. MLB (and the Yankees) have a lot to gain by putting Judge in their Home Run Derby and it is absolutely something they should consider when the time comes. An event like this is made for guys like him.