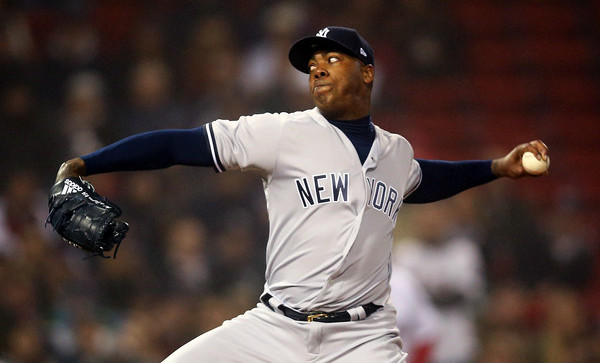 Last night's win over the Red Sox, as satisfying as it was, did not come easily in the ninth inning. Aroldis Chapman needed 33 pitches to get the final three outs and gosh, did he labor. Two walks, one booming double, one long foul ball, one run, and only two swings and misses. It was hardly vintage Chapman, but it was enough to close out the win.
Here, via Brooks Baseball, is Chapman's velocity graph for the game. This is the velocity of each pitch as the outing progressed: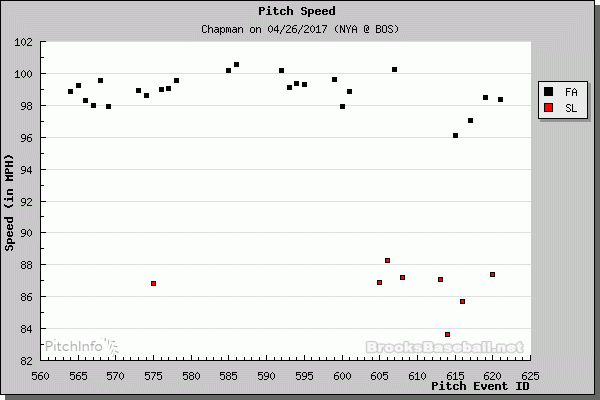 For the first 25 pitches or so, Chapman's fastball was consistently 98-100 mph. It wasn't until the very end of the outing, as his pitch count approached 30 — his previous season high was 22 pitches — that his fastball dipped all the way down to 96. Trackman clocked his average fastball — he threw 25 of them — at 98.9 mph for the night.
"I feel fine. Thank God, I feel fine," said Chapman through Marlon Abreu, the Yankees' interpreter, to Brendan Kuty following the game. "I would not blame not throwing for a couple of days, or blame the weather at all. It's just sometimes you're not as sharp. That's it."
Given who he is (a closer in year one of a five-year, $86M contract) and what he's known for (historic fastball velocity), seeing Chapman finish the outing at 96-98 mph rather than his usual 100-102 mph was at best unnerving and at worst panic-inducing. The fact it was the Red Sox and Fenway Park and the tying run was on base didn't help matters.
That all said, Chapman's outing to me looked more like a guy who simply didn't have it and was struggling with the weather than someone who was hurt. I've seen plenty of pitchers pitch hurt over the years, and they didn't look like that. I know Aroldis said not to blame the weather, but that strikes me more as a closer not making excuses than anything. It was cold and it was wet, and we've seen Chapman struggle in those conditions before. He did last year in Game Seven of the World Series. Remember the rain game against the Rangers last year?
Here is another velocity graph, again via Brooks Baseball. This is Chapman's average velocity by month throughout his MLB career. Like most pitchers, Chapman doesn't really hit his stride and start airing it out until the weather heats up: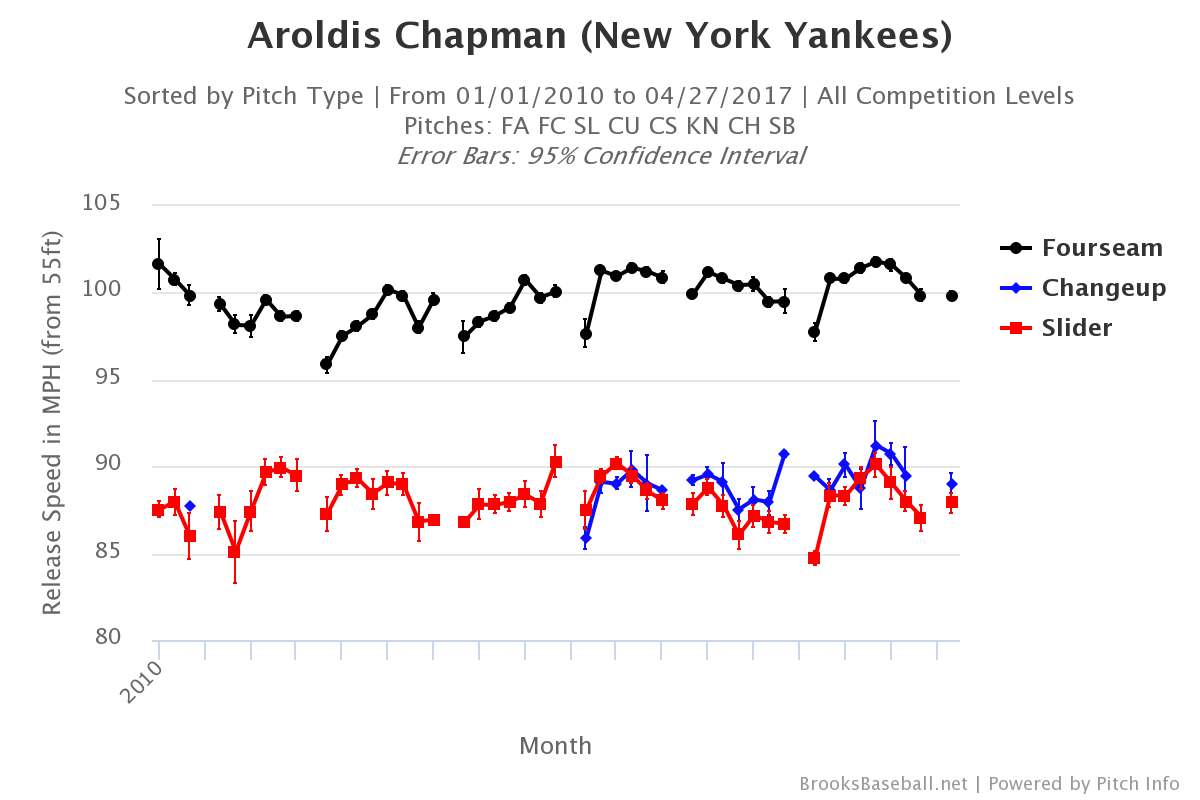 Keep in mind Chapman did not pitch for the Yankees last April due to his suspension. That first dot last season, the low one, that's his final Spring Training outing against the Marlins at Marlins Park. Chapman spent April pitching in Extended Spring Training games before rejoining the Yankees in May, when he was essentially in midseason form.
Anyway, as you can see in the graph, April is traditionally Chapman's worst month in terms of velocity. And again, that applies to nearly every pitcher. It applies to Dellin Betances. His average 98.9 mph fastball last night was down for midseason Chapman. It was right in line with his past Aprils, if not better, however.
This is what I saw last night. One, a pitcher who came out of the bullpen without good command. It happens. Two, a pitcher who had a hard time with the less than ideal weather conditions. And three, a pitcher who was running out of gas by the end of his outing. Chapman's usual April velocity was there for the first 25 pitches or so. It wasn't until later in the outing, after 30-ish high-stress pitches, that he dipped down to 96-98 mph.
Because he's an important part of the team and because he's very early in his massive contract, of course we're all going to keep an key on Chapman in his next few outings, including the Yankees. Every pitcher loses velocity as their career progresses and Chapman will be no different. At some point sitting 100-102 mph will become sitting 98-100 mph, then sitting 95-97 mph. It'll happen at some point. Father Time remains undefeated.
I think last night's outing was just one of those games, however. One of those games where Chapman didn't have it and needed to grind. Those outings happen to everyone, even pitchers as good as him. It was his first game like that this year. If this becomes a pattern, it'll be a red flag. For now, I consider it to be just one of those days.