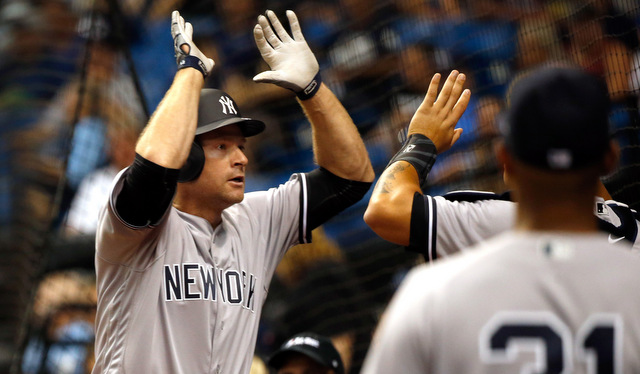 Something weird happened last night. Chase Headley was not in the starting lineup. That in and of itself isn't weird. Joe Girardi is pretty good at making sure his regulars get enough rest. What was weird was the reaction. Fans were upset! In our comments, on Twitter, and probably on a bunch of other social media sites I don't even know exist. Upset about Headley being out of the lineup! What a time to be alive.
Fans were upset for a good reason, of course. Headley has been a monster hit season. He is hitting .409/.519/.614 (227 wRC+) with two home runs, three stolen bases, ten walks, and nine strikeouts through the team's first 14 games. No, he won't do that all season, but hot damn, Headley has been a beast early on. It's the complete opposite of last year, when he was beyond useless in April. Remember that? How could you forget.
"I started extremely poorly, and that contributed to the team starting bad," said Headley to Zach Braziller earlier this week. "I knew I couldn't start the way I started last year. You can't just take a month and two weeks out of the season, and say, 'Oh, I had a (good) season with the exception of this month and a half.' It counts … It's a small sample size, but I feel like I'm playing the way I'm capable of. I feel like I'm swinging at the pitches I want to, and that's always a good place to start."
Headley is not really as good as he's been so far this year nor is he really as bad as he was last April. The truth is somewhere in the middle, and the question is where. Hopefully closer to this year than last April. Here are a few notable early season trends within Headley's game that help explain why he's been so productive these first two weeks and change of the new season.
1. He's going the other way an awful lot. In the very first game of the season Headley beat the shift three times against the Rays. Once with a bunt and twice with ground balls directed the other way. We haven't seen Headley beat the shift quite that obviously since then — I'm talking about those well-placed rollers where the defense is normally positioned — but he has continued to use all fields. Here's the batted ball direction breakdown: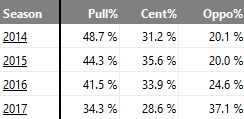 That covers both sides of the plate, though it essentially represents Headley's numbers as a left-handed hitter. Only eight of his 54 plate appearances have come as a righty so far, and in those eight plate appearances he's put six balls in play. So yeah, for all intents and purposes, those are Headley's numbers from the left side of the plate.
As you can see, he's going the other way substantially more than he has in the past. We're talking nearly twice as often as he did from 2014-15. And the important thing here is not just the number of balls he's hitting the other way. Look how many he's pulling too. Headley has nearly an even split. He's going the other way as often as he pulls the ball. That makes him tougher to defend.
2. He's not hitting the ball on the ground. When Headley was going through his brutal April last year, he was beating the ball into the ground, and that is no way to hit. Especially when you're not a good runner. Fly balls and line drives not only go for hits more often than ground balls — the league BABIP on fly balls and liners is .388 this year compared to only .240 on grounders — they also go for extra-base more often. The next ground ball I see go for a home run will be the first.
So far this season only 32.4% of Headley's balls in play have been on the ground. That is tiny. That's Kris Bryant (31.0%) and Nolan Arenado (31.9%) territory. Slugger territory. Headley's ground ball rate was 44.2% last year and it is 44.4% for his career. He is well below that now. Between this and the first point, Headley is hitting the ball in the air to all fields in the super early going this year. Of course more hits are going to fall in when you do that.
3. He doesn't swing out of the zone. Headley has always had a pretty good eye. He walked in 9.6% of his plate appearances last year, and he had several seasons with a walk rate north of 10% back with the Padres. Headley knows the strike zone, and his year he's taken his plate discipline to another level. Look at his chase rate on pitches out of the zone:
2014: 25.8%
2015: 25.1%
2016: 25.8%
2017: 18.1%
That 25.8% chase rate last year? That's really good. The MLB average was 30.6% and Headley was several percentage points below that. Now he's all the way down at 18.4%. Right now 194 players have enough plate appearances to qualify for the batting title and Headley's chase rate is fifth lowest. He's been one of the most discipline hitters in baseball.
Keep in mind this is not just about drawing walks. Walks are overrated. Okay, maybe not, but people focus on them too much. The entire point of working the count is to get a hittable pitch. Laying off pitches out of the zone helps get the count in Headley's favor, which better allows him to do damage. Also, chasing fewer pitches out of the zone means fewer balls in play on those pitches, and putting a pitch out of the zone in play usually results in weak contact.
* * *
Inevitably Headley will cool down at some point and not because Girardi gave him the night off last night. Something tells me he's not really a true talent .485 BABIP hitter. Just a hunch. He'll cool off and go back to being Chase Headley and everyone will resume complaining about the days he is in the lineup, not the days he's on the bench.
In all seriousness, Headley is showing some promising early trends — using all fields, getting the ball in the air, not chasing out of the zone, etc. — and those things will help him be a productive hitter going forward. His performance is a bit on the extreme side right now. His ground ball and chase rates are so incredibly low that they have nowhere to go but up. But, if Headley can maintain these trends to some degree, he'll help the Yankees more at the plate this year than he has the previous two seasons.