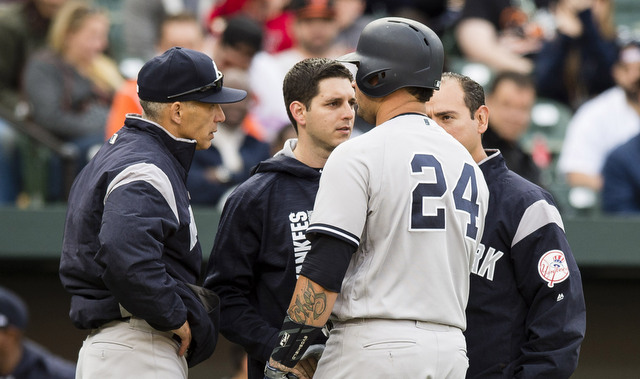 If you haven't heard by now–though the collective worried gasp of Yankee fans everywhere yesterday afternoon probably gave it away–Gary Sanchez is injured, and will be going on the 10-day disabled list with a right biceps issue.
This leaves the Yankees with a gaping hole at what is the most important defensive position on the field–where Sanchez has shown great skill–and arguably the most important position in the lineup; slotting Sanchez in second made sense and was a big show of confidence in him by Joe Girardi and the coaching staff. Now, that's for naught–at least for the next ten days. So, what can the Yankees do in Sanchez's lineup absence?
My first thought was one I suggested previously, using DH Matt Holliday as the second hitter thanks to his combination of skills. However, without Sanchez to be in the clean up spot–and no one yet reliable enough to take his place–I don't think that idea works. Holliday should stick at fourth, which is just as important as the second spot. But, since the route they'll likely take is sticking Jacoby Ellsbury–who's off to a good start–back into the second slot, giving the Yankees a more traditional look at the top of the lineup, that would mean three lefties–Gardner, Ellsbury, and Greg Bird stacked together, and that could lead to matchup problems late in games. So, I assume Girardi will split the lefties and have Holliday bat third with Bird cleaning up.
The team can go one of two ways with the fifth spot. The first way is to bump Chase Headley up a spot, rewarding him for a hot start. I'd be totally fine with that. The other would be to give the spot to Aaron Judge. This could show faith in him, challenge him, and give him an opportunity to hit behind better players, increasing the likelihood of him batting with men on base. That second option probably isn't going to happen, but I think that's the one I'd like, if only to keep up the 'give the kids a shot' theme that this season is likely to have.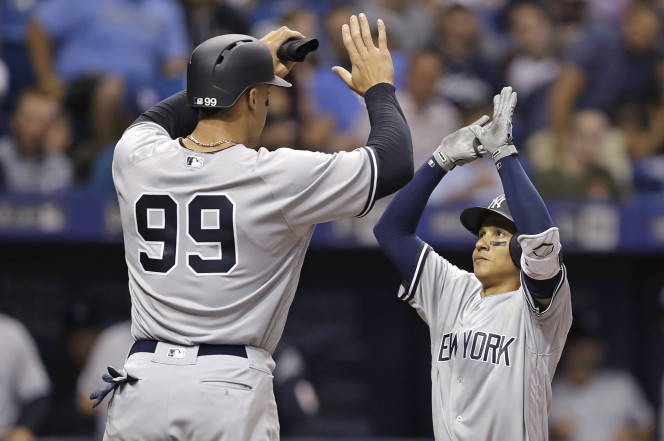 So, the combination of the most likely scenario/what I'd want to see would look like this:
Gardner, LF
Ellsbury, CF
Holliday, DH
Bird, 1B
Judge, RF
Castro, 2B
Headley, 3B
Romine, C
Torreyes, SS
You could flip Castro and Headley if you like, and I might do the same. But the main takeaway here is that without Sanchez, this lineup seems a whole lot shorter and a whole lot thinner than it did just 24 hours ago. Losing a big bat at a premium position always hurts, and that goes double when a backup quality player–Torreyes–is already in the every day lineup. Get well soon, Gary; the lineup needs you.