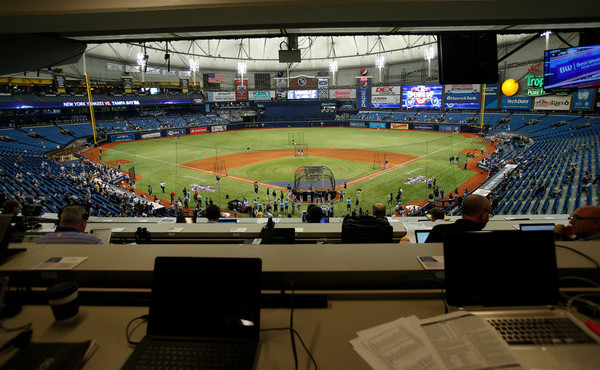 Once again, the Yankees are 0-1 on the young season. The Opening Day losing streak is starting to transition from annoying to impressive. Losing six straight season openers — and eight of nine! — is a hell of a thing. Most of those nine games were started by peak CC Sabathia and Masahiro Tanaka too. The Yankees will win an Opening Day one of these years, possibly by accident. Anyway, I have some thoughts, so let's get to 'em.
1. One quick thing I will say only because I feel it needs to be said: I'm not at all worried about Tanaka or Gary Sanchez. They had ugly Opening Days, especially Tanaka, but as far as I'm concerned they are very good players who had very bad days. That's baseball. Won't be the last time it happens. It's so very easy to overreact to Opening Day even though it is truly nothing more than another baseball game. It doesn't have any greater meaning. Tanaka is a very good pitcher who will go back to being very good soon, probably next time out. Sanchez is still a baseball mashing monster who will resume mashing baseballs in short order. Opening Day is fun and exciting. It doesn't mean more than any other game though. The game is still the same, so … chill out if you're worried.
2. Chase Headley beat the shift three times — three times! — on Sunday including once with a pretty gorgeous bunt. It was the perfect time to bunt too. The Yankees were down five runs in the seventh inning and they needed baserunners. Headley beat the shift two other times with ground ball singles, and after spending way too much time watching this GIF, I've concluded Headley was indeed trying to beat the shift with this swing: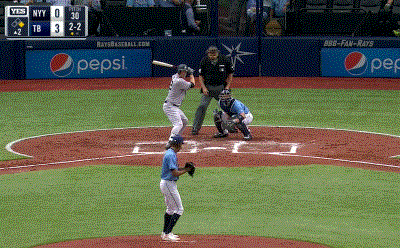 Chris Archer busted him inside — Acher missed his spot by the full width of the plate, look where the catcher set up — so the result was a jam shot, but it sure looks like Headley was trying to direct the ball toward the wide open left side of the infield. After the game he told Dan Martin, "If they're going to give me a free hit, I'm going to take it. The more I execute that, the truer they have to play me." Based on that, it's worth noting that in the ninth inning Evan Longoria was positioned more towards the third base bag when Headley was the plate. See how wide open the left side of the infield is in the GIF? Here is Longoria's positioning on Headley's ninth inning single: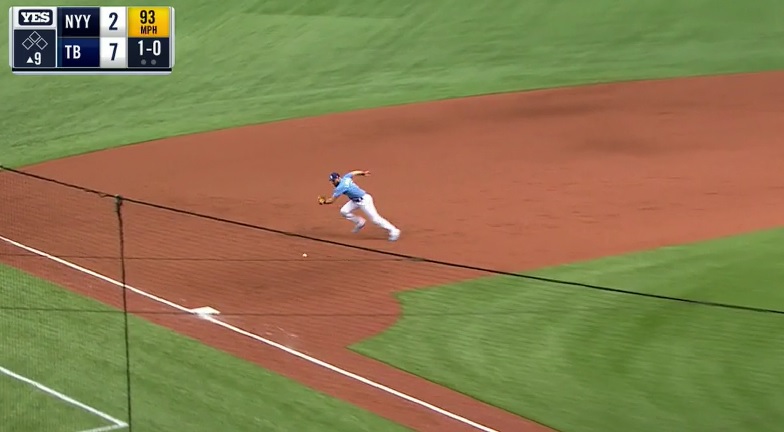 Longoria is there, shading him toward third base. Perhaps the score had something to do with it — the Rays were up 3-0 in the second for the first hit and 7-2 in the ninth for the second — though the base-out situation was the same. Starlin Castro on first with no outs. After beating the shift twice, including once with a bunt, it sure seems Tampa changed their defensive alignment against Headley. We'll see whether this lasts. Obviously Headley won't beat the shift three times every game, and teams won't ever stop shifting against him completely because he when he does put the ball on the ground as a left-handed batter, it's often pulled. Hopefully this helps Headley get off to a better start though. He was so dreadful last April and the Yankees need him to be better. This can help him be better.
3. Am I the only one who noticed Chasen Shreve's velocity Sunday? His fastball averaged 93.3 mph and topped out at 94.7 mph in that one-inning sample. Last season he averaged 92.3 mph and topped out at 94.8 mph. Amped up on Opening Day? Maybe, but Shreve pitched on Opening Day last season — that was in a tie game in front of the home crowd at Yankee Stadium too — and his fastball averaged 92.4 mph and topped out at 93.4 mph. This is better shown in a graph. From Brooks Baseball: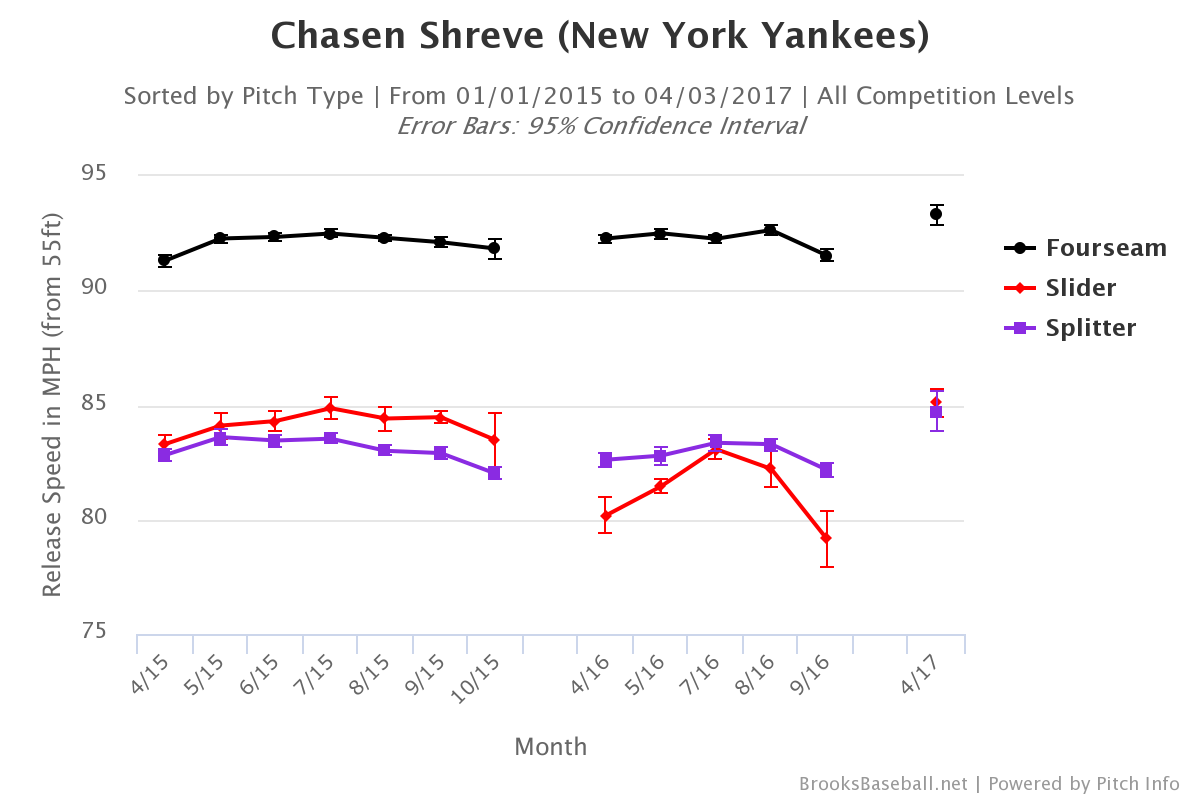 Hmmm. The extra velocity didn't help much — Shreve allowed two hits and a walk in his scoreless innings Sunday — but it was there and it happened. I dunno, a pitcher showing up with an extra mile an hour on his fastball at the start of the season — an extra two miles and hour from where he was last September — is kinda interesting, especially when the pitcher in question is a left-handed reliever. Those guys are always in demand. Let's file Shreve's velocity away as a #thingtowatch.
4. Never in a million years would I have thought Greg Bird would open the regular season as the No. 3 hitter. First of all, I didn't think Joe Girardi would bump Sanchez up into the No. 2 spot. It just didn't seem like the kind of thing he would do. (I also didn't think he'd drop Jacoby Ellsbury, but that's besides the point.) Secondly, Bird is essentially a rookie, and I didn't think the Yankees would thrust him into such a prominent lineup spot so soon. I thought they would start him out a little lower in the lineup, then move him up. That's usually how it works, right? And third, Bird is coming back from major shoulder surgery. I'm not sure why that would factor into where he hits in the lineup, though I'm surprised the guy could miss an entire season and be slotted right into the middle of the order, no questions asked. This shows a) I have no idea what I'm talking about, b) the Yankees believe Bird is going to be a middle of the order force right away, and c) they believe he can handle significant responsibility. They could have very easily stuck a veteran in the No. 2 spot — I was totally expecting Castro to hit there as soon as we heard Ellsbury might be dropped in the lineup — and Sanchez in No. 3 spot, but no, they're going with Bird as the No. 3 hitter. I love it.
5. I am very surprised the Yankees did not have Castro play shortstop in Spring Training. Not even one inning. He took ground balls there during infield practice and that's it. Same with Matt Holliday at first base and in left field. Those guys have played those positions a ton throughout their careers — well, Holliday has only ten games worth of experience at first base, but you know what I mean — so it's not like they have no idea what they're doing there, but it just seemed like the Yankees would give them a little time there, just to reacquaint them. You know Holliday is going to end up playing left field at some point this season. It's inevitable. Someone will get banged up and miss a few days, something like that, and he'll be standing out there for a game or two. Same with Castro and shortstop, especially with Didi Gregorius injured. You'd think the Yankees would at least want to get them a little time at those positions in Spring Training, so when they do play those positions during the regular season, it won't be the first time they see a live ball hit at them from that direction this year. I guess they're really committed to Castro at second and Holliday at designated hitter.
6. The Padres seem really committed to carrying Luis Torrens, huh? Torrens was a Rule 5 Draft pick from the Yankees and he's a 20-year-old catcher making the jump from Low-A to MLB after missing all of 2015 and the first half of 2016 with shoulder surgery. And yet, he is on San Diego's big league roster. They're carrying four catchers and three true outfielders. Goodness. The tank is strong with that team. I still expect Torrens to come back at some point, and fairly soon too once the Padres realize carrying a fourth catcher who only plays in blowouts is not viable — Torrens made his MLB debut and caught a few innings in yesterday's blowout loss — but give them credit. They're trying to make it work. The Yankees are light on catching prospects at the moment and getting Torrens back would be nice. At the same time, 40-man roster space is precious, and the Yankees had to focus on players who can best help them short and long-term when make their roster decisions back in November. It's easy to understand why they declined to protect the 20-year-old Low-A catcher who isn't far removed from major shoulder from the Rule 5 Draft. They might get burned and lose Torrens, but that's life. When you have a good farm system, you're going to lose good players to roster crunches.