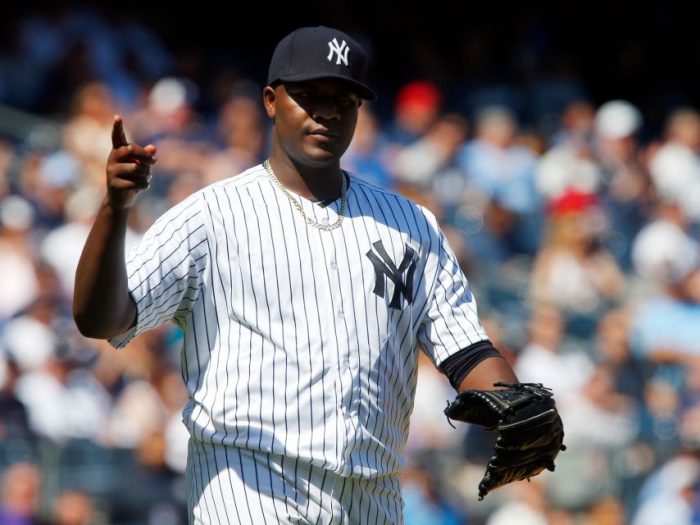 #HugeMike
The Yankees 115th home opener nearly ended up as one of the most memorable in franchise history, as Michael Pineda flirted with a perfect game and gave fans much to cheer about on a gorgeous Monday afternoon at the ballpark.
Pineda is equal parts fantastic and frustrating, enigmatic and electric, dazzling and depressing. And just two starts into the 2017 season, he's displayed both sides of his Jekyll-and-Hyde talent:
Less than a week after a miserable season-opening outing (3⅔ innings, 4 runs, 8 hits), Pineda was brilliant and dominated the same Rays lineup, retiring the first 20 batters he faced until Evan Longoria drilled a double into the left field corner with two outs in the seventh inning.
Armed with his wipeout slider, pinpoint command of his fastball and an effective changeup, Pineda whiffed 11 and allowed just two hits in 7⅔ innings. Pineda is the first Yankees pitcher to throw six perfect innings to start the team's home opener, and also the first Yankees pitcher with double-digit strikeouts and no walks in the first home game of the season.
Before Pineda, the last Yankee in any game to pitch at least seven innings, get 11-plus strikeouts and allow no more than two baserunners was Mike Mussina in his epic near-perfecto against the Red Sox on Sept. 2, 2001.
Pineda was in complete control of nearly every at-bat, starting off 17 of the 25 batters with an 0-1 count, getting to 0-2 or 1-2 against 16 of those guys, and he got himself into a three-ball count just twice. A career-best nine of the 11 strikeouts came on his slider, which generated 11 whiffs on 20 swings.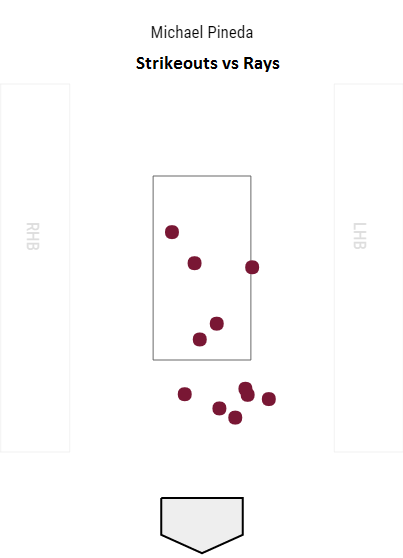 Last year Pineda's slider had a 46.2 percent swing-and-miss rate, fifth-best among starting pitchers (min. 500 pitches), and his 146 strikeouts with the slider ranked second behind Chris Archer (151).
Pineda's gem wasn't the only good news to come out of Monday's win. The offense exploded for eight runs, thanks to the power bats of Aaron Judge, Chase Headley and Starlin Castro. While Judge's homer was a majestic bomb that went 397 feet, Headley's and Castro's dingers barely cleared the fences. In fact, under normal conditions, their hits wouldn't have been homers in any of the other 29 ballparks.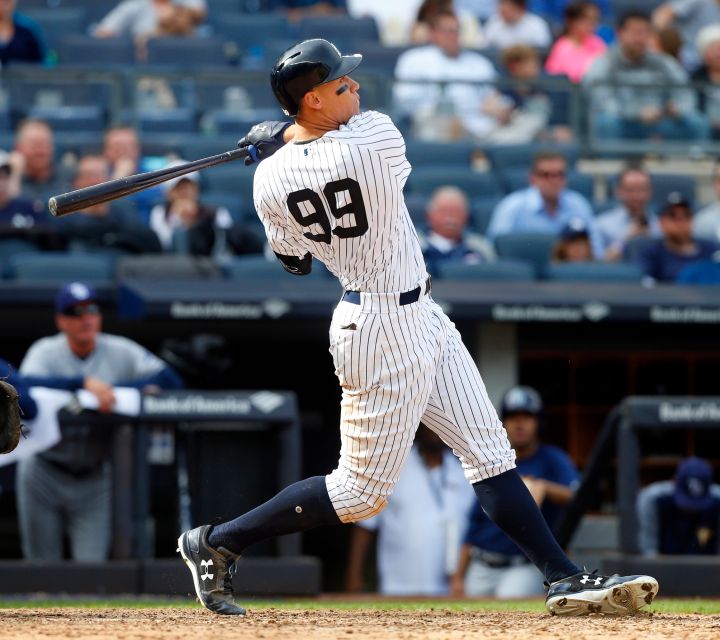 #AllRise for The Judge
As bad as the Yankees have fared against the Orioles at Camden Yards in recent years, they've been just as good at Yankee Stadium against another AL East foe, the Tampa Bay Rays. Following Wednesday's 8-4 win, they've now won eight straight home series over the Rays, their longest such streak against any opponent at the current Yankee Stadium.
The pregame chatter focused on the debut 24-year-old Jordan Montgomery, who became the first Yankee southpaw to start in his major-league debut since Chase Wright and Kei Igawa in April 2007.
Montgomery was impressive out of the gate, striking out the the first two Rays that came to the plate. The last Yankee to make his big-league debut as a starter and strike out the first and second guys he faced was Mariano Rivera on May 23, 1995 vs the Angels.
Montgomery finished with seven strikeouts in 4⅔ innings, the most punchouts by a Yankee lefty in his first career MLB appearance since Al Leiter struck out eight in 1987.
No Gary Sanchez, no Greg Bird, no problem. The Yankees offense continued to roll thanks to the third slugger in the Baby Bomber trio, Aaron Judge, who had two hits and drove in three runs on Wednesday. Judge showed off his ridiculous power on both the hits:
The first one was a bullet line-drive RBI single that tied the game in the sixth inning and rocketed off his bat at 116.5 mph. It was the fastest base hit of 2017 by any player, and gave him four exit velocities of at least 115 mph this season – while the rest of MLB had combined for seven such balls in play through Wednesday's games.
The second hit was a 437-foot homer that gave the Yankees an 8-3 cushion in the seventh inning. It was his third homer of the season, making him just the fourth Yankee under age 25 with at least three home runs in the team's first eight games. The others are the list are not bad: Derek Jeter (1999), Bobby Murcer (1969) and Mickey Mantle (1956).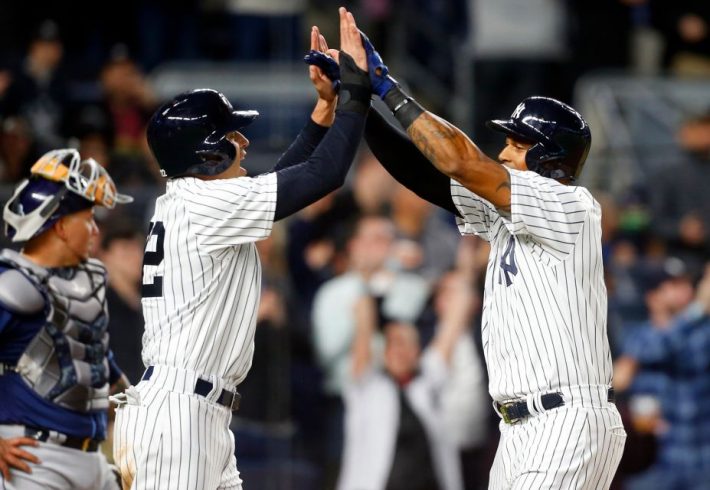 Three Times a Charm
The Yankees won their fourth straight game on Thursday night, wiping away the bad taste of that awful 1-4 start as they climbed above .500 (5-4) for the first time this season. The victory also gave them their first sweep of three-or-more games against the Rays at Yankee Stadium since September 2009.
And how can we forget that the Yankees first sweep last season didn't come until May 22 (four-gamer in Oakland), and that their first three-game series sweep happened on September 7 against the Blue Jays.
Aaron Hicks was the night's biggest hero at the plate, belting two home runs, including the game-winner that flipped a 2-1 deficit into a 3-2 lead in the bottom of the seventh inning. It was his third career go-ahead homer in the seventh inning or later, and all three have come in pinstripes and against a division rival (Thursday vs. Rays; Sept. 26, 2016 at Toronto; May 6, 2016 vs. Red Sox).
The switch-hitter Hicks made sure that Luis Severino's stellar performance on the mound wouldn't be wasted and helped the young Dominican earn his first win as a starter since Sept. 27, 2015 vs the White Sox. Severino flashed the electric stuff he showed during his rookie year, limiting the Rays to two runs while fanning a career-high 11 batters in seven strong innings, and etching his name in the franchise record books.
At 23 years and 52 days old, he's the youngest Yankee right-hander in the last 100 years with more than 10 strikeouts in a game. The only others younger than Severino with 11-plus Ks in a game were all lefties: Al Leiter (1988), Dave Righetti (1981) and Al Downing (1963, 1964).