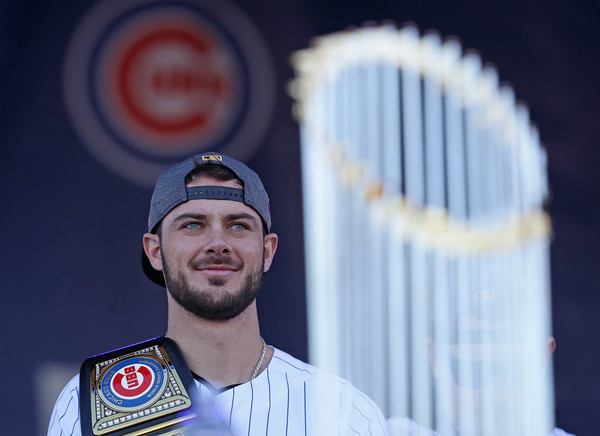 Despite being a Yankees fan, there is something special about writing "the Yankees are visiting the defending World Series Champions this weekend" as a means to describe the Cubs. They are teetering dangerously close to being a team that everyone outside of Chicago hates (perhaps replacing the Cardinals and St. Louis at some point in the near future), but for now they remain a genuinely likable team. And, yes, it pains me to write that, considering the people that pull the strings in their organization.
The Last Time They Met
The Yankees visit the Cubs from May 20 through May 21, 2014 for a two-game set, and ended up with the split. They had beat the Cubs in back-to-back games in Yankee Stadium back in April, though, so they won the season series 3-1. Here are some notes about the in-game action:
Masahiro Tanaka pitched an absolute gem in the first game – 8 IP, 2 H,  R, 1 BB, 10 K – as the Yankees won 3-0.
The lineup in that first game is an interesting time capsule. Alfonso Soriano started at DH and hit cleanup, and the infield was manned by Kelly Johnson (1B), Yangervis Solarte (2B), Scott Sizemore (3B), and Dean Anna (SS).
Starlin Castro went 3-for-17 (all singles) with an RBI against his team-to-be.
The Yankees used eight pitchers in the final game of the series, a 4-2 victory. Chase Whitley started the game and held the Cubs to one run, but only went 4.1 IP (it was the second start of his big league career, and he was on a pitch count). Preston Claiborne picked up the win, and former Yankee Jose Veras took the loss.
Injury Report
Kris Bryant, the reigning NL MVP, left Tuesday's game early with tightness in his calf, but he's already back in the lineup. The team is healthy otherwise.
Their Story So Far
The Cubs have been far from the dominant force that many expected this season, owing to underperformance throughout the team. The starting five has combined for a 4.68 ERA through 28 games, a far cry from last season's incredible 2.96 ERA, and has routinely made it through only five innings. This has led to the bullpen being taxed at times (more on that later), as well. Some of this may be blamed on the defense, as well, as last year's record-setting .254 BABIP allowed has been followed-up with a league-average-ish .307 mark. The offense outside of Kris Bryant and Anthony Rizzo has largely disappointed, as well, particularly Kyle Schwarber (77 wRC+), Addison Russell (83 wRC+), and Willson Contreras (85 wRC+).
They are nevertheless 16-12, and sit atop the NL Central by two games. If this is what a slump looks like for a great team, sign me up.
The Lineup We Might See
Manager Joe Maddon has been fairly consistent with his lineups this year, with the first six spots in the lineup being all but set in stone. However, he does maximize the positional versatility of Ben Zobrist, and he utilizes a three-person show in center, with Albert Almora, Jason Heyward, and Jon Jay all starting seven-plus games out there. The lineup will probably look something like this, though:
Kyle Schwarber, LF
Bryant, 3B
Anthony Rizzo, 1B
Zobrist, 2B/RF
Addison Russell, SS
Jason Heyward, RF/CF
Wilson Contreras, C
[starting pitcher]
Jon Jay, CF or Albert Almora, CF or Javier Baez, 2B
Confused? I am too.
The Pitchers We Will See
Friday (2:20 PM EST): RHP Michael Pineda vs. RHP Kyle Hendricks
A great deal was written about Hendricks last year, most of which revolved around whether a pitcher that throws 89 MPH fastballs could possibly sustain his level of success. He did last year, finishing 3rd in Cy Young balloting after posting a league-leading 188 ERA+ in 190 IP. It has been a different story this year, though, as he currently sits on a 4.18 ERA (100 ERA+). His strikeout (22.8% to 19.3%) and walk (5.9% to 10.5%) rates have trended in the wrong direction, and he has lost around 3 MPH off of his fastball. It's only five starts, but this is the sort of performance that many thought was more in-line with Hendricks' stuff even as he was dominating last year.
In addition to his mid-to-high 80s fastballs (he utilizes a four-seamer and sinker), Hendricks throws a change-up right around 80 MPH, and a low-to-mid 70s curveball.
Last Outing (vs. BOS on 4/30) – 6.0 IP, 3 H, 2 R, 3 BB, 6 K
Saturday (7:15 PM EST): LHP Jordan Montgomery vs. LHP Brett Anderson
Anderson is one of the most snake-bitten pitchers in the league, dealing with a litany of injuries that have limited him to just 707.1 IP in eight-plus seasons in the majors. He has eclipsed 100 IP just three times, and has made more than 20 starts just twice. He has remained a perennial "if he stays healthy" sleeper nonetheless, and he's still just 29-years-old. And even with all of the injuries, Anderson's tremendous ability to sink his pitches and pound the bottom of the zone have helped him maintain elite groundball rates throughout his career.
The southpaw is either a four or five-pitch pitcher, depending on your definitions. He throws a four-seamer and a two-seamer in the high-80s to low-90s, a slider, a change-up, and a curve with some knuckling action. The fastballs represent between 50 and 60% of his offerings on most days, and he mixes the other three pitches in fairly evenly.
Last Outing (vs. PHI on 5/1) – 1.1 IP, 7 H, 7 R, 1 B, 1 K
Sunday (8:05 PM EST): RHP Luis Severino vs. LHP Jon Lester
As Yankees fans we have had plenty of exposure to Lester (some would say too much). The 33-year-old has made and MLB-season's worth of starts against the Yankees, pitching to the following line – 13-6, 174.0 IP, 178 H, 69 BB, 172 K, 3.78 ERA. His last outing against them came on June 28, 2014, when he held them to 1 unearned run in 8 IP, picking up the win along the way. And, despite a semi-bumpy start to 2017, he remains a top of the rotation starter.
Lester mixes three fastballs (four-seamer, cutter, sinker) with a curveball and a change-up. Those three fastballs – thrown predominantly in the upper-80s to low-90s range – account for around 80% of his pitches in most outings.
Last Outing (vs. PHI on 5/2) – 5.0 IP, 4 H, 3 R, 5 BB, 5 K
The Bullpen
The Cubs needed 13 innings to beat the Phillies yesterday, eight of which were picked up by the bullpen. Closer Wade Davis, Koji Uehara, and Carl Edwards Jr. tossed an inning apiece, and longman Mike Montgomery gave them three full innings. It seems unlikely that any of those four will be available today, particularly when you consider that Davis has pitched in three straight games, and Uehara went on Wednesday and Thursday. Those four have been great for the Cubs this year, so Maddon will be a bit hamstrung by that.
However, Maddon does have Hector Rondon ready to go, and he did a fine job as the team's closer for two-plus years, prior to the arrival of Aroldis Chapman (and then Davis). He's the only Cubs reliever that wasn't needed yesterday – though, Pedro Strop and Brian Duensing (both of which have been mediocre this season) were only needed for nine pitches combined.
Yankees Connection
There are no former Yankees on the Cubs roster. Even so, they still have a somewhat staggering total of nine AL East alumni on the active roster in Jake Arrieta, Wade Davis, Brian Duensing, John Lackey, Jon Lester, Anthony Rizzo, Pedro Strop, Koji Uehara, and Ben Zobrist. And there are also three former Cubs on the Yankees roster in Starlin Castro, Aroldis Chapman, and Adam Warren – the latter two of which will receive a World Series ring this weekend.
Who (Or What) To Watch
Bryant has continued his ascent into superstardom; or, more likely, continues to solidify his position as one of the best players in all of baseball. He's currently hitting .321/.417/.563 (157 wRC+) with 5 HR and 4 SB, and there are a few signs that he's continuing to evolve. Namely, his walk rate is up significantly, he's swinging at fewer pitches outside of the zone, making more contact with those pitches that he does swing at, and striking out less. He'll be 25 for the entirety of the season, and there's a real chance that the best is yet to come.