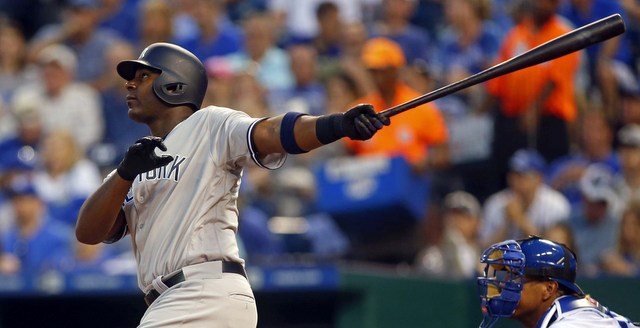 For the first month of the season, Chris Carter was an imperfect bench piece on a Yankees team focused on getting younger. Bringing in a 41-homer bat on the cheap made a world of sense, especially with Greg Bird coming off shoulder surgery, but early on Carter was a man without a role. He could pinch-hit and spot start. That's it. His usefulness was very limited.
A nagging ankle issue landed Bird on the disabled earlier this month, which opened playing time for Carter. And in his first seven games (five starts) after Bird's injury, Carter went 3-for-19 (.158) with nine strikeouts. He struggled so much that Joe Girardi elected to play Matt Holliday at first base three times, including in back-to-back games, even though he didn't play the field once in Spring Training. Not one inning.
Fans turned on Carter long ago. About two weeks into the regular season, I'd day. Fans aren't exactly known for their patience, after all. The Yankees weren't going to cut bait so soon, however. Not with Bird and Tyler Austin on the disabled list. Playing 37-year-old Holliday at first base everyday wasn't a viable solution either. At this point of his career the smart move is keeping him off his feet as much as possible.
"Carter is very streaky and hasn't gotten hot yet," said Brian Cashman to Dan Martin over the weekend. Since that comment, Carter has started to get hot. He reached base three times in Sunday's doubleheader, going 2-for-6 with a double and a walk, then last night he went 3-for-4 with one of his trademark effortless home runs. Carter flicked his wrists and the ball carried out to right-center.
The home run was sandwiched between a ground ball single through the left side of the infield and a little line drive single poked the other way against the shift. No one will claim Carter is a great pure hitter. That was just a good optic, a single the other way. Carter is what he is. He's a one-dimensional power hitter who is going to strike out. Everyone knows that. The problem was he didn't show much power to offset the strikeouts the first six weeks of the season.
It's difficult for most players to remain productive while receiving sporadic playing time, and when you're contact challenged like Carter, it can be close to impossible. Those guys don't have much margin for error to start with anyway. Take away at-bats and screw up their rhythm and forget it. They might … do exactly what Carter did the first few weeks of the season, which was not much at all.
Now Carter is getting a chance to play regularly as a result of Bird's injury, and over the last few days, he's beginning to contribute at the plate. Who knows. Maybe it's only three good games and nothing more. That's possible. These last few games could also be an indication Carter is starting to get locked in, and when he gets locked in, he tends to hit the ball out of the part with regularity. It would be cool if he started to do that.
Keep in mind the Yankees don't need Carter to be a big part of the offense. He's been hitting eighth and ninth lately. Anything he can give them from the bottom of the order will be a nice little bonus. Also keep in mind that Bird and Austin are still hurt, as is Triple-A first baseman Ji-Man Choi. He was recently placed on the disabled list with a hamstring injury. The first base depth chart has been thinned out, so Carter's job is safe for the foreseeable future.
For the time being, the Yankees have stuck with Carter, and he's started to reward their faith the last few days. Hopefully it lasts. There are going to be strikeouts. They come with the territory. But if the ball starts flying out of the park a little more often, and some more ground balls find holes, the Yankees will be happy they stuck with Carter, especially while Bird is out. They gave him a chance to right the ship, and it seems like he is doing exactly that.