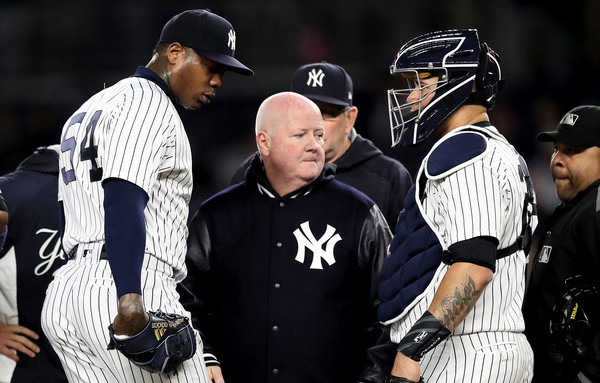 The (first place!) Yankees have suffered their third notable injury of the still relatively young 2017 season. After playing without Gary Sanchez (biceps) and Didi Gregorius (shoulder) in April, the Yankees placed closer Aroldis Chapman on the 10-day disabled list yesterday with left rotator cuff inflammation. He'll be shut down at least two weeks, and Brian Cashman acknowledged Chapman could miss a month. That bites. Time for some thoughts.
1. Chapman admitted yesterday his shoulder has been barking for a few weeks now, including during that ugly outing in Boston, but he pitched through it and assumed it would get better with treatment. It sounds kinda dumb and risky — why pitch through discomfort in your throwing shoulder?!? — but my guess is this sort of thing happens all the time. Stick any pitcher in an MRI tube and you'll find some inflammation or tendinitis. No one is ever truly 100% during the season. Chapman said it wasn't until Friday that the discomfort became too much to bear, which is when he finally said something. It's pretty amazing he was still getting his fastball up into triple digits even with a balky shoulder — since the Boston game, Chapman has thrown roughly one-quarter of his fastballs at 100+ mph, topping out at 101.6 mph — which is another reminder this guy is a physical freak. He's so strong and athletic that even a bum shoulder couldn't stop him from throwing harder than, like, 99% of all pitchers.
2. I absolutely believe Chapman's current shoulder woes could be the product of his postseason workload last year. The World Series hangover phenomenon is very real. Chapman threw a lot of intense innings last season — he threw 73.1 total innings in 2016, one out short of his career high, and he did that despite being missing April with his suspension — and also had a much shorter offseason. More work, less time to recover. Chapman wouldn't be the first pitcher to suffer through a World Series hangover and he won't be the last. I'm not saying Cubs manager Joe Maddon was wrong to ride Chapman so hard during the postseason. I would want Joe Girardi to do the exact same thing in that situation. It's just that the workload happened and Chapman may be dealing with the consequences now. The Yankees were well aware of the risks when they signed him. Hopefully spending a few weeks on the disabled list will knock this all out and Chapman will feel as good as new when he returns.
3. It goes without saying the Yankees should be ultra-cautious with Chapman and I'm sure they will be. He is six weeks into his massive five-year contract, and they don't want to push him too hard and risk a potentially minor injury turning into something more severe. It's better to lose Chapman for a few weeks now than many weeks later, you know? Chapman said yesterday what he feels now is similar to what he felt in 2011, when he missed roughly six weeks with shoulder inflammation. I guess that's kinda reassuring? He's been through this before and knows what to expect, plus, when he returned from the disabled list in 2011, he showed no ill-effects. He went back to being a flame-throwing monster on the mound. Still, aside from the Greg Bird situation, the Yankees are almost always conservative with injuries, especially with pitchers, and I'm sure that will be the case here. Chapman is too important and owed too much money to rush him back.
4. Girardi confirmed yesterday Dellin Betances will take over as the closer and that doesn't surprise me at all. When faced with similar situations in the past, Girardi has typically bumped everyone in the bullpen up a notch on the depth chart, and that's what'll happen here. I know Betances struggled as the closer last September — weird how everyone seems to have forgotten he was nails as the closer in August, isn't it? — but I believe that was more workload related than role related. Betances has been throwing high-leverage innings for the Yankees for more than three years now. No reason to think he'll suddenly stop getting outs because he's pitching an inning later than usual. Losing Chapman bites because he's great and the Yankees will be without a top notch reliever. They won't suffer in the ninth inning though. Betances will be fine. The difference will show up in the middle innings, when someone like Adam Warren won't be available because he's taken over as the seventh inning guy.
5. That all said, I wonder whether it would be smart to let Tyler Clippard close rather than Betances. Clippard could start the ninth inning fresh with no one on base, allowing Betances to remain a setup man and potentially put out fires in the seventh inning on occasion. Clippard could do that too — he's gotten four outs twice in his last five appearances — but, frankly, Betances is the more dominant pitcher, and I'd rather see the Yankees avoid bringing Clippard into an inning with men on base given his extreme fly ball tendencies. That's asking for a multi-run homer, especially at Yankee Stadium. Clippard as closer and Betances in the fireman setup role may be the most optimal bullpen deployment. Then again, Betances has hit a wall the last two Septembers, so maybe limiting him to one-inning closer outings now allows him to remain effective deeper into the season. Hopefully Clippard and Betances (and Warren) are lights out and who pitches when isn't a big deal. I just worry we're going to see seventh or eighth inning leads evaporate with Betances sitting in the bullpen, being held back for the save situation.