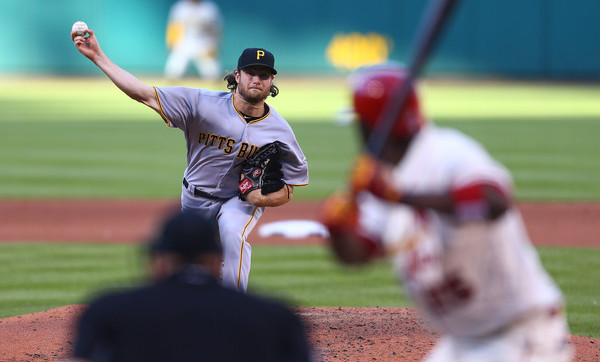 One thing has become abundantly clear the last few weeks: the Yankees need pitching. All types. Starters, relievers, lefties, righties, the whole nine. Luis Severino and Jordan Montgomery look like long-term keepers, though the remainder of the rotation is up in the air. CC Sabathia and Michael Pineda will be free agents after the season, and who knows what'll happen with Masahiro Tanaka's opt-out.
The Yankees have the flexibility to fill out their rotation in multiple ways. Enough money is coming off the books after this season that they could sign a free agent or two. They also have the prospects to promote from within and/or make a trade. Brian Cashman and his staff will explore every avenue. That's what they do. If a high-end starter with long-term control becomes available, they'll get involved. I'm sure of it.
One such starter who may be made available at the deadline — but not definitely — is Pirates right-hander Gerrit Cole, who the Yankees drafted in the first round in 2008. Cole didn't sign, went to UCLA for three years, then came out as the No. 1 pick in the 2011 draft. You know the story. That won't stop the Yankees from pursuing Cole in a trade. There's not enough quality pitching out there to hold grudges. Let's break down Cole as a trade target.
The Performance
Somehow this is already Cole's fifth season in the big leagues. He made his MLB debut in June 2013 and he has been in Pittsburgh's rotation ever since. Here are his numbers over the years, real quick:
| | IP | ERA | FIP | K% | BB% | GB% | HR/9 | RHB wOBA | LHB wOBA |
| --- | --- | --- | --- | --- | --- | --- | --- | --- | --- |
| 2013 | 117.1 | 3.22 | 2.91 | 21.3% | 6.0% | 49.1% | 0.54 | .294 | .275 |
| 2014 | 138 | 3.65 | 3.23 | 24.2% | 7.0% | 49.2% | 0.72 | .294 | .326 |
| 2015 | 208 | 2.60 | 2.66 | 24.3% | 5.3% | 48.0% | 0.48 | .283 | .266 |
| 2016 | 116 | 3.88 | 3.33 | 19.4% | 7.1% | 45.6% | 0.54 | .285 | .371 |
| 2017 | 96.1 | 4.11 | 4.57 | 19.7% | 6.0% | 46.7% | 1.59 | .285 | .367 |
Two things immediately stand out. Well, three things, really. One, Cole is in the middle of his worst big league season, both in terms of ERA and FIP. Two, he's been very home run prone this year. I mean, every pitcher has been home run prone, but Cole especially so. He's allowed one additional homer per nine innings pitched compared to the last few seasons.
And three, left-handed batters have really hit Cole hard since the start of 2016. He's still the same ol' Gerrit Cole against righties, but after performing very well against lefties from 2013-15, Cole hasn't been able to keep them in check since the start of last season. I'm sure the home runs have something to do with that — again, everyone is giving up more homers these days — but it's still a red flag. Here's the batted ball data against lefties, via FanGraphs:

So yeah, home runs have definitely been a problem. Nearly one-quarter of all fly balls Cole has given up to lefties have left the yard this season. That's insane. Lefties aren't getting the ball in the air that much more often against Cole, but they are pulling the ball and make hard contact more often. That makes sense. Most hitters have their most power when they pull the ball.
Cole has already allowed 12 home runs — 12! — to left-handed batters this season. He allowed 16 total from 2013-16. Hit Tracker data says only five of those 12 home runs were "Just Enoughs," meaning the ball cleared the fence by fewer than ten vertical feet. Those barely got over the fence. The other seven qualifies as "No Doubt" and "Plenty," meaning they were bombs. Not cheap home runs. Hmmm.
If you're reading this, you know a right-handed pitcher who has trouble keeping left-handed batters in the park is bad news in Yankee Stadium. The short right field porch is only going to exacerbate that home run problem. Is this fixable? Or is this who Cole is now? That's something the Yankees will have to consider before pursuing a trade.
The Stuff
Cole has five distinct pitches, but he is more of a four-and-a-half pitch pitcher than a true five-pitch pitcher. His curveball is basically a get-me-over pitch he'll use to steal a strike now and then. It's not a put-away pitch like his slider and changeup. And his fastball, for that matter. Here are the average velocities, via Brooks Baseball: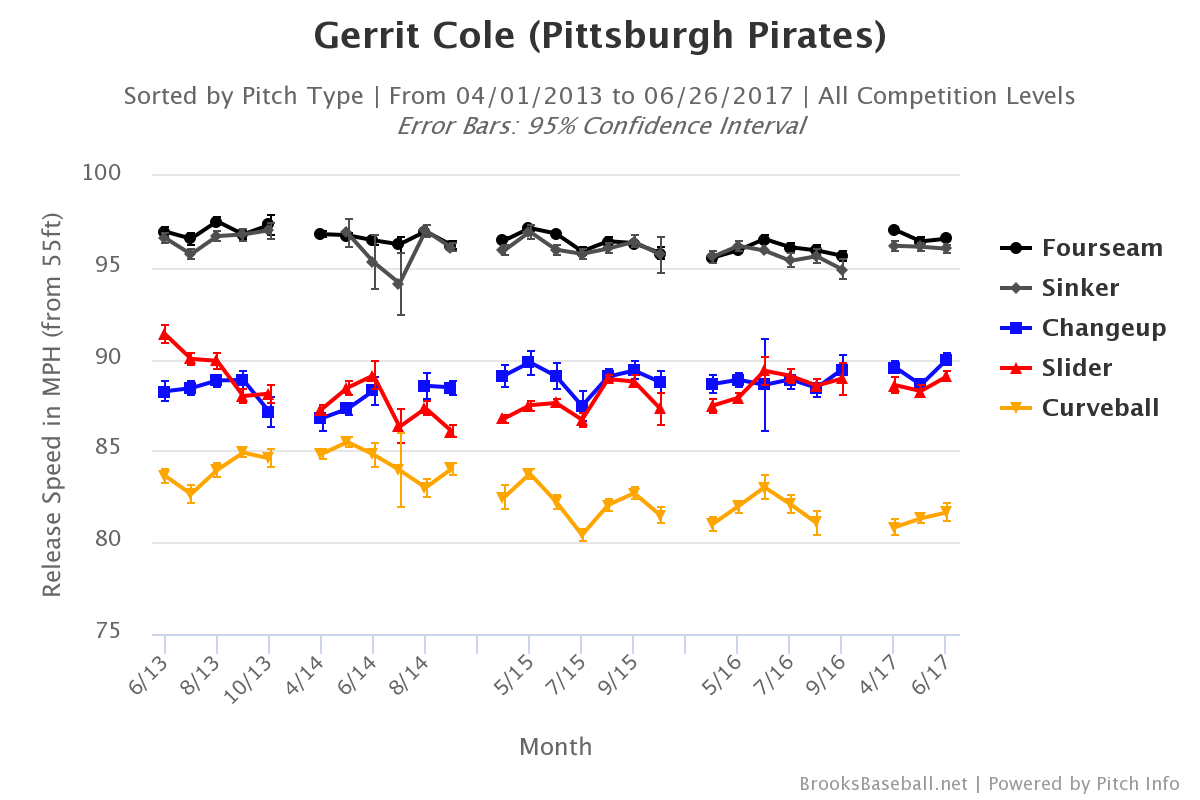 Yep. Cole throws hard. We knew that already. His four-seamer and sinker are both consistently over 95 mph — he's topped out at 100.2 mph with the four-seamer and 99.7 mph with the sinker this season — while the slider and changeup are both a touch shy of 90 mph. Cole is Severino, basically. Everything he throws is hard. A power pitcher all the way.
Reading about pitches and seeing them in action are two very different things, so here's some video:
Because of the issues with left-handed hitters the last two years, it's worth digging a little deeper here.
PitchFX and Trackman data
shows Cole is throwing fewer four-seam fastballs to lefties this year and more of everything else. Cole may have changed his pitch selection a bit after last season, or this could be sample size noise. If he did change his pitch selection against lefties intentionally, it's not really working. They're taking him deep on the regular this year.
Here are the swing-and-miss rates by lefties against Cole's various pitches, via Brooks Baseball:

Just about everything is down from where it was from 2013-15, the years Cole more than held his own against lefties. The curveball is way down, though he has only thrown 91 curveballs to lefties this season. That's not much. Then again, he threw 91 curves to lefties all of last season. He is throwing that pitch more often to batters on the other side of the plate and they are not swinging and missing much at all.
The changeup and slider are the important pitches here. Especially the changeup, though Cole will also back foot his slider to lefties. The slider is still getting plenty of empty swings relative to previous years. The changeup? Not so much. Only two of those 12 home runs by lefties have come against the changeup, but if the pitch is not on par with previous years, hitters don't have to worry about it as much. It has an effect on Cole's entire arsenal.
Something has gone awry here. Cole's stuff is relatively unchanged, yet he's been unable to keep left-handed batters in check since the start of last season. Just about all 12 of the home runs he's allowed to lefties this year have come on pitches right out over the plate (via Baseball Savant) …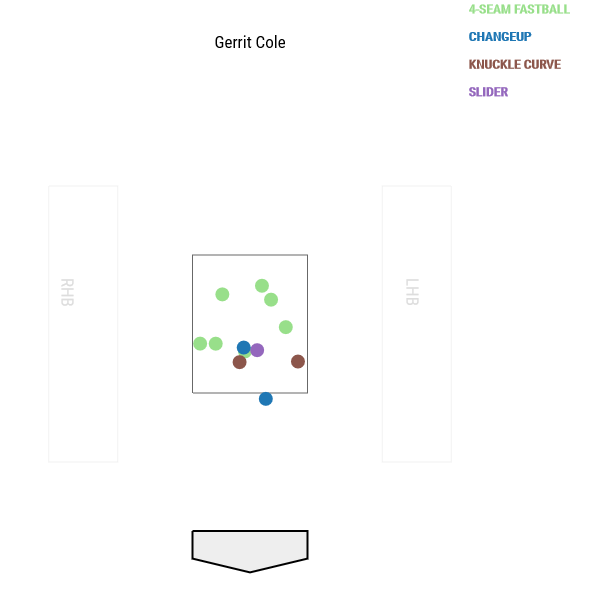 … so obviously location is an issue. Tanaka has given up a ton of dingers this season. Why? Because he's left too many pitches out over the plate. That's the easy part. Why has he left more pitches out over the plate? In Tanaka's case, we can see his slider and splitter haven't been breaking as much as usual. I haven't watch Cole as closely as I've watched Tanaka the last few seasons. I don't know if he's simply missing his spots, or if his pitches are backing up.
I suppose the important thing here is that Cole is still throwing hard and he's still using his his four-and-a-half pitches. When the velocity starts to slip or a guy starts to stay away from one pitch entirely, it's a big red flag. That hasn't happened with Cole. His issues with left-handed hitters are very real, especially his home run problems. As long as Cole's stuff is still there, there's reason to hope those issues can be fixed.
Injury History
Cole, who will turn 27 in September, has been on the disabled list twice in his career, and both stints came last season. He missed a month with a biceps strain, then his season ended in late-August with elbow inflammation. The Pirates were out of the race and they decided to play it safe, and shut their ace down completely. Cole healed up over the winter and had a normal Spring Training, and his elbow has been fine since.
The fact Cole had two arm injuries as recently as last season is sorta scary, and that could also explain the issues with lefties last season. If his arm was aching, he might not have had the same finish on his pitches. That, of course, wouldn't explain his problems with lefties this season, assuming his arm is not hurt now. Point is, Cole had been perfectly healthy up until last season, when his biceps and later his elbow started barking.
Contract Situation
This is Cole's first season of arbitration eligibility. He will earn $3.75M this year and remain under team control as an arbitration-eligible player in 2018 and 2019, so he's a two-and-a-half year pickup. Trade for Cole at this year's trade deadline and you get him for three postseason runs and two full seasons. That's not super long-term control, but he's not a rental either.
It is worth noting Cole is a devoted Scott Boras client and union guy, which means he is expected to chase down every last dollar when free agency comes during the 2019-20 offseason. That doesn't necessarily mean he wouldn't re-sign with the Yankees (or whoever trades for him) when the time comes. It just means they shouldn't expect a discount. They'll have to outbid everyone else.
(Also, Cole has all three minor league options remaining, though that means nothing. You're not trading for this guy with the idea of sending him to the minors at some point. The options are close to meaningless.)
What Will It Take?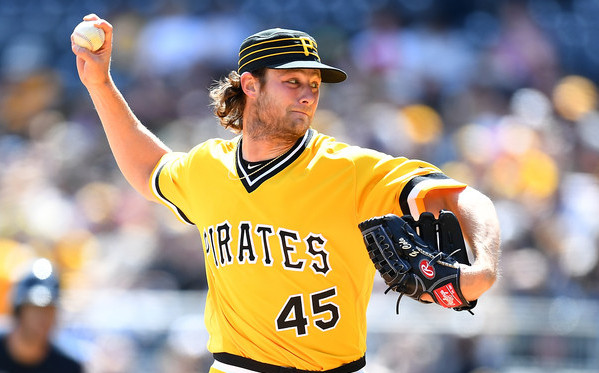 Plenty of high-end starting pitchers have been traded over the years, though not many have been traded at the deadline, and with two-and-a-half years of team control remaining. Most trades involving big time pitchers take place in the offseason. That leaves us very short on trade benchmarks. Here are some pitchers who were recently traded with two or three years of team control remaining:
Chris Sale (three years of control): Traded for a top five global prospect (Yoan Moncada), a top 25 global prospect (Michael Kopech), a top ten organizational prospect (Luis Alexander Basabe), and a top 30 organizational prospect (Victor Diaz).
Wade Miley (three years of control): Traded for a preseason top 50-100 global prospect (Allen Webster), a reclamation project former top 100 prospect (Rubby De La Rosa), and a organizational non-top 30 prospect (Raymel Flores).
Wade Miley (two years of control): Traded with an organizational top 30 prospect (Jonathan Aro) for a high-leverage MLB reliever with five years of control (Carson Smith) and a depth arm (Roenis Elias).
Nathan Eovaldi (two years of control): Traded with an organizational top ten prospect (Domingo German) and an MLB bench player (Garrett Jones) for an everyday MLB player (Martin Prado) and an MLB swingman (David Phelps).
Drew Smyly (two years of control): Traded for an organizational top ten prospect (Mallex Smith), an organizational top 30 prospect (Ryan Yarborough), and an organizational non-top 30 prospect (Carlos Vargas).
Yeah. I don't think any of those trades help us figure out what it'll cost to get Cole. The Pirates will push for a Sale package, no doubt, but that's not happening. Sale is much better than Cole, has no injury history, and he came with three full seasons of control, not two-and-a-half.
Both Ken Rosenthal and Jon Morosi recently reported the Pirates have no plans to tear things down and start a rebuild, making it unlikely they will trade Cole. They will, however, listen to offers. It never hurts to listen. Cole's value is down at the moment — like I said, this is his worst MLB season — and while the idea of buying low sounds wonderful, I doubt the Pirates move him for pennies on the dollar.
This is what I think will happen: the Pirates will market Cole as an ace because he performed like one in the not-too-distant past, and they'll seek multiple top prospects. Their ideal package probably includes two top prospects plus two nice secondary pieces. Can they get that? Hey, who knows. It only takes one team to say yes. Last year's injury issues and this year's homeritis will give teams pause. No doubt.
I don't think it would be unreasonable for the Pirates to ask for Gleyber Torres in a Cole trade, and of course the Yankees will say no, even after his Tommy John surgery. A case can be made the three best non-Torres prospects in the farm system are outfielders: Clint Frazier, Blake Rutherford, and Dustin Fowler. The Pirates don't need outfielders. They have Starling Marte and Gregory Polanco signed long-term, and they're trying to trade Andrew McCutchen to open a spot for their Austin Meadows, their own top outfield prospect.
That said, when you trade a guy like Cole, the focus should be on getting as much talent as possible, not filling specific needs. If an outfielder is the best prospect they're offered, they should take him, and figure out the rest later. The Yankees might have to build a package around Frazier, a strong secondary piece like Fowler or Chance Adams, plus two other players. Maybe an organizational 10-20 prospect (Domingo German? Dillon Tate?) and a 20-30 prospect (Josh Rogers? Zack Littell?). I'm spitballin' here.
Does He Make Sense?
It depends on two things. One, the cost. Of course. The Pirates may market Cole as an ace but he is not an ace right now. Not with the way he's performing and not with the way he's been unable to neutralize lefties and keep balls in the park. He can be ace. But he's not right now. The supply and demand nature of the trade deadline — will another pitcher as talented as Cole be available? — could push the price up into ace territory.
And two, are the problems with home runs and lefties fixable? That's a huge question. Sticking a pitcher who can't limit home runs and can't handle left-handed hitters in Yankee Stadium — not mention in the DH league and in a division with three other hitter's parks — is asking for trouble. Acquire this version of Cole and there are valid reasons to believe he'll perform worse, not better. You have to be very confident in your ability to fix him.
The Yankees need rotation help beyond this season and the more high-upside starters they acquire, the better. Cole absolutely has the ability to be a top ten-ish pitcher in the big leagues. Every team would love to get their hands on this guy. There are enough red flags (injuries, homers, lefties) to make me skeptical, however. The Yankees drafted Cole, so they like him, though I wonder if they still like him enough to part with some of their best prospects.