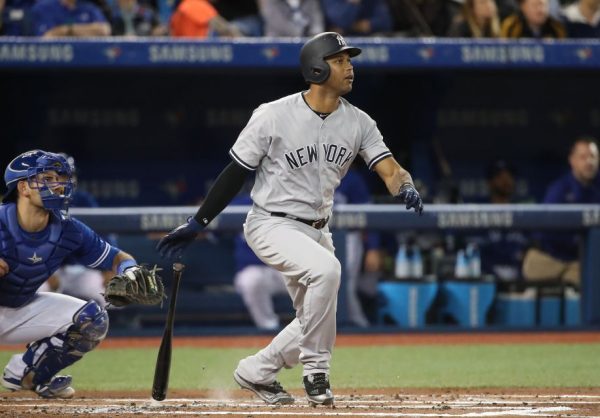 El Gary dropping bombs
Fresh off a depressing series loss in Baltimore, the Yankees headed to Toronto on Thursday and bounced back in style as they routed the Blue Jays, 12-2. It was their first double-digit win at the Rogers Center in 13 years – since Aug. 28, 2004, a game that featured Tony Clark's three-homer outburst and a nine-run ninth inning en route to a 18-6 victory.
The offensive fireworks were fueled by Gary Sanchez and Aaron Hicks, who combined to drive in nine of the team's 12 runs. Sanchez crushed two mammoth homers into the second deck in left field: the first one traveled 440 feet and had an exit velocity of 113 mph; the second one measured at 434 feet and left the bat at 112 mph.
Only two other players in the last three seasons have hit two homers in the same game that went at least 430 feet with an exit velo of 110-mph or more: Giancarlo Stanton (May 7 this year and July 6, 2016) and Mark Trumbo (June 2, 2016).
Remarkably, each of Sanchez's six longballs this season have gone at least 425 feet. That gave him an early first-place ranking on the average home run distance leaderboard (434 feet) among players with at least five dingers this season.
And here's an even more impressive feat: this was Sanchez's fourth big-league game with two homers, making him the first player in major-league history to have four multi-homer games as a catcher this early into a career (82nd game).
Sanchez, though, had to share the spotlight with the scorching-hot Aaron Hicks, who went 4-for-5 and drove in a career-best six runs. He became the third Yankee centerfielder with at least four hits and six RBIs in any game, joining two legends – Bernie Williams (June 17, 2000) and Joe DiMaggio (five times!).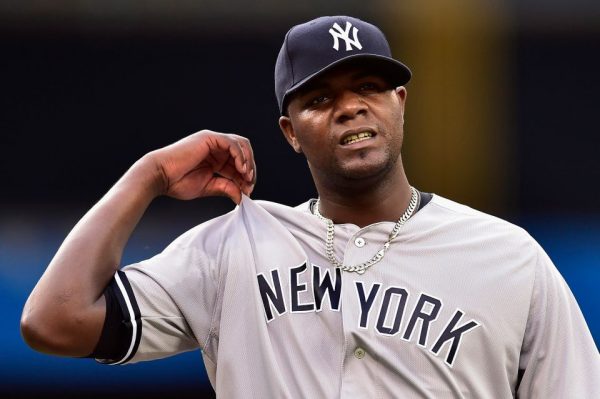 Small Mike
The Comeback Kings were denied another improbable win as the Yankees late inning rally fell short in their 7-5 loss on Friday night at the Rogers Centre.
Michael Pineda went from #BigMike to #BigMess with a season-high five runs allowed that snapped his nine-start streak of giving up three earned runs or fewer. That streak was one start shy of the longest by any pitcher in the majors this season.
Pineda's early-game troubles re-surfaced as the Blue Jays belted two homers in first inning, the fifth and sixth he's given up in the opening frame. His six first-inning homers allowed were tied for the most in MLB entering the weekend and opponents are slugging .674 against him in the first inning. So he basically turns every batter into Aaron Judge (.691 slugging through Friday) in the first inning. Not good, Mike.
Aaron Judge did Aaron Judge things in the sixth inning with a towering two-run blast into the rightfield seats, showing off his incredible all-fields power. That was his fifth opposite-field home run – tied for the most in the majors – and upped his opposite-field slugging percentage to an MLB-best 1.259(!).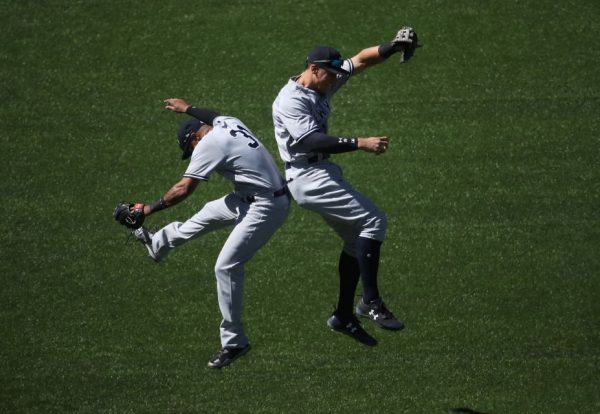 Chicks dig the longball
The Yankees once again flexed their muscles in a 7-0 rout of the Blue Jays on Saturday afternoon for their largest shutout win at the Rogers Centre/SkyDome in nearly 20 years (8-0 win on July 5, 1997).
Their first four hits were doubles and their final four hits were homers, making this first game in Yankees history that they had at least eight hits and none of them were singles. In fact, only three other teams in major-league history have done that: Cardinals with eight in 2002, Tigers with eight in 2010, and Braves with nine in 1998. #FunFact
Those four longballs all came in the eighth inning, courtesy of Brett Gardner, Matt Holliday, Starlin Castro and Didi Gregorius.
The 8th inning = ? time. Or more accurately ???? time. https://t.co/Jl70UQoTwd pic.twitter.com/wrofgzoVeM

— New York Yankees (@Yankees) June 3, 2017
It was the fourth time in franchise history that the Bronx Bombers hit four homers in a single inning. The first time it happened was June 30, 1977 … also in the eighth inning … against the Blue Jays … in Toronto (at Exhibition Stadium). The other two times were on June 21, 2005 against the Devil Rays and October 1, 2012 against the Red Sox, both of them at Yankee Stadium.
Perhaps the most shocking part of the eighth frame was that Aaron Judge was left out of the homer party. He did contribute a booming RBI double to center in the third inning, a bullet line drive that left his bat at 116 mph. It was his fifth hit with exit velocity of at least 116 mph; the other 1,000-plus MLB players this season had combined for seven such hits (through Saturday).
Overshadowed by the offensive fireworks was Jordan Montgomery's brilliant performance. He fired six scoreless innings and surrendered just three hits, the fourth time in 10 career starts that he's given up no more than three hits.
That impressive outing earned the rookie southpaw a place in the franchise record books: Montgomery is the first pitcher in Yankees history to compile four starts of three-or-fewer hits allowed within his first 10 career games.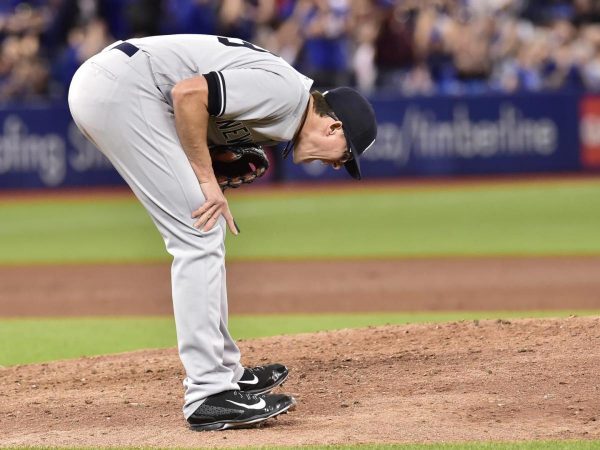 Two is not enough
Sunday's disappointing loss dropped the Yankees to 3-4 halfway through their current 13-game stretch against AL East teams as they headed back to the Bronx to face the second-place Red Sox.
Taking a 2-0 lead into the sixth inning, the Yankees seemed primed to finish off their road trip on a high note. Entering Sunday they were 17-1 when leading by multiple runs at the end of the fifth inning, including a perfect 9-0 mark on the road.
Luis Severino was dominating the Blue Jays through five innings until Justin Smoak smoked (sorry!) an 85-mph slider 429 feet into the centerfield seats that tied the game at 2-2 in the sixth. The location of the pitch was obviously bad …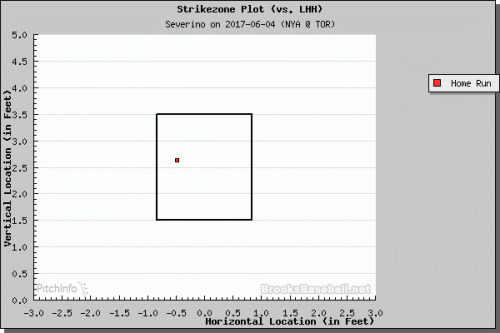 … but that was a rare mistake with his signature breaking pitch this season. Severino had allowed an isolated power — that's extra bases per at-bat — of just .061 on his slider entering Sunday, the fifth-lowest mark among starters (min. 200 pitches).
Aside from that blip, Severino was excellent, throwing seven innings of two-run ball while striking out seven. It was his seventh start this season with no more than two runs allowed and at least six strikeouts, putting him in some very impressive company: the only other pitchers this season with seven such starts are Clayton Kershaw and Zack Greinke.