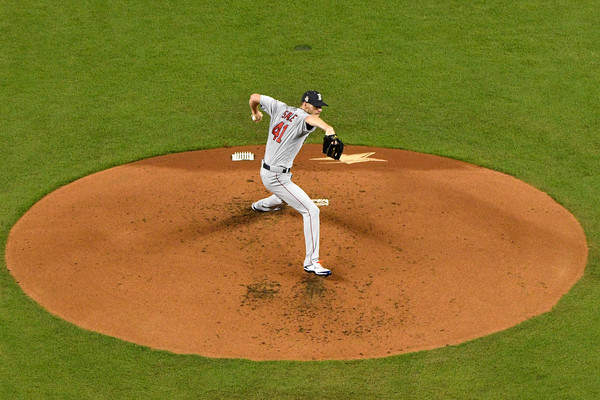 With a horrendous end to their first half firmly in the rear-view mirror, the Yankees look to open the second half with a renewed sense of purpose. Matt Holliday will be back in the lineup tonight, there's a chance that Starlin Castro could return this weekend, and four days off should have helped with the other assorted bumps, bruises, and nagging injuries that tend to pile up over a 162-game season. And who better to right the ship against than the first-place Red Sox?
The Last Time They Met
The Yankees took two of three from the Red Sox from June 6 through 8, moving out ahead of the AL East pack by three games with a 34-23 record. Unfortunately, they're 11-18 since then, while the Red Sox have gone 18-12. That'll turn a 3 game lead into a 3.5 game deficit in … well … about a month. Some notes from the series:
The Yankees dropped the first game 5-4, despite a dreadful performance from Masahiro Tanaka (5 IP, 5 ER, 3 HR allowed) and going 0-for-10 with RISP as a team. I list this as a reminder that it wasn't too long ago that we refused to count this team out, and I'm hopeful that we'll be back at that point soon.
Game two was an incredibly satisfying win, and not just because it was 8-0. CC Sabathia tossed 8 scoreless innings, the team was 5-for-12 with RISP, and Chris Carter somehow managed to go 3-for-4 with a home run and 4 RBI.
Gary Sanchez continued his torment of David Price in the third game, knocking out two home runs. He's 4-for-7 with 4 HR, 9 RBI, and 2 BB against Price in his career.
Check out Katie's Yankeemetrics post for more fun with numbers.
Injury Report
The Red Sox are still somewhat banged up, with Marco Hernandez, Tyler Thornburg, and Steven Wright done for the season, Roenis Elias trending in that direction, and Carson Smith still up in the air. That being said, they stand to get much more healthy in the coming week, with Brock Holt, Josh Rutledge, and Eduardo Rodriguez all slated to return in the next week or so.
Their Story So Far
Boston is 50-39 with a +65 run differential, and the best home record (25-14) in the American League. Their pitching staff has been the driving force behind their success, with the third-best park-adjusted ERA in the majors, and the fourth best WAR. The fact that they have the best pitcher in the league helps, but it is far from a one-man show.
The Red Sox offense has been starting to click, as well, though its 105 wRC+ in the last 30 days still isn't quite where they wanted to be. Mookie Betts, Jackie Bradley Jr., Andrew Benintendi, and Hanley Ramirez all had slow starts (and Xander Bogaerts has slumped of late), and they haven't come close to replacing David Ortiz. It's difficult to see this offense as anything less than potent, but they're still waiting to truly break out.
For more specifics about the Red Sox, check out Over the Monster.
The Lineup We Might See
This has been John Farrell's lineup of choice of late:
Mookie Betts, RF
Dustin Pedroia, 2B
Xander Bogaerts, SS
Mitch Moreland, 1B
Hanley Ramirez, DH
Andrew Benintendi, LF
Jackie Bradley Jr., CF
Christian Vazquez, C / or / Sandy Leon, C
Tzu-Wei Lin, 3B
The Starting Pitchers We Will See
Friday (7:10 PM EST): LHP Jordan Montgomery vs. LHP Drew Pomeranz
Pomeranz had a somewhat rough outing against the Yankees on June 6; he only allowed 2 R (1 ER) in 5.0 IP, but it took him 123 pitches to finish those innings. He was clearly laboring, and only 58% of his offerings were strikes – but the Yankees could get that one big hit to blow the game open. Pomeranz has made 17 starts this season on the whole, throwing 90 innings of 3.60 ERA (128 ERA+) ball.
Last Outing (vs. TBR on 7/7) – 6.0 IP, 6 H, 2 R, 5 BB, 6 K
Saturday (4:05 PM EST): RHP Luis Severino vs. LHP Chris Sale
By several measures, Sale has been the best pitcher in baseball this year. He leads the majors in fWAR, K%, K-BB%, and park-adjusted FIP, and he's averaging better than 7 IP per start. He has 10+ strikeouts and 0 walks in three of his 18 starts, and he's walked more than 2 batters twice. In short, he has been dominant (and, yes, that includes his loss to the Yankees back in April, when he went 8 IP, allowing 8 H, 3 R, and 0 BB, while striking out 10).
Last Outing (vs. TBR on 7/6) – 7.0 IP, 7 H, 4 R, 0 BB, 12 K
Sunday (1:05 PM EST): RHP Bryan Mitchell vs. RHP Rick Porcello
Porcello has followed-up his Cy Young campaign by being the worst starter on the Red Sox. He's currently sitting on a 4.75 ERA (97 ERA+) in 119.1 IP, and he has allowed 4+ ER in 7 of his 19 starts (and 3 ER in 6 more). He is coming off of his best start of the season, though.
Last Outing (vs. TBR on 7/8) – 8.0 IP, 6 H, 1 R, 0 BB, 7 K
Sunday (8:05 PM EST): RHP Masahiro Tanaka vs. LHP David Price
The Yankees roughed Price up a little over a month ago, plating 6 runs in 5 innings, with 12 runners reaching base. Price has settled down since then, with a 3.25 ERA in six starts, but he has yet to look dominant this season. He missed nearly two months, so that's understandable – but he didn't look like the Price of old last year, either.
Last Outing (vs. TBR on 7/9) – 6.0 IP, 5 H, 2 R, 2 BB, 5 K
The Bullpen
The Red Sox have the best bullpen in baseball by RA9-WAR (FanGraphs' run-based WAR), with nearly a full run lead over the Dodgers. Closer Craig Kimbrel leads the way, with his microscopic 1.19 ERA and ridiculous 16.3 K/9 and 1.2 BB/9 leading the way to his season yet. Joe Kelly (1.49 ERA), Fernando Abad (2.93), Blaine Boyer (3.13 ERA, 4.0 K/BB), Heath Hembree (3.57 ERA, 6.3 K/BB), and Matt Barnes (3.57 ERA, 10.9 K/9) form a formidable middle relief core that stands to improve if a couple of guys get healthy.
Who (Or What) To Watch
I'm all-in for the Gary Sanchez vs. David Price match-up.
In a more general sense, I'm just plain happy that the Yankees (and baseball) are back. Two days off may not be all that much in the most basic sense, but it felt like an eternity.