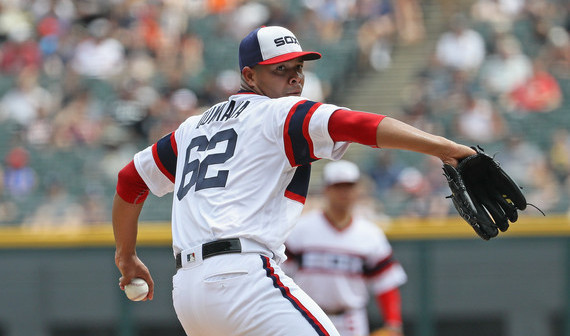 The first major trade domino has fallen. This morning the Cubs and White Sox announced left-hander Jose Quintana is heading to the north side for a package of four prospects, including top prospects Eloy Jimenez and Dylan Cease. Quintana's been on the block for a while and the Cubbies desperate need rotation help, both short and long-term, so the two Chicago teams got together for a blockbuster.
My quick take on the trade: it's fair for both sides. Boring, I know, but it is what it is. Jimenez is very good, one of the top prospects in the sport, and Cease has a ton of upside despite some arm problems. Quintana is excellent and has been for years now. Even after a slow start to this season, he's settled in nicely the last few weeks and has dragged his numbers down to 4.49 ERA (4.01 FIP) in 104.1 innings. Plus he's signed affordably through 2020.
The Yankees have been connected to Quintana in recent weeks and months (and years). Baseball America recently ranked Jimenez and Cease as the 5th and 83rd best prospects in baseball, respectively. The other two prospects in the trade, first baseman Matt Rose and infielder Bryant Flete, weren't among the Cubs' top 30 prospects. An equivalent Yankees package would have been something like Gleyber Torres, Justus Sheffield, and two others.
For all intents and purposes, the White Sox traded Quintana for the Andrew Miller package. Two top 100 prospects plus two others. The Yankees have been hesitant to trade their top prospects this far and I'm not surprised they declined to get into a bidding war for Quintana, no matter how much he would have helped them now and going forward. The White Sox have prioritized upside in their recent trades and they're doing a great job restocking the system.
With Quintana off the board, the best available starting pitcher at the trade deadline will be, uh, Sonny Gray? Maybe Gerrit Cole? We have to see how the market develops. I'd take Quintana over either Gray or Cole, and I love Sonny Gray, at least when he's healthy. Anyway, the trade deadline is now 18 days away and the first domino just fell. The floodgates could open soon.