There are 14 questions in this week's mailbag, the final mailbag before the All-Star break. Seems like just yesterday we were talking about the final mailbag of the offseason. Anyway, RABmailbag (at) gmail (dot) com. You know what to do.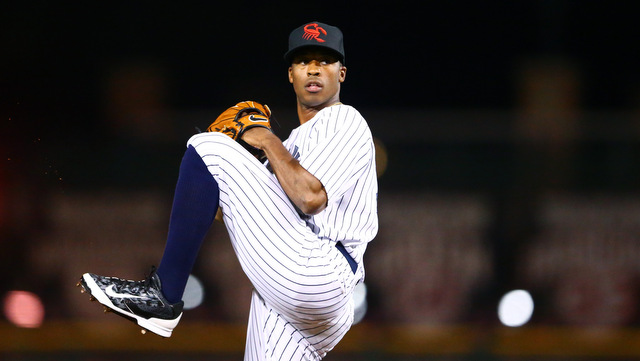 PJ asks: If Dillon Tate performs well in High A Tampa is he a candidate to be bumped up to Double A Trenton before the seasons end? To take it one step further if all goes well in 2018 would he be a legitimate option for the Yankees rotation in 2019?
Yes, I think the Yankees will move Tate up to Double-A fairly quickly if he keeps performing like this. It's only three starts back from the shoulder issue, but so far he has a 1.47 ERA (1.49 FIP) with 21 strikeouts and three walks in 18.1 innings. Interestingly enough, Tate told Kelsie Heneghan all the time rehabbing the shoulder in Extended Spring Training allowed him to get his mechanics in sync. From Heneghan:
"You definitely have to make adjustments as you go up, but I've had a lot of work to do. Being down in extended really helped me iron some things out. I'm actually really grateful for my time down there because I got a lot of productive things done," he said. "[I was] working on my delivery and getting comfortable with it and developing some more consistent fastball commands to help me get through lineups and working on my off-speed pitches."
Last year it was reported the Rangers had Tate try to make some adjustments to his delivery, then, after the trade, the Yankees told him to forget all about that and go back to what worked in college. That's not necessarily something that can be done overnight. It can take a while. This kid was the fourth overall pick in the 2015 draft — and the first pitcher taken — for a reason. He's got some serious ability.
So, I think the Yankees will give him a few more starts in Tampa just to keep him close to the home base following the shoulder injury. I could see them bumping him up to Trenton before the end of the month. Depending how that goes, the Yankees could have Tate start next season at Triple-A. I think it's more likely he returns to Trenton to start next season in that scenario, but hey, you never know.
Tate still has some work to do with his changeup and overall command, though I don't think calling him a potential rotation option for 2019 is unrealistic. Heck, he could be one in the second half of 2018.
Nicholas asks: Don't get me wrong, I'm still a fan of Refsnyder-but how long until he's DFAed? He's of no use with the glove and he's bat isn't enough to keep a roster space.
The Yankees aren't going to cut Rob Refsnyder just for the sake of cutting him. He's serving a purpose right now, and that purpose is sitting on the bench as the 25th man. Someone has to do it. I don't want Tyler Wade or any actual prospect to be that guy when Starlin Castro returns. I'd rather Wade play everyday in Triple-A. There's no harm in keeping Refsnyder around as an up-and-down depth guy. My guess is the Yankees drop him from the 40-man roster at some point before Opening Day 2018. Maybe in November when they do the Rule 5 Draft protection thing, or maybe at the end of Spring Training. Either way, he's going to wind up on the Rays. Take it to the bank.
Asher asks: Given the doubts about his defense at third, any chance Andujar gets reps at 1B with Scranton now? He's already on the 40-man, so it would give them flexibility later on given everything else.
It's always possible, sure, but I don't think it'll happen. Miguel Andujar should be working on his third base defense more than anything because that's where his future lies. Put him at first base and he's just another guy. Keep him at third base and he could be an above-average player. I wouldn't change up his development plan just to plug a short-term hole on the big league roster. Andujar is really starting to click at the plate and now the Yankees need to get his third base defense up to snuff. That won't happen playing first.
Conor asks (short version): What about Rhys Hoskins in a prospect for prospect trade? We get a guy that we can try out right away and who could be part of our core if he can handle major league position. The Phillies receive a prospect further up the defensive spectrum or an arm. Maybe Wade or Andujar for Hoskins?
Hoskins is kind of a weird prospect. It's tough to pin down who he really is. The 24-year-old went in yesterday's game hitting .295/.387/.590 (167 wRC+) with 20 homers, 15.3% strikeouts, and 12.7% walks in 346 Triple-A plate appearances this year. And yet, when you read the scouting reports, they're split on his in game power. MLB.com and Baseball America (subs. req'd) say it's above-average while Eric Longenhagen and Keith Law (subs. req'd) say it might not even be average.
A right-handed hitting and throwing first baseman with average power isn't anything special. Historically, right-right first basemen have to hit big to stick in the show. Ultimately, this is all hypothetical because I don't think the Phillies are going to trade Hoskins. Tommy Joseph is no obstacle at first base and I imagine Hoskins will get a big league audition in the second half. I'd rather not see the Yankees trade for a first base prospect. There are so many first basemen available in free agency each winter, plus they still want to see whether Greg Bird can give them anything.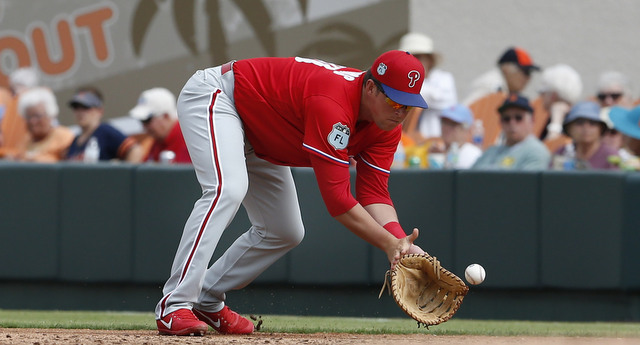 Anonymous asks: Do you think that the Yankees would consider getting Gary Sanchez some reps at 1B over the next couple of years to save the wear and tear on his body (ala Buster Posey & Joe Mauer)? Obviously his bat plays much better at Catcher, but it could lower the chances of injury, keep his bat in the lineup and potentially lengthen his career. Thoughts?
I don't think they will. I think the Yankees will instead use Sanchez at DH more often. Mauer didn't play much first base before transitioning over there full-time. When he didn't catch, he either sat out completely or served as the DH. Posey would DH more often if, you know, the NL had the DH. The big thing with catchers is their legs, right? All the squatting wears them down. Put Sanchez at first base for nine innings and that's a lot of standing around. Put him at DH and his legs get more rest. Maybe they could put him at first base for one or two games a year, though I'd bet against it. Sanchez is too valuable at catcher and they want to keep him in the lineup as much as possible. DH days are the best way to get him in the lineup without making him squat behind the plate.
Anonymous asks: Would the Yankees consider moving Billy McKinney to first base? He is probably blocked in RF and doesn't run fast enough for other OF positions, but has a great bat and power. There is certainly an opportunity at 1B with Bird out. And if they could throw Refsnyder out there to learn on the fly, why not McKinney?
The recent wave of "why not move this prospect to first base?" questions show how bad things have gotten at the position. McKinney has been awesome these last few weeks and that's why I don't think the Yankees will move him to first base. He's on the bubble regarding the 40-man roster and the Rule 5 Draft after the season. I think it's much more likely the Yankees keep McKinney in the outfield where he's comfortable, hope he rakes these next few weeks, then trade him at the deadline. Giving him a crash course at first base to try to plug a big league hole seems … unwise. I'm not sure McKinney is a long-term piece for the Yankees. I think it's much more likely he's trade bait, and moving him to first base midseason carries more risk than reward.
Dan asks: Do the recent injuries to Torres and Fowler affect the Yankees ability to make trades at the deadline?
Of course. Their trade value is diminished, no doubt about it. I don't think the Yankees were actually planning to trade Dustin Fowler or Gleyber Torres, but who knows what scenarios will present themselves? Now trading either guy at full value is impossible. Teams are going to use their injuries as a way to knock down their value and try to buy low on them. I know I'd want the Yankees to do that. Ultimately, I don't think the Torres and Fowler injuries will have much impact on the deadline because I don't think the Yankees were all that eager to trade either guy. But now trading them for full value is off the table completely.
Christian asks: A big splash for a starting pitcher or a buy low bullpen arm or even try and trade for an upgrade at 1st base?
The Yankees don't do big splashes at the trade deadline. The was one was what, Bobby Abreu? I guess Ichiro Suzuki qualifies given his name value, though that was hardly a blockbuster considering what the Yankees gave up. I think it's much more likely the Yankees take a 2014 trade deadline approach this year, and make a series of smaller "they got that guy at that price? neat!" trades rather than make a big slash. The big splashes tend to happen in the offseason. A reliever (or two) and a first baseman are my guess this trade deadline. Maybe even a starting pitcher if they decide to move Michael Pineda (or CC Sabathia?) before free agency knowing he's not a qualifying offer candidate.
Anonymous asks: Why is Aaron Judge batting second when he leads the majors in HR, the league in RBI, is 3rd in BA, and 4th in RBI? He has no one on base to drive in in his first two plate appearances every time Gardner doesn't get on base to start the game and Judge's second PA is leading off the 3rd or 4th inning (Yanks put four men on in the first two innings or only one on in the first three.)
Batting second got Judge an extra at-bat in Wednesday's game, remember. The lineup is so short right now due to injuries that I have no problem with Joe Girardi stacking the best hitters at the top of the lineup to get them as many chances as possible. Who could the Yankees hit second in the meantime anyway? Didi Gregorius? Jacoby Ellsbury? Chase Headley? Ronald Torreyes? I love Didi, but no thanks. A healthy Aaron Hicks would be the ideal No. 2 hitter, as long as he continues to hit like he did earlier this season. With Hicks (and Bird and Castro and Matt Holliday) all out of action, stack the best hitters up high and bat Judge second. It works for me. Imagine watching Ellsbury hit another grounder to the right side to end Wednesday's game with Judge standing in the on-deck circle. Goodness.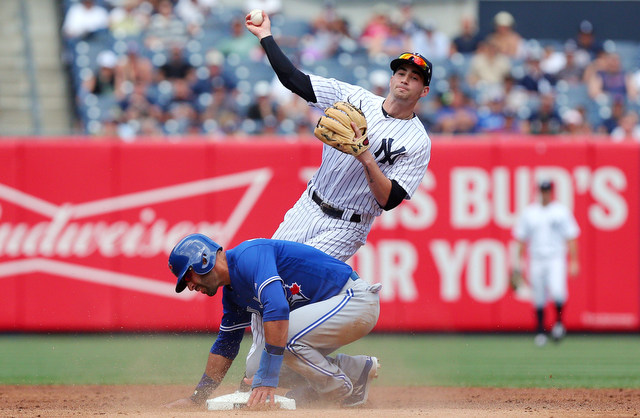 John asks: Do the Yankees/Girardi not trust Tyler Wade defensively at 2B? Would he be better served getting ABs and more positional experience at AAA if they only trust him defensively in the OF currently?
I don't get it all. Torreyes has started at second base against a right-handed pitcher twice in the last five games. Wade has played plenty of second base in the minors over the years, and while that doesn't necessarily mean Girardi and the Yankees are comfortable with his defense, it's hard to think that's the reason. If they want to sit him against lefties, fine, it works for me. But Wade should be playing second base against righties, especially when the alternative is Torreyes.
Matthew asks: As we've seen the Yankees struggle with consistency from the rotation this season and also watched as Yankees showed little to no interest in signing big-time free agent starters over the past 3 offseasons, do you think it was a mistake for the team to pass of signing any top guys such as Greinke, Price, Scherzer, Lester, and Cueto? Out of those players, who do you wish the Yankees had potentially went all out to sign?
No on Zack Greinke, David Price, and Johnny Cueto. Yes on Max Scherzer and Jon Lester. And even then I'm still on the fence because those two are two and a half years into long-term, big money contracts. Sabathia looked great two and a half years into his contract too. I was surprised the Yankees didn't make more of an effort to sign Lester at the time. He didn't cost a draft pick (he had been traded at midseason and was ineligible for the qualifying offer), he's an AL East battle tested lefty for Yankee Stadium, and the Yankees seem to love ex-Red Sox players. Scherzer is a freak. He's getting better at an age when pitchers aren't supposed to get better. Passing on Greinke, Price, and Cueto was fine. If you want to quibble over passing on a big name free agent starter, start with Scherzer and Lester.
Alessandro asks: Buster Olney speculated this week that Blue Jays could be prepared to sell at the deadline. Marcus Stroman has been mentioned and the Yankees have been scouting him. Obviously the intra-division angle makes this difficult, but could the two teams actually swing a trade? What would Stroman cost the Yankees?
I don't see this happening at all. There will be way too much interest in Stroman for the Blue Jays to trade him within the AL East. The Yankees would have to outbid everyone else and by quite a bit to get Toronto to bite the bullet and trade him to a division rival. Remember, when the Blue Jays were trading Roy Halladay, they refused to consider intra-division offers. They have a new GM, sure, but everyone at the ownership level remains, and I don't think that directive will change.
In pure baseball terms, a guy like Stroman is pretty much exactly what the Yankees need. A quality starter in his mid-20s with several years of team control remaining. He's kind of an ass, but whatever. I'd prefer Aaron Sanchez to Stroman myself, though we still fall into the same intra-division trade trap there. Stroman is under team control through 2020, and while he's not an ace, he is an above-average starter. I don't think it would be unrealistic at all for the Blue Jays to ask for two top prospects and a good third piece. That said, I don't see them trading Stroman (or Sanchez). Those are the guys they'll keep and build around going forward.
Julian asks: What about Giancarlo Stanton for Ellsbury with no money going either way? The Marlins needs to free up some cash for their sale and FOX's Ken Rosenthal speculated they could eat some money, which could be done in the way of Ellsbury's contract. I know we have a pretty decent right fielder now… but could Stanton play left with Gardner going back to center?
MLB should just fold the franchise and sell Marlins Park for scrap metal if they salary dump Stanton like that. I know Stanton has that big scary contract, but he's only 27 and he's really freaking good. Dumping him for a past prime veteran like Ellsbury would be so horrifically terrible for the Marlins. I think even Jeffrey Loria would understand that if you're going to trade a dude like Giancarlo, you've got to get absolute studs in return.
Ellsbury has zero value to the Marlins. No marquee value and limited on-field value. The difference in their salaries beyond this season is about $195M and that's only if Stanton doesn't opt-out. If the Marlins are willing to trade Stanton for Ellsbury straight up, the Yankees should do it. I can't imagine even the Marlins would be that desperate to unload his contract though. Stanton's value transcends his on-field performance for the franchise. He's their star player. He sells tickets, merchandise, and ad space. Ellsbury … doesn't.
Michael asks: Does Betances going to this year's All Star game surprise you? To answer my own question before you do, I'm guessing either A – Francona picked him and the other pitchers in mid to late June (before Betances struggled and had All Star numbers) or B – Francona picked him due to his great track record (made previous 3 all star games).
Not one bit. I mentioned this yesterday, but as of last Monday, Betances had a 1.09 ERA (1.41 FIP) and opponents were hitting .140/.282/.151 against him. The players voted him into the All-Star Game and the vote was held last week, when he was very All-Star worthy. So he's hit a rough patch since then. Big deal. It seems players around the league better appreciate Dellin's impact than many Yankees fans (or Randy Levine). Betances will get himself straightened out mechanically and we'll all move on. It would have been egregious to leave him off the All-Star roster when the vote was held.