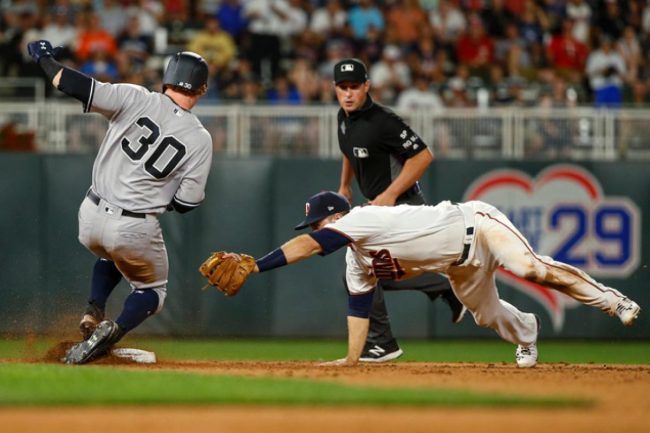 Stranded on second
The road trip continued westward to Minnesota, and the result was a familiar one. An inconsistent offense on Monday night led to another gut-wrenching close loss, 4-2, droppping the Yankees' record in games decided by two or fewer runs to 14-23 this season. The only team worse in MLB? The Phillies.
The most frustrating part of the game was that they had six doubles – setting themselves up to drive in a bunch of runs – yet scored only twice. Only once before in the Live Ball Era (since 1920) had the Yankees finished a game with at least six extra-base hits and no more than two runs scored – an 8-2 loss on August 12, 1965 to the …. Minnesota Twins.
The game still had its highlights, however, with a few notable performances by our Baby Bombers. Clint Frazier legged out two 'hustle' doubles, giving him eight extra-base hits in his short 11-game career, the second Yankee ever to with that many hits for extra bases in his first 11 career games. The other? Someone named Joe DiMaggio.
One night after getting his first big-league hit, Garrett Cooper went 3-for-4 and drove in a run, earning our Obscure Yankeemetric of the Series: Over the last 100 seasons, he's the only Yankee first baseman to have a three-hit game this early into his career (fourth game).
Caleb Smith pitched in his first major-league game, giving the Yankees the honor of being the first team this season to have 12 players make their MLB debut. Although he ended up allowing the game-winning runs, his performance was noteworthy: he's the first Yankee since Jose Rijo in 1984 to make his debut as a reliever and strike out at least five guys in the game.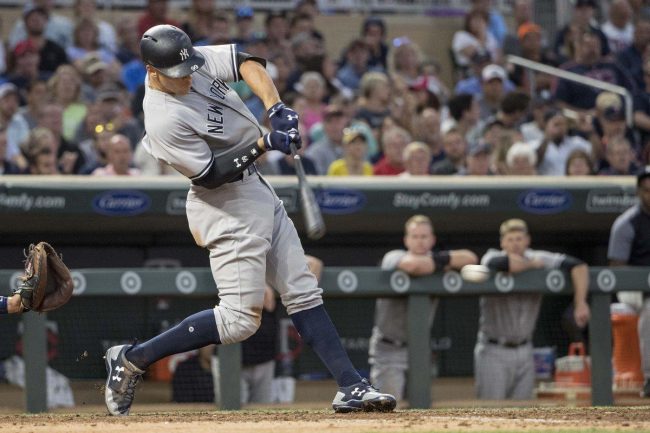 One game, two wins
Tuesday was a win-win for Yankee fans on and off the field: the team beat the Twins 6-3 thanks to some rare clutching hitting, while the front office delivered some much-need bullpen and corner infield help via a blockbuster trade with the White Sox.
On the field, facing their ol' buddy Bartolo Colon, the Yankees chased the 44-year-old in the fifth inning as they exploded for five runs to erase a 3-1 deficit. Here's a #FunFact about Colon (with a shout-out to loyal Twitter follower and guest RAB writer @LFNJSinner): Colon has faced 500 different players in his career, and two of them were the two managers in the dugouts for this series – Joe Girardi (1-for-2 vs. Colon) and Paul Molitor (2-for-8 vs. Colon).
Let's not forget amid this current collapse that this Yankees team doesn't ever quit. It was their 14th comeback victory when trailing by at least two runs in the game; only the Diamondbacks and Astros (both with 15) had more such wins through Tuesday.
As for the big news off the field, the Yankees and White Sox completed their first major-league trade since they acquired Nick Swisher in exchange for Wilson Betemit, Jeff Marquez and Jhonny Nunez in November 2008.
By adding David Robertson and Tommy Kahnle (welcome back, guys!) on Tuesday, the Yankees once again appear to be building a dynamic super-pen filled with power flamethrowers to dominate the middle and late innings.
Entering Wednesday, there were 18 relievers in the American League that had pitched at least 20 innings and boasted a strikeout rate of at least 32 percent. Five (!) of them will be wearing pinstripes for the rest of the season – Tommy Kahnle (42.6%), Dellin Betances (42.5%), Chad Green (37.4%), David Robertson (35.6%), Aroldis Chapman (32.7%).
At first glance, Todd Frazier's 2017 slashline doesn't seem to be very encouraging: .207/.328/.432 in 280 at-bats. But their might be some bad luck baked into those numbers. His BABIP of .214 was the second-lowest among qualified hitters at the time of the trade. That includes an unfathomable .144 BABIP in 40 home games.
Statcast metrics tell a similar story: Using the launch angle and exit velocity of his batted balls, you can get a better picture of a hitter's quality of contact and his true skill, independent of ballpark, defense, etc. That can be expressed in a metric called expected weighted on-base average (wOBA), which is just like OBP but gives a player more credit for extra-base hits.
Based on that method, Frazier had a spread of 29 points between his expected wOBA and actual wOBA, the 10th-largest differential among the 175 players with at least 250 at-bats this season. To put that into perspective, his actual wOBA of .333 ranked 109th in that 175-player sample — the same as Yunel Escobar — while his expected wOBA of .362 ranked 35th — on par with guys like Cody Bellinger (.365) and Robinson Cano (.367).
After a slow start, Frazier also has been heating up recently. Since June 17, he has a wRC+ of 140 in 96 plate appearances – a mark that ranks in the 80th percentile among all players and is better than any other Yankee in that span (min. 75 PA).
Deja vu all over again
If the Yankees were truly going to pull out of their never-ending tailspin and actually win a series, a trip to Minnesota to face the Twins would seem to be the perfect way to jumpstart an extended run. Consider these stats entering this series:
19-6 (.760) at Target Field, the highest winning percentage for any team at any stadium since at least 1913 (min. 15 games).
Had never lost a series at Target Field, which opened in 2010.
Won five straight series overall against the Twins, tied for their longest active series-win streak versus any AL team (also won five in a row against the Royals).
Oh, and the Twins have the worst home record in the AL.
Welp.
Historical success couldn't help the Yankees, as they lost Wednesday afternoon and fell to 0-8-2 in their last 10 series since sweeping the Orioles at Yankee Stadium June 9-11. It was their first series loss against the Twins since 2014 and their first in Minnesota since 2008.
If not for the second inning, the Yankees might have had a chance to actually break out of their slump. All six of the Twins' runs came in the second frame and all six also came with two outs, a rare two-out implosion by Jordan Montgomery. Over his previous eight starts combined, the lefty had allowed just five two-out runs and had held hitters to a .180/.255/.340 line with two outs.
The Yankee offense couldn't bail out Montgomery, either, as their struggles with runners scoring positioned deepened (1-for-7), resulting in another disappointing loss. Even more depressing than their lack of clutch hitting is the recurring nightmare of failing to close out series:
The Yankees have now lost their last nine games in which they had a chance to clinch a series win, and have also dropped 10 consecutive series finales, including eight straight on the road. Overall, this was their 10th loss in a "rubber game" (third game of a three-game series in which the teams split the first two games), which leads all MLB teams this season.