It took forever and it wasn't always fun to watch, but damn does it feel good. The Yankees were three outs away from yet another disheartening loss Saturday afternoon, but a few hours later, they were celebrating a 4-1 win over the Red Sox. It only took 16 innings. And, amazingly, it was only their second longest win of the season in terms of innings played. They had that 18-inning win at Wrigley Field.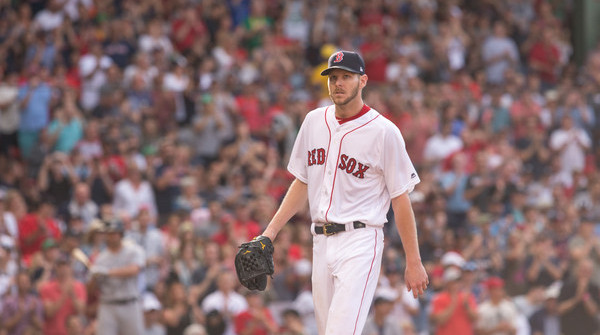 Eight Innings of Pain
There's nothing quite like facing Chris Sale to make a team struggling as much as the Yankees feel even worse about things. Sale toyed with the Yankees all afternoon, holding them to three hits and two walks in 7.2 scoreless innings. He struck out 13 and he was ahead of hitters all day. Seventeen of the 29 batters he faced saw a first pitch strike and 12 of those 29 saw an 0-2 count. How are you supposed to hit like that? Against a guy like Sale, no less?
The Yankees did have some chances against Sale. Brett Gardner started the game with a leadoff walk but never advanced as far as second base. Starlin Castro didn't budge following his leadoff double in the second. Gary Sanchez stood and watched the final out after his two-out double into the third. That's about it. Sale retired 15 of the final 18 batters he faced, and one of the baserunners reached on an error by third baseman Tzu-Wei Lin.
The last best chance against Sale came in the eighth inning, when his pitch count was over 100. Gardner blooped a single into shallow right field, bringing Sanchez to the plate as the go-ahead run. Sanchez doubled earlier in the game too. Sale struck him out though. Alas. Red Sox manager John Farrell went to closer Craig Kimbrel for the four-out save. Aaron Judge put together a great ten-pitch at-bat, including five straight two-strike foul balls, before lining out to right field to end the eighth inning. So it goes.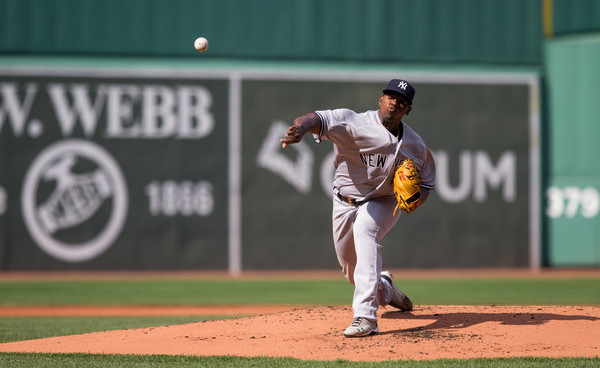 Toe to Toe with the Best
On most days seven innings of one run ball would be good enough to win, even with the Yankees bullpen. On Saturday, it was enough to put Luis Severino on the hook for a loss. Severino allowed that one run on a Mitch Moreland sac fly in the third inning. The Red Sox had the bases loaded with one out that inning and Severino escaped with minimal damage. His final line: 7 IP, 4 H, 1 R, 1 ER, 2 BB, 6 K and 114 pitches.
The most impressive thing about Severino's start is that he did that without his best pitch. The slider wasn't really cooperating Saturday afternoon. It was real short for whatever reason, almost like a cutter. Just one of those days, I guess. Severino relied on his fastball primarily, and mixed in the slider and changeup occasionally. Last year a bad slider day turned into a disaster start. Now it's seven innings and one run. What a year for Sevy.
Extra Innings
I'm not going to lie, when the top of the ninth started, I was already writing a blurb about the no shutout streak being over. Instead, the Yankees are still the only team in baseball not to be shutout this season. Matt Holliday knotted things up 1-1 with a long leadoff home run against Kimbrel in that ninth inning. The fastball was as middle-middle and middle-middle gets:
That was pretty awesome. Castro, the next batter, then reached on an error by Xander Bogaerts, and pinch-runner Jacoby Ellsbury immediately stole second. Runner on second with no outs! Strikeout, strikeout, strikeout. Yuck. I really can't explain Didi Gregorius pinch-hitting for Clint Frazier that inning either. Gregorius has been struggling and Frazier turned around a Corey Knebel heater for a walk-off home run last weekend. He can had handle velocity an Gregorius was coming off the bench cold against Kimbrel.
Well, whatever. To extra innings they went. Adam Warren bailed out Chasen Shreve, who allowed back-to-back leadoff singles, in the tenth. The Yankees wasted a free baserunner when Holliday was not called for interference in the 11th. It was a weird play. Holliday was on first and for some reason he retreated to the bag on Ellsbury's 3-6-3 double play ball. Moreland couldn't catch the return throw because Holliday was in the way. Textbook interference. They didn't call it and the Red Sox played the rest of the game under protest. Very weird.
(The protest won't be upheld. First of all, protests are almost never upheld, and besides, that play had no impact on the final score. The Red Sox got out of the inning without Ellsbury advancing beyond first base.)
In the 11th, Jonathan Holder pitched around a leadoff single and wild pitch. Ronald Torreyes managed to bunt into a 5-4-3 double play in the 12th. Holder went three up, three down in the 12th and 13th. Ellsbury drew a walk and Chase Headley singled to start the 14th, then none of the next three batters hit the ball out of the infield. Aroldis Chapman walked the first batter he faced on four pitches in the 14th but escaped. No swings and misses among his 12 pitches.
It wasn't until the 16th inning — 16th inning! — that the Yankees broke through. Red Sox fifth starter Doug Fister was in his third inning of work at that point, and the first four batters reached base. Ellsbury doubled off the Green Monster, Headley singled to center, Gregorius singled to right to score Ellsbury, then Austin Romine singled to right to score Headley. The Yankees got a third run that inning on Sanchez's sac fly. The Red Sox intentionally walked Gardner to load the bases for Sanchez and Judge. That won't happen often.
Anyway, a 4-1 lead was built, and it was glorious. Ben Heller, the last guy in the bullpen, went back out for his second inning of work, and retired the BoSox with a stress free 1-2-3 inning to seal the win. Man, major props to the bullpen. All seven relievers pitched and here's the result: 9 IP, 4 H, 0 R, 2 BB, 6 K. Hell yeah. Holder (three innings) and Heller (two innings) did the real heavy lifting. The Yankees are a Chapman blown save away from winning the first two games of this series. Alas.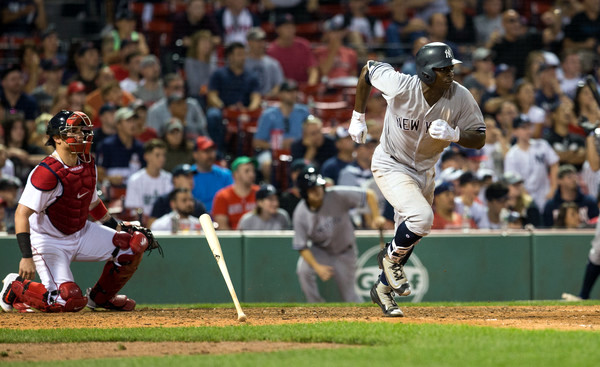 Leftovers
Welcome back, Starlin Castro. He went 1-for-3 with a double and a walk in his first game back from the DL. I thought the double was going to be a triple off the bat, but fresh off a hamstring strain? And leading off the second inning? No reason to push it. Starlin also make an insane tag on Dustin Pedroia's stolen base attempt in the eighth. Sanchez's throw was sailing wide, but Castro reached out, caught the ball, then swung his arm around to tag Pedroia. It was amazing. Nice to have Castro back.
It took until the 13th inning, but Judge's on-base streak has reached 41 starts. That dates back to May 26th and it is longest such streak in baseball this season. (Judge did come off the bench and fail to reach base in his only at-bat on one occasion during that streak.) Judge went 0-for-6 with two walks in the game and he still doesn't have a hit since the All-Star break. He'll be fine though. He's hit a bunch of balls hard.
The top six hitters in the starting lineup all reached base at least twice. Frazier and Garrett Cooper both went 0-for-3 before being removed for a pinch-hitter in that ninth inning. Torreyes went 0-for-6 overall, but did get a sac bunt down in the 16th, which set up the Gardner intentional walk and Sanchez sac fly. Not a good series for Toe overall.
And finally, seriously, give it up to the bullpen. They've thrown 14 innings the last two days and Chapman's ninth inning Friday night was the only stinker. Dellin Betances is starting to look like Dellin Betances again. Now it's time to get Aroldis back on track.
Box Score, WPA Graph & Standings
Head over to ESPN for the box score and updated standings, and MLB.com for the video highlights. Don't miss our Bullpen Workload page either. Here's the win probability graph:

Source: FanGraphs
Up Next
The Yankees and Red Sox will wrap up this series with a doubleheader Sunday. It'll be CC Sabathia, not Bryan Mitchell in the first game. The Yankees made the change following Saturday's game, presumably because they need Sabathia to soak up some innings. Sabathia will be opposed by Rick Porcello in the day game (1pm ET), then it'll be Masahiro Tanaka and David Price in the night game (8pm ET). Sixteen innings Saturday, a doubleheader Sunday, then a flight to Minnesota. Busy few days for the Yankees.