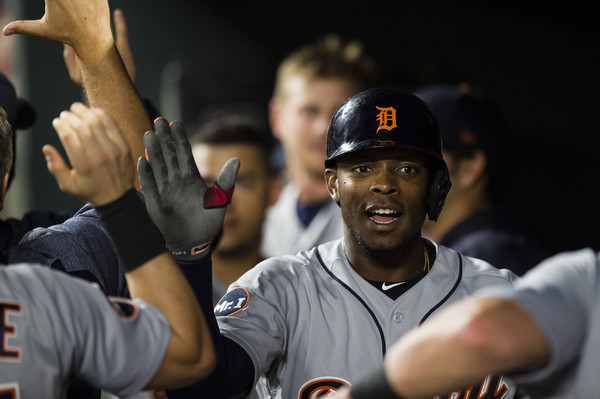 With so much discussion revolving around the Yankees failure to claw their way back into the race for the AL East, it seems as though their increasingly tenuous grasp on the Wild Card has been ignored. There are four teams within three games of those spots, and the Yankees will face one of them (the Mariners) this coming weekend. In order to stay in control of their own destiny, they must continue to beat-up on the subpar teams that they meet down the stretch; enter the Tigers.
The Last Time They Met
The Yankees hosted the Tigers from July 31 through August 2, dropping two of three. It was a frustrating series that included their 20th one-run loss of the season, and a shutout loss in a game started by one of the worst pitchers in the game. Some notes:
The Yankees went 3-for-3 with RISP in the first game, plating five runs in those at-bats. 7 of their 10 total base-runners scored in the game as a whole.
The newly acquired David Robertson finished the second game, and reminded us all of his Houdini act. He allowed three hits in a scoreless ninth inning, and was saved by Brett Gardner throwing out a runner at home.
Jordan Zimmermann — the aforementioned awful starter — shut the Yankees out for 7 innings in the final game of the series. The last time he tossed a scoreless outing was on April 20, 2016; he had a 5.81 ERA (5.20 FIP) in 198.1 IP in the interim.
Check out Katie's Yankeemetrics post for more fun facts.
Injury Report
Daniel Norris has been out since July 5, and just made his first rehab start last week. He could be back soon, but not in time for this series. And Anibal Sanchez just hit the DL on Friday, so he won't be back, either. The Tigers are healthy otherwise.
Their Story So Far
The Tigers are in fourth place in the AL Central with a 54-69 record. Their -53 run differential is 21st in baseball, and they're trending downwards. To wit, they lost six in a row before beating the Dodgers (!) on Sunday, and have been outscored by 25 runs this month.
Not much has changed since these teams last faced, in terms of the root cause of their struggles. They simply have too many players performing poorly, and they don't have the depth to make up for the struggles of foundation pieces like Miguel Cabrera (100 wRC+ this year, 79 in August) and Ian Kinsler (95 wRC+). Justin Verlander has shown signs of life, though, pitching to a 2.48 ERA in eight second-half starts. Luckily, the Yankees won't have to face a resurgent Verlander this week.
The Lineup We Might See
The Tigers lineup has been among the most consistently deployed in baseball this year, with the only real shake-ups coming from trades and injuries. As a result, it's fairly likely that we'll see something along these lines:
Ian Kinsler, 2B
Mikie Mahtook, CF
Justin Upton, OF
Miguel Cabrera, 1B
Nick Castellanos, 3B
Victor Martinez, DH
James McCann, C
Andrew Romine, RF
Jose Iglesias, SS
The Starting Pitchers We Will See
Tuesday (7:10 PM EST): RHP Masahiro Tanaka vs. LHP Matt Boyd
Given the way the last series against the Tigers went, Boyd would be my pick to annoy the heck out of Yankees fans this week. The 26-year-old southpaw sports a 5.70 ERA (77 ERA+) in 90.0 IP, and has allowed at least 3 earned runs in 13 straight starts. He was said to be heading to the bullpen, but the injury to Anibal Sanchez kept his place in the rotation safe for the time being.
Boyd is a four-pitch guy, utilizing a low-90s fastball, a mid-80s slider, a low-80s change-up, and a mid-70s curveball. He also throws a variation of a sinker, but it doesn't really sink, as evidenced by his 39.0% groundball rate.
Last Outing (vs. LAD on 8/18) – 1.1 IP, 1 H, 1 R, 2 BB, 2 K
Wednesday (7:10 PM EST): RHP Luis Severino vs. RHP Jordan Zimmermann
Zimmermann had his best start in a season and a half the last time this teams met (7.0 IP, 6 H, 0 R, 0 BB, 6 K), and promptly turned back into a pumpkin (15.2 IP, 23 H, 17 R, 6 BB, 8 K in three starts since). He currently has career-worsts in K/BB, GB%, ERA, FIP, xFIP, and a slew of other metrics, even as his velocity has rebounded from last season. I'd say that he's toast, but he certainly didn't look that way three weeks ago.
Last Outing (vs. LAD on 8/18) – 5.1 IP, 10 H, 7 R, 2 BB, 5 K
Thursday (1:10 PM EST): LHP Jaime Garcia vs. RHP Michael Fulmer
The Yankees beat up on Fulmer last time around, plating 7 runs in 6 innings and earning some small measure of vengeance for last year's Rookie of the Year award. Though his overall numbers are solid, it is worth noting that Fulmer is once again struggling in the warmer weather. He has a 4.38 ERA since June 1, and a 4.91 ERA since the All-Star Game. It's a small sample size, of course, but that's part of the reason why many were concerned that last year's success was a bit of an illusion.
Last Outing (vs. LAD on 8/19) – 7.0 IP, 3 H, 1 R, 2 BB, 6 K
The Bullpen
Former Yankee Shane Greene inherited the closer role when the Tigers dealt former Yankee Justin Wilson to the Cubs, and he has performed adequately thus far, closing out all three save opportunities. He has a 2.87 ERA in 53.1 IP on the season.
Alex Wilson (3.99 ERA in 49.2 IP) is the set-up man, and Daniel Stumpf (2.52 ERA in 25.0 IP) serves as the LOOGY, while the rest of the bullpen is kind of a mish-mash of roles. Warwick Saupold (3.47 ERA in 49.1 IP) is primarily a mop-up/long reliever, while Drew VerHagen (6.14 ERA in 7.1 IP), Bruce Rondon (10.91 ERA in 15.2 IP), Joe Jimenez (11.70 ERA in 10.0 IP), and Chad Bell (5.59 ERA in 38.2 IP) handle the middle innings.
As you can probably imagine from looking at this group, the Tigers have the worst bullpen in the majors (at least by WAR and ERA).
Who (Or What) To Watch
There is a chance that Greg Bird and/or Starlin Castro could be back for this series. Nothing concrete has been said about their return dates as of this writing, but both are rehabbing at Triple-A. The Yankees lineup will look a great deal better once they're back – so the sooner the better.
In terms of this specific match-up, Justin Upton bears watching. He is back to raking this year (.282/.366/.546, 26 HR, 10 SB, 140 wRC+), and could opt-out of his contract and hit free agency as a 30-year-old. I highly doubt that he'd be on the Yankees radar if that happened, but they've been interested in him before.