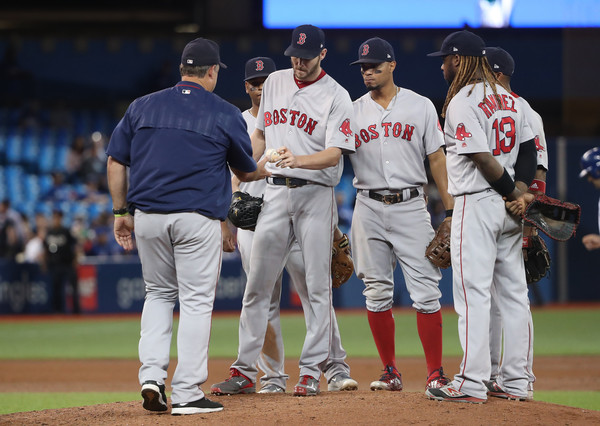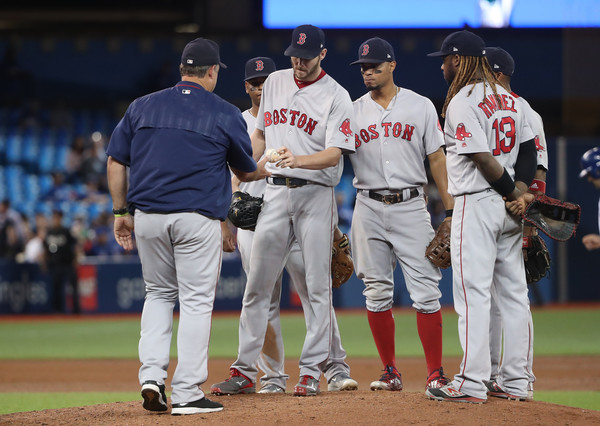 The Yankees opened this week a mere 2.5 games back of the Red Sox; with a bit of luck, they could have entered these next four days with a chance to regain control of the AL East. They dropped all three games to the Indians instead, while the Red Sox swept the Blue Jays. So it goes.
The Last Time They Met
Boston took two of three from the Yankees two weekends ago, opening up a five-game lead in the process. Some notes:
This was the series that led to Aroldis Chapman losing the closer's role, as he allowed the Red Sox to add a couple of insurance runs in the bottom of the eighth inning of first game. It was his fourth-straight appearance in which he allowed at least one earned run.
The Yankees bullpen had an awful series on the whole, allowing 10 runs (all earned) in 9 IP. Tommy Kahnle was the worst offender, pitching to the following line – 0.2 IP, 5 H, 4 ER, 2 BB, 0 K.
Chris Sale was utterly mortal in the Yankees lone win of the series, allowing 7 hits and 4 runs in 7 IP. Tyler Austin and Todd Frazier both took him deep as the Yankees won 4-3.
CC Sabathia came out ahead of Sale that night, allowing 2 runs and just 5 base-runners in 6 IP in his first start back from the disabled list.
Check out Katie's Yankeemetrics post for more fun facts.
Injury Report
The Red Sox are still banged-up, with Jackie Bradley Jr., Dustin Pedroia, David Price, and Carson Smith on the disabled list with a vague "September" return date, and Josh Rutledge, Tyler Thornburg, and Steven Wright done for the season. Both Bradley and Pedroia are hoping to return for this series, but neither Price nor Smith is expected back in time.
Their Story So Far
Boston is in first in the AL East at 76-57, and their +93 run differential places them seventh in all of baseball. They've won three in a row, and have an 18-8 record in the month of August. They're within striking distance of the best record in the American League, with just 3.5 games separating them from the semi-struggling Astros.
Given that these teams have met multiple times within the last four weeks, it doesn't seem like much else needs to be said.
The Lineup We Might See
The injury status of Bradley and Pedroia throws a wrench into the Red Sox lineup machinations. That being said, they have been trotting out this lineup with those two on the mend:
Eduardo Nunez, 2B (.312/.341/.460)
Andrew Benintendi, CF (.275/.354/.436)
Mookie Betts, RF (.263/.341/.437)
Mitch Moreland, 1B/DH (.257/.341/.452)
Xander Bogaerts, SS (.273/.335/.405)
Rafael Devers, 3B (.294/.354/.546)
Hanley Ramirez, DH/1B (.249/.335/.443)
Chris Young, LF (.236/.324/.396)
Christian Vazquez, C /or/ Sandy Leon, C (.294/.335/.413 and .235/.299/.367)
When healthy, Pedroia generally bats and plays second; Bradley is the center-fielder, and bats fifth.
The Starting Pitchers We Will See
Thursday (7:05 PM EST): LHP CC Sabathia vs. LHP Eduardo Rodriguez
Rodriguez started against the Yankees on August 11, and had his best start of the season; he went 6 shutout innings, and allowed just 2 hits and 2 walks, while striking out 7. He has been underwhelming in his three starts since then, and largely average on the season (108 ERA+ in 105.1 IP), but he's still just 24-years-old. Rodriguez did spend about a month and a half on the disabled list, but he's been healthy since the All-Star break.
Last Outing (vs. BAL on 8/26) – 6.2 IP, 7 H, 5 R, 1 BB, 7 K
Friday (7:05 PM EST): RHP Sonny Gray vs. RHP Doug Fister
It has been a strange season for Fister, who didn't even sign with an MLB team until May 20 … when he signed with the Angels. The Angels waived him about a month later, and he latched on with the Red Sox shortly thereafter. The 33-year-old journeyman has a 4.53 ERA (100 ERA+) in twelve games (nine starts) with the Sox, and has been more than competent in helping patch-up their rotation.
Fister has always been something of a junkballer, and not much has changed. He throws four different fastballs (four-seamer, two-seamer, cutter, sinker) in the upper-80s, and a curveball in the low-70s. He'll mix in a slider and a change-up, as well, but those are few and far between.
Last Outing (vs. BAL on 8/27) – 7.0 IP, 5 H, 2 R, 2 BB, 7 K
Saturday (1:05 PM EST): RHP Masahiro Tanaka vs. LHP Drew Pomeranz
This will be the Yankees fifth time seeing Pomeranz this year, who has mostly kept them at bay. He has thrown 21.0 IP in those four starts, allowing 23 hits, 8 earned runs (3.43 ERA), and 7 walks, while striking out 23. That isn't all that far off from his season totals on the whole, as he has a 3.23 ERA (139 ERA+) in 142 IP.
Last Outing (vs. TOR on 8/28) – 6.0 IP, 7 H, 3 R, 5 BB, 4 K
Sunday (7:35 PM EST): RHP Luis Severino vs. LHP Chris Sale
As was the case with Pomeranz, Sale will be making his fifth start of the season against the Yankees this weekend. On the off-chance that you've forgotten, Sale has dominated the Yankees on the whole, tossing 29.2 IP of 2.12 ERA ball, and allowing just 27 base-runners while striking out 44 batters. They did score four runs the last time they met, though, which, if we're optimistic, could bode well for this match-up.
Last Outing (vs. TOR on 8/29) – 7.0 IP, 3 H, 0 R, 0 BB, 11 K
The Bullpen
Craig Kimbrel – he of the 1.58 ERA (290 ERA+) and 16.6 K/9 – showed signs of mortality this week, laboring through an inning against the Blue Jays. He walked two and allowed a home run before slamming the door, and he looked just as shaky as that line suggests. He redeemed himself the next night, though, and is still the best reliever in the American League.
The rest of the bullpen has been up and down this month. They have a 107 ERA+ in August, as compared to a 128 ERA+ on the season, and they've been prone to the longball. Joe Kelly has been the worst offender, pitching to a 6.75 ERA this month, and newcomer Addison Reed (4.38 ERA/107 ERA+) has been a bit of a disappointment. It's still a solid group, but it seems as though its tenure as best bullpen in the game has ended.
Who (Or What) To Watch
Severino versus Sale has the potential to be must-see TV; I've jinxed the Yankees before by praising a pitching match-up, though, so perhaps this should be disregarded.
This series as a whole feels incredibly important – and not just for the obvious reasons. In a broader sense, the Yankees need to show that they can beat good teams again. With the exception of the Mariners, who they've taken two series from in the second-half, they have not taken a series from a playoff-caliber team since sweeping the Orioles from June 9 through June 11. They did split a couple of series with the Red Sox and the Indians, so maybe I'm being a 'glass half empty' type here – but a strong showing to open up September would set a completely different tone.