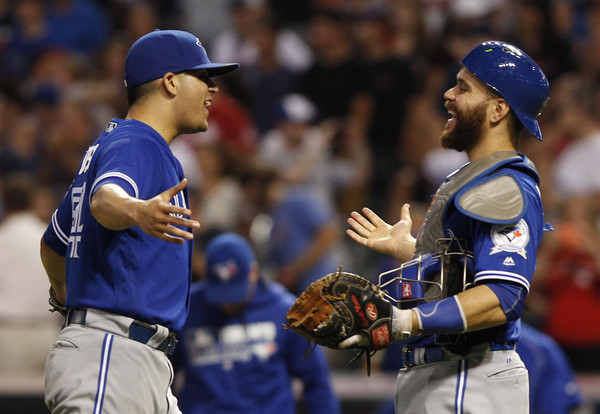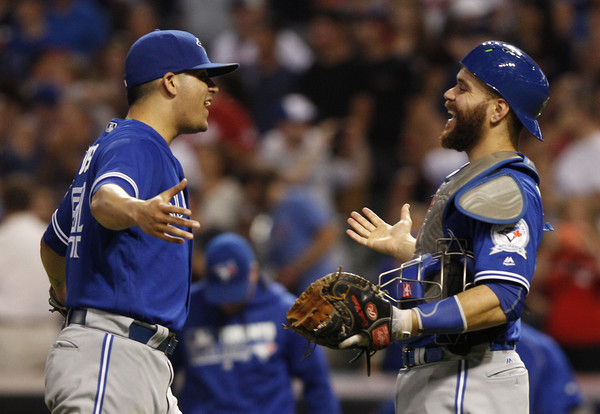 The Yankees have won back-to-back games after a frustratingly impotent four-game skid, and have shown intermittent signs of becoming a dominant all-around team again after their July lull. They'll test their mettle against the Blue Jays in Toronto for the next three days, before returning to the Bronx.
The Last Time They Met
Toronto took two of three from the Yankees in New York last month, tying the season series up at five wins apiece. This will be their fourth meeting of 2017, with two more series to go. Some notes from last time around:
Masahiro Tanaka had a great start in the first game, going 7 innings and allowing five hits, one run, and one walk, while striking out 8. It was his fifth best start of the year by Game Score.
The offense was all but completely shut down in the second game, a 4-1 loss, save for a home run by Aaron Judge. The Blue Jays pitchers combined to allow just 4 hits and 3 walks, racking up 11 strikeouts in the process (including 3 apiece for Judge and Didi Gregorius).
Dellin Betances had one of the worst (or at least most frustrating) appearances of his career, pitching to the following line: 0.1 IP, 1 R, 4 BB, 1 K. He walked three straight to load the bases, struck out Jose Bautista, and then walked in the game-winning (or losing, as it were) run.
Check out Katie's Yankeemetrics post for more details on the series.
Injury Report
Aaron Sanchez is back on the disabled list with blister issues, which have limited him to just eight starts this season. His return is up in the air, and it would not be shocking if the Blue Jays ended up shutting him down sooner rather than later. He's joined by Chris Coghlan, Miguel Montero, Devon Travis, and Troy Tulowitzki, none of whom are expected to return for this series.
Their Story So Far
The Blue Jays have been plagued by injuries throughout the season, and they've been unable to gain any traction as a result. They're currently 52-59 with a -87 run differential, which ranks 14th in the American League, and 25th in the majors. And, aside from injuries, there really isn't one aspect of the team to lay the blame on, as their offense, pitching, and defense have all been subpar, as they're in the bottom-third of the majors in runs scored, runs allowed, and defensive efficiency.
As a result of this, the Blue Jays were sellers at the deadline, sending Joe Smith and Francisco Liriano to contenders on July 31. Neither trade moved the needle all that much, but it did indicate that they had no misconceptions about their ability to climb back into the race.
The Lineup We Might See
As a result of all of the injuries and poor performance, the Blue Jays have been incredibly flexible with their lineups. The only player that is locked into one particular slot is Jose Bautista, who has been batting leading since late-June. Every other spot in the lineup resembles a revolving door, many of which may well be drawn out of a hat. Nevertheless, I expect that they'll trot out something like this:
Jose Bautista, RF
Russell Martin, C
Josh Donaldson, 3B
Justin Smoak, 1B
Kendrys Morales, DH
Steve Pearce, LF
Ryan Goins, SS
Kevin Pillar, CF
Darwin Barney, 2B
The Starting Pitchers We Will See
Tuesday (7:07 PM EST): LHP CC Sabathia vs. LHP J.A. Happ
The Yankees faced Happ on the Fourth of July, and it didn't work out too well. He went 6 innings, allowing 4 hits, 1 run, and 2 walks, while striking out 6. They did work the count well, causing him to throw 115 pitches in those 6 innings, but they simply couldn't square him up. Happ has a 3.92 ERA (116 ERA+) in 15 starts (85.0 IP) on the season.
Last Outing (vs. CHW on 8/2) – 7.0 IP, 6 H, 1 R, 1 BB, 10 K
Wednesday (7:07 PM EST): RHP Masahiro Tanaka vs. RHP Cesar Valdez
Valdez is, as far as I can tell, a 32-year-old rookie. I say "as far as I can tell" because he did amass 20 IP with the Diamondbacks way back in 2010, and there is some conflicting information out there regarding his service time. Regardless, he spent four years in the Mexican League after bouncing around a few organizations, before latching on the the Astros organization last year. He went to the A's this past off-season, and was placed on waivers in May, after posting a 9.64 ERA in four big league appearances. The Blue Jays scooped him up, and he's been an up-and-down swingman ever since.
Valdez is a junkballer, throwing a mid-to-upper 80s four-seamer, a mid-to-upper 80s sinker, a low-80s slider, and a low-80s change-up. His change-up is regarded as a solid offering, and is far and away his best pitch – but nothing else approaches average.
Last Outing (vs. HOU on 8/4) – 3.1 IP, 6 H, 6 R, 2 BB, 1 K
Thursday (7:07 PM EST): RHP Sonny Gray vs. RHP Marco Estrada
This is the fourth time that the Yankees will have to deal with Estrada's soft-tossing ways, but they might be excited about that nowadays. They knocked Estrada around last time, plating 6 runs and putting 9 runners on base in 4.2 innings, and that's kind of been the norm for him since the calendar flipped to June. Estrada has a 5.12 ERA (89 ERA+) on the season, including a 7.39 ERA since June 1.
Last Outing (vs. HOU on 8/5) – 7.0 IP, 5 H, 3 R, 2 BB, 7 K
The Bullpen
There was a time when the Blue Jays bullpen was a bright spot for the team, but that is no longer the case. They have 62 meltdowns on the season (5th worst in baseball), and they're bottom-ten in park-adjusted ERA. Trading Joe Smith was a blow to the bullpen, as well.
Closer Roberto Osuna has struggled since these teams last met, pitching to a 7.11 ERA in 13 appearances, and blowing four saves. That includes a blown save in his last outing – a 0.2 IP effort against the Astros, in which he allowed 5 hits and 4 runs, striking out 1. Ryan Tepera, Danny Barnes, and Dominic Leone serve as a rotating cast of late inning arms, and they've been solid in that role. Beyond those relievers, however, it's been shaky at best.
Who (Or What) To Watch
I always dread when the Yankees face a pitcher like Valdez, as they almost always seem to struggle against rookies and unknowns. I know that that isn't backed-up by statistics – but I also know that I'm not alone in that respect. Racking up runs against Happ and Estrada while being shut down by Valdez feels like a very Yankees thing to do, doesn't it?
We will also get to see old friend Rob Refsnyder, who has appeared in five games for the Blue Jays so far. He has started three games at second base, pinch hit in one game, and pinch ran in another; he also scored the game-winning run the other night with a nifty slide.