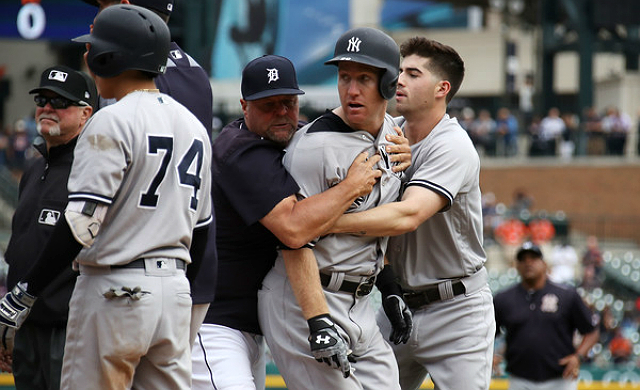 After handily winning back-to-back games against a lackluster Tigers squad, the Yankees let themselves get sidetracked by retaliation and brawls in a loss on Thursday afternoon. It was ugly. It was disappointing. To borrow a phrase from Joe Girardi, it's not what you want.
So now it's time for the Bombers to get back to business, shaking off a horrid getaway day and embracing the light side of the force. It is Star Wars day after all!
The Yankees start a 10-game homestand tonight, beginning with a three-game set against the Seattle Mariners. The Mariners are just four games back of the Yankees and are in the thick of the Wild Card chase. There are only big games remaining, just to varying degrees of importance.
Here is the Mariners' lineup and here is the Yankees' lineup, featuring the return of their starting second baseman:
LF Brett Gardner
CF Aaron Hicks
C Gary Sanchez
RF Aaron Judge
SS Didi Gregorius
2B Starlin Castro
DH Tyler Austin
1B Chase Headley
3B Todd Frazier
LHP CC Sabathia
This will be the first time the Yankees have ever worn nicknames on the back of their uniforms with baseball's first ever Players Weekend. Should be fun to see A-A-Ron and Kraken bat back-to-back.
Cloudy skies are on tap in the Bronx as the Yankees take the field for the 7:05pm ET start. The game will be broadcast on WPIX 11 locally and MLB Network nationally. Enjoy the game!
Roster move: To make room for Castro on the roster, Tyler Wade was optioned to Triple A.