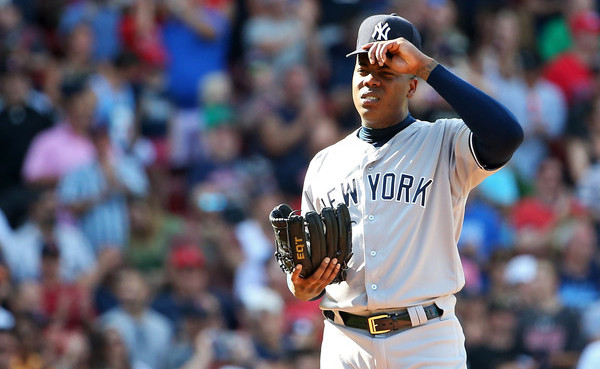 Last night Masahiro Tanaka returned to the rotation after a quick stint on the 10-day DL to deal with what was essentially a dead arm. The Yankees announced it as shoulder inflammation, though everyone involved called it fatigue. No big deal. Tanaka returned three days after CC Sabathia returned from the 10-day DL. Sabathia had more problems with his troublesome right now. Both guys missed the minimum ten days.
MLB went from a 15-day DL to a 10-day DL this year and, not surprisingly, teams are really taking advantage of it. Pretty much anytime a player is banged up, he gets quick ten-day vacation. Already this year there have been 502 DL stints across baseball. There were 472 all of last year. No team has used the new 10-day DL more than the Dodgers. They've had 25 DL stints already, most in baseball.
That is, at least somewhat, by design. The Dodgers have put all their starting pitchers on the 10-day DL at some point just to give them a little rest here and there. The Yankees have had 17 DL stints this year, which is middle of the pack. They've had the opportunity to use at times and declined. Aroldis Chapman's hamstring injury last week, for example. They went a few days without Chapman being available rather than give him that quick ten-day break.
It's a little too late to take advantage of the 10-day DL now — rosters expand in nine days and there's no point in placing someone on the 10-day DL in September — but should the Yankees have used it more often this year? For, say, Chapman's hamstring. Or to give Luis Severino a quick breather at some point with his innings mounting. Or for Aaron Judge's achy shoulder. It's easy to say yes, but three things to consider.
1. Players don't like going on the DL. Players are competitors. They aren't robots and this isn't a video game. You don't put a player on the DL for ten days when he only needs a day or two without potentially upsetting him. They all want to play. Every single one of them. No one wants to go sit on the DL for a week and a half when it's not necessary. There are relationships to be maintained — even explaining the situation to the player isn't guaranteed to smooth things over — and heck, a player could even go to the union to file a grievance.
2. You need to have quality depth to do this. Okay, so you want to put Judge on the DL to knock out his shoulder issue? Who steps into the lineup then? It'll be Jacoby Ellsbury, who is hitting .238/.315/.367 (83 wRC+) this season. And who gets called up? Probably another reliever with the way the Yankees are going. Chapman going on the DL likely means Gio Gallegos or Bryan Mitchell. Want to skip a Severino start? Prepare for more Mitchell or Luis Cessa. There's inevitably going to be a drop off from the regular being stashed on the DL to the guy replacing him.
3. The Yankees are in the postseason race. This ties in to the previous point. The Yankees are trying to catch the Red Sox in the AL East and hold off basically the rest of the AL in the wildcard race. They need as many Severino starts and Judge at-bats as possible. They're not in position to voluntarily give some of those away. I suppose the counterargument here is that a quick 10-day DL stint here and there means more effective players down the stretch. That's more a theory than a proven fact though, isn't it? It's tough to see how sitting your regulars for ten days at a time equals improved odds of winning.
* * *
The Dodgers have manipulated the 10-day DL rule expertly, and they've been able to do it because they're on pace for 116 wins and have a 20-something game lead in the division. If the Yankees had the same lead, I'm certain Severino's workload would be getting scaled back a bit, and Judge and everyone else would be getting more time off. That's not the case though. The Yankees are fighting for a postseason spot and they need their best players on the field as much as possible.
Using the 10-day DL to give players a midseason rest is something to keep in mind for the future. The Yankees seem to be building toward something special, toward sustained excellence, and should they achieve it some point, resting their players for ten days at a time would be more doable. It's too late to do it this year, and besides, the Yankees need all their players to help them reach the postseason. This is one of those ideas that sounds great in theory but isn't quite as easy to put into practice.