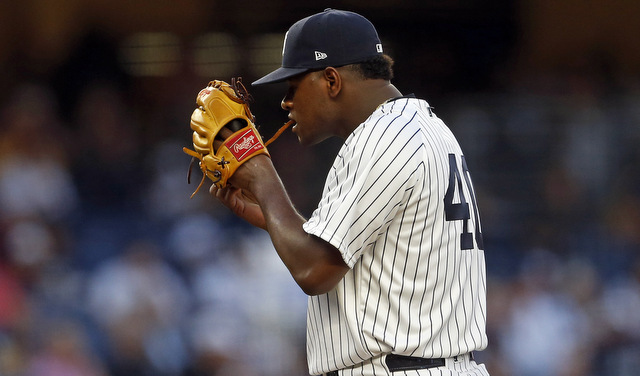 In all likelihood the Yankees will host the Twins in the 2017 AL Wild Card Game next Tuesday. The Yankees are still alive in the AL East and the Angels are still alive in the wildcard race, sure, but everything is pointing toward Yankees vs. Twins at Yankee Stadium next week. It would be an upset if the Wild Card Game featured a different matchup.
Tonight Luis Severino will make his final regular season start in preparation for that Wild Card Game. The Yankees haven't officially announced him as the starter yet — he could start a potential Game 163 should the Yankees and Red Sox tie for the division title — but again, everything points in that direction. Severino will start the Wild Card Game with Sonny Gray, tomorrow's starter, the backup plan.
Severino has of course been brilliant this season, throwing 187.1 innings with a 3.03 ERA (3.08 FIP). His 29.0% strikeout rate and 4.42 K/BB ratio are both eighth best among the 57 pitchers with enough innings to qualify for the ERA title. Severino is going to finish in the top five of the AL Cy Young voting. He might even finish third behind Corey Kluber and Chris Sale (in whatever order). He's been outstanding all year.
In the winner-take-all Wild Card Game, of course you want your best starter on the mound, and when you have someone as good as Severino, it's an easy call. With all due to respect to Gray and Masahiro Tanaka, the Yankees are absolutely right to give the ball to Severino next Tuesday. There is, however, another line of thinking in the Wild Card Game. Instead of using a starter, just use relievers. Make it a bullpen game.
Dave Cameron first championed the idea back in 2012, when the Wild Card Game first became a thing, and since then more and more folks have mentioned it as a viable Wild Card Game plan. A few days ago Brian Kenny did a whole MLB Network segment on the Yankees going with a bullpen game in the Wild Card Game next week.
I say the #Yankees should start Chad Green & Bullpen the Wild Card game.
And I have John Smoltz' blessing (almost): pic.twitter.com/tdI2LmpYUB

— Brian Kenny (@MrBrianKenny) September 26, 2017
The idea, if you didn't watch the video, is that relievers in short bursts are generally more effective than starters going through the lineup multiple times. The Yankees are loaded with power bullpen arms. Tommy Kahnle has been outrageously good all season and especially the last few weeks. He's finally settled into a nice groove in pinstripes and is what, the fourth best reliever in the bullpen? Maybe the fifth best?
Come the Wild Card Game, Joe Girardi is going to be itching to go to the bullpen, especially if the Yankees take a lead early in the game. The Yankees are built to smother teams in the late innings with all those power relievers. So, rather than start Severino and hope he pitches well, why not just go straight to that bullpen? That's the idea. Here's what a bullpen game could look like for the Yankees:
First Inning: Chad Green
Second Inning: Green
Third Inning: Green or Dellin Betances if Green's pitch count is elevated
Fourth Inning: Betances
Fifth Inning: Betances or Kahnle
Sixth Inning: Kahnle or David Robertson
Seventh Inning: Robertson
Eighth Inning: Robertson or Aroldis Chapman
Ninth Inning: Chapman
That would still leave a hopefully healthy Adam Warren in reserve. And, if the game goes to extra innings, the Yankees could always turn to Severino then. They'd let their top bullpen arms, all those strikeout heavy relievers, air it out for an inning or two in the must-win game. Then, if that works, Severino is available for Game One of the ALDS and he could potentially start two games that series rather than one.
It sounds like a wonderful and amazing plan that would increase New York's chances of winning that Wild Card Game. It also sounds — to me at least — like one of those things that is great on paper but not quite as easy to put into practice. The more relievers you use, the more likely it is you run into someone who doesn't have it working that day. And what happens when you ask two or three relievers to go two innings when they're not used to doing it? What happens when you break their routine and ask them to warm up a few innings earlier than usual?
Severino, meanwhile, is really freaking good! It's not like the Yankees are limping into the postseason and will have to start Jaret Wright in an elimination game. They clinched early and Severino has been one of the three best starters in the AL all season, and they were able to line him up for that game. That's what every team wants to do going into the Wild Card Game, right? Line up your best starter and have the bullpen ready to go at the first sign of trouble. The Giants did it with Madison Bumgarner in 2014 and 2016, the Astros did it with Dallas Keuchel in 2015, and the Cubs did it with Jake Arrieta in 2015. Pretty solid plan, handing the ball to an ace.
For what it's worth, Joe Girardi told Bryan Hoch he is not a fan of the bullpen game idea in the Wild Card Game. The Yankees are one of the most statistically inclined and forward-thinking teams in baseball. I'm certain they've at least entertained the idea of a bullpen game. I mean, how could you not at least kick the idea around when you have this bullpen? Like I said, Girardi is going to be itching to turn the game over to his bullpen. Green is going to be warming up at the first sign of trouble. I know it, you know it, Girardi knows it, everyone knows it.
No matter what you or I think, the Yankees are going to start Severino in the Wild Card Game, not roll with a bullpen game. I don't think we'll see any team go with the bullpen game idea anytime soon, to be honest. This hypothetical scenario is begging for a poll, however, so let's get to it.
What should the Yankees do in the Wild Card Game?