Another day, another win. The Yankees are playing some pretty good baseball right now. They picked up a 6-1 win over the Rays on Wednesday night and have now won 18 of their last 24 games. The Yankees are a season high 20 games over .500 and their next win will be their 90th. That seems good. The Red Sox won, so their magic number to clinch the AL East is down to two. Not much the Yankees can do that about. Just keep winning and make the BoSox earn it.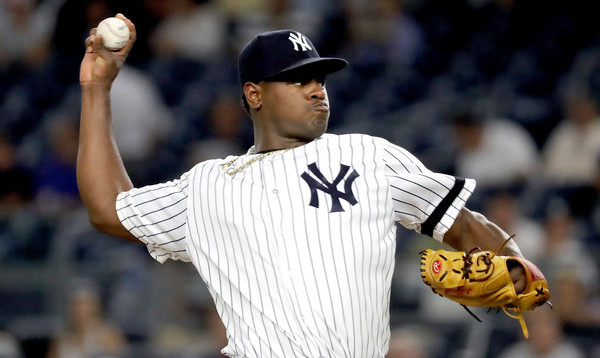 Sevy's Final Tune-Up
In his final start of the regular season, Luis Severino looked very much like a pitcher going through the motions and getting his work in. It wasn't a Spring Training outing, but I'd say Severino was throwing with maybe 80% intensity. He did ramp it up at times, most notably when he struck out Corey Dickerson to end the fourth with runners on second and third, but mostly he was on cruise control. Free and easy, just staying sharp in advance of the postseason.
Severino made one mistake Wednesday night. Well, no, two mistakes. He got away with a hanging slider to the formerly good at baseball Evan Longoria in the sixth inning (Longoria pulled it foul). The one big mistake was a hanging two-strike slider to Adeiny Hechavarria in the fifth inning, which Hechavarria parked in the left field seats for a solo home run. He's pretty annoying, huh? Hechavarria did the number on the Yankees during the Citi Field series too.
The final regular season start for Severino: 6 IP, 4 H, 1 R, 1 ER, 1 BB, 9 K on 91 pitches. Considering this was a postseason tune-up start, that is the baseball equivalent of messing around and getting a triple double. Severino finishes the season with a 2.98 ERA and 230 strikeouts. He's the first Yankee starter with a sub-3.00 ERA since Andy Pettitte (2.88 ERA) and David Cone (2.82 ERA) both did it in 1997. As for the strikeouts, here is the franchise's single-season strikeout leaderboard:
1978 Ron Guidry: 248
1904 Jack Chesbro: 239 (in 454.2 innings!)
2011 CC Sabathia & 2017 Severino: 230
Yup. Our little baby pitching boy is all grown up. Heck of a season for Severino. With all due respect to what Masahiro Tanaka did last year, Severino had the best pitched season by a Yankees since Sabathia in 2011, and maybe even further back than that. In all likelihood, the season will be on the line in the Wild Card Game the next time Sevy toes the slab, and I couldn't be more confident in him.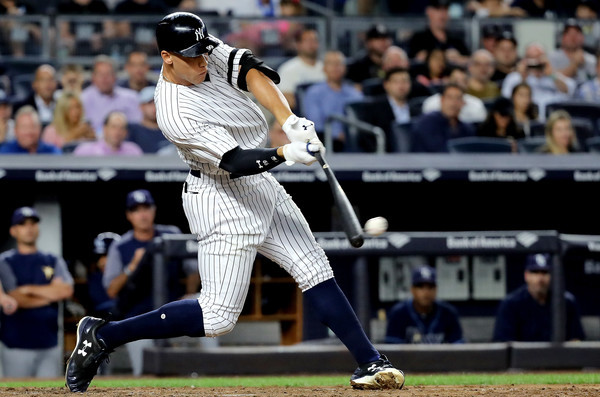 Bombs Away
For the first four innings, the Yankees did a whole bunch of nothing against Matt Andriese. Brett Gardner started the game with a double and was stranded at second. Chase Headley beat out an infield single with two outs in the second and was stranded. Aaron Judge worked a two-out walk in the third and did not move. Starlin Castro was safe at first on a Longoria error with one out in the fourth and did not advance another base.
It wasn't until the fifth inning, after Hechavarria's home run, that the offense kicked it into gear. Jacoby Ellsbury worked a seven-pitch walk to start the inning and Aaron Hicks followed with a ground ball single to put runners on corners with no outs. Gardner hit a bad luck line drive at Hechavarria for the first out — Hechavarria is sooo annoying — which brought Judge to the plate. He's unclutch, I hear.
The Yankees have already clinched home field advantage in the Wild Card Game, so the pressure is off and Judge lined an unclutch two-run double into the left field corner to give the Yankees a 2-1 lead. Can you believe this guy? So unclutch. Andriese got to two strikes on Judge, which is where you want to be, but his fifth breaking ball of the seven-pitch at-bat was up just enough for Judge to drive it down the line. So very unclutch.
That two-run double gave the Yankees a 2-1 lead in the fifth. They broke it open in the sixth. Back-to-back solo homers for Castro and Greg Bird, and two-run home run for Hicks. Just like that, a 2-1 lead became a 6-1 lead. The best part? The Yankees are now holding fake press conferences in the dugout whenever someone hits a home run. Here's Castro being interviewed by his teammates:
Greatest video ever pic.twitter.com/DWoWvrLTy2

— Jesse Foster (@Jesse__Foster) September 28, 2017
They call it the Toe-night Show. For real. This team is really good and also really fun. There's something to be said for being professional and acting like you've been there before and all that, but the Yankees took it to the extreme for a few years. It gets boring after a while. The Yankees finally have some personality, you know? They're good, they're young, and they're very fun. Love this team, you guys. Love 'em more than you've ever loved another team. They're special.
Leftovers
Chad Green had to bail Chasen Shreve out of a two on, two out jam in the sixth inning, otherwise it was a nice easy night for the bullpen. Dellin Betances went ground out, strikeout, pop out in the eighth. Nine of his 13 pitches were strikes. He's looked much better his last few times out. I'm not saying Betances is fixed yet or even that he will be fixed soon, but at least he's temporarily stopped walking everyone.
How about Hicksie? He went 2-for-3 with a home run before being removed from the game Wednesday night — that's all part of the plan as he works his way back from the oblique injury — and is 2-for-4 with the homer, three walks, and one strikeout in two games back. And he robbed a grand slam. Not a bad two days for him. Gardner and Headley each had two hits in this game as well. The Yankees had nine hits total and six went for extra bases.
And finally, the strikeout was No. 100 on the season for Betances. He and Green are the sixth pair of teammates with 100+ strikeouts in relief in baseball history. Betances is now the ninth reliever in history with four 100+ strikeout seasons. Pretty cool.
Box Score, WPA Graph & Standings
For the box score and updated standings, head over to ESPN. MLB.com has the video highlights. Here's our Bullpen Workload page and here is the win probability graph:

Source: FanGraphs
Up Next
The Yankees and Rays will wrap-up this three-game series Thursday night. Only four more games remaining this season. Regular season, anyway. Sonny Gray and Jacob Faria, not Alex Cobb, are the scheduled starters. The Rays decided to shut Cobb down for the season.