Good win. Good road trip, all things considered. The Yankees pounded the Rangers in the series finale Sunday afternoon, closing out the impromptu six-game trip away from New York with a 16-7 win. They won four of the six games on the trip, and in the two losses, they held a four-run lead and a five-run lead. Hate you sometimes, baseball.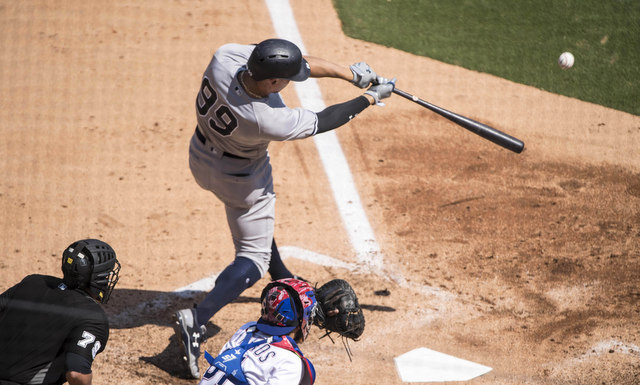 Blown Open
For all intents and purposes, Rangers righty A.J. Griffin is a knuckleballer who uses a mid-60s curveball instead of an actual knuckleball. He threw that curve 23 times in 59 pitches Sunday afternoon. I guess you have to use it so much when your fastball tops out at 87 mph. Griffin left one of those 87 mph heaters up in the zone in the first inning, and Gary Sanchez promptly deposited it deep into the left field seats for a quick 1-0 lead. Hooray.
The Yankees added two more runs in the third because Griffin plunked Sanchez in the shoulder with a pitch, and I'm pretty sure it was intentional after the homer. If it was, it was stupid, because it put two men on base with one out, and Didi Gregorius followed it up with a double into the right field corner. Add in an Aaron Judge sac fly and that apparently retaliatory hit-by-pitch contributed to a two-run third inning and a 3-1 Yankees lead. They really broke it open in the fourth. Let's annotate the play-by-play.

(1) Griffin got through the lineup one time by keeping the Yankees off balance with that lollipop curveball. The second time through the lineup didn't go nearly as well. Jacoby Ellsbury looked very comfortable in the box during his leadoff hit-by-pitch in the fourth — that one wasn't intentional, Griffin hit him with a curveball — and Austin Romine's single to center was well-struck. Left his bat at 104.3 mph. That ended Griffin's day. Nick Martinez came in, grooved a first pitch fastball to Brett Gardner, and he lined it into the left-center field gap to score Ellsbury and Romine. The rout was on.
(2) How good has Chase Headley been? He came into this game hitting .326/.392/.535 (144 wRC+) in the second half and his hot streak dates back even further than that, to mid-June or so. His single to center scored Gardner for a 6-1 lead. Headley went 1-for-6 in the game, which lowered his season batting line to .278/.358/.427 (109 wRC+). Pretty cool.
(3) Somehow the Yankees looked even more comfortable in the box against Martinez than they did against Griffin. Sanchez ripped a double down the left field line, though not into the corner, so Headley couldn't score from first. As good as Headley has been, he's still slow as hell. That's okay. Runners at second and third with no outs and three runs already in works for me.
(4) Ground ball double plays that short circuit a big inning are no fun. Starlin Castro banged into a rally killer with runners on the corners and no outs, so a run did score on the play, but still. The first six batters of the inning reached base, then bam, double play. I guess the Yankees have screwed up so many times this year when hitting into a double play to score a run would've been a positive outcome that we should appreciate this one? Yeah, let's go with that.
(5) All friggin' rise. Judge crushed his 40th (41st*) home run of the season following Castro's double play, and he smacked it the opposite way out to right-center field. When he's at his best, Judge hammers the ball the other way. He's not out of the woods yet, but that's three homers in seven games now, plus a ton of walks. Not as many strikeouts either. Those hittable pitches he was missing the last few weeks? He's starting to hit them again. Evidence: his 41st (42nd*) homer of the season, which he hit in the sixth inning.
So make it four homers in his last seven games. Judge is only the second rookie in history to hit 40 homers in a season, and he has a real chance to approach Mark McGwire's rookie record of 49 home runs. Judge is the fifth Yankee age 25 or younger to hit 40 homers in the season, joining … wait for it … Babe Ruth, Lou Gehrig, Joe DiMaggio, and Mickey Mantle. Oh, and he also drew his 107th walk in this game, setting a new single-season rookie record. Good gravy.
Another Short Start For Montgomery
Does Jordan Montgomery belong in the rotation right now? It's a question the Yankees have to at least ask, right? Montgomery needed 79 pitches to allow three runs on three hits and four walks in 3.1 innings Sunday, giving him a 5.27 ERA (4.99 FIP) in 12 starts and 56.1 innings dating back to July 1st. That works out to 4.69 innings per start. Some of that is by design to control his innings, but isn't that also part of the problem? He can't give you any length.
Anyway, in the second inning Montgomery gave up a game-tying solo home run to Robinson Chirinos, who is somehow hitting .268/.380/.558 (114 wRC+) with 17 home runs in 264 plate appearances this season. Gotta love the juiced ball. After the Yankees put up the six spot in the top of the fourth inning to take a 9-1 lead, Montgomery walked the first two batters on eleven pitches to start the bottom of the fourth. Not good. Walk, walk, strikeout, one-run double off the wall, afternoon over. Montgomery was yanked. Got one more out after the Yankees gave him a 9-1 lead in the fourth. Brutal.
Also brutal: Chad Green throwing 48 pitches in 2.1 innings in a blowout. He entered the game with a seven-run lead and left with an eight-run lead. So, to recap:
Thursday: Green pitches in an eight-run game.
Friday: Caleb Smith pitched in a two-run game.
Sunday: Green pitches in a seven-run game.
I know the Yankees have blown a four-run lead and a five-run lead within the last week, but using Green in games like this seems overkill? The Yankees blew those four and five-run leads partly because Green wasn't available after pitching with even bigger leads. There has to be a middle ground somewhere, a middle ground where Green isn't reserved to piggyback with Montgomery every fifth day. Green did allow a run in his 2.1 innings Sunday, so I guess it's good he got it out of his system with a huge lead.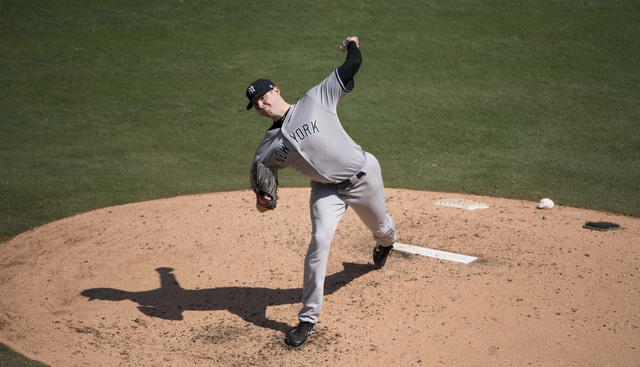 Leftovers
Not to be outdone by Judge, Sanchez added a second home run in the eighth inning, that one a very long solo blast onto the grassy knoll beyond center field. Sanchez missed a month and still reached 30 homers. As a catcher. At age 24. The 30 homers tie Jorge Posada and Yogi Berra for the most ever by a Yankees catcher in a single season, regardless of age. Judge and Gary are going to be socking dingers in the same game for a long, long time. I can't wait.
You know you had a good day at the plate when your cleanup hitter went 4-for-4 with a double and is only the third biggest story on offense. Gregorius had those four hits and also drove in four runs. He somehow didn't score a run though. Weird. Three hits for Romine and two for Gardner, so the wrap around 9-1-2-3-4 portion of the lineup went a combined 13-for-24 (.542) with two doubles, one triple, and two homers. The Yankees scored 16 runs, had 18 hits and three walks, and struck out twice (Ellsbury and Ronald Torreyes).
Twice the Yankees had a runner at third base essentially deke the infielder into holding onto the ball and not making the play at first. In the third inning, with Sanchez at third, Castro hit a grounder to Joey Gallo, who tried to tag Sanchez after he wandered down the line. Gary retreated to the bag and everyone was safe. Then, in the fifth, Ellsbury deked Gallo into holding onto the ball on Headley's would-be ground out. Everyone was safe again. Both Sanchez and Ellsbury came around to score after that.
As expected, both Tommy Kahnle and Dellin Betances pitched in the blowout win. For real. Kahnle struck out two in 1.1 scoreless innings and Betances struck out two in his inning. He also walked two and allowed a booming two-run double. Good thing he didn't do that in a close game, huh? Dellin hadn't pitched since Tuesday, so he needed the work. When Betances goes too long between appearances, it ain't pretty, as we saw in this one.
Welcome to the Yankees, Erik Kratz. He never did catch while Sanchez and Romine served their suspensions, but he did come off the bench late in this game to pinch-hit for Sanchez with the score out of hand. He roped a run-scoring double. Sure, why not. Tyler Wade drove in a run with a single off the bench and Tyler Austin drew a pinch-hit walk. Everyone got in on the act except Castro (0-for-6) and Greg Bird (0-for-5).
Box Score, WPA Graph & Standings
For the box score and updated standings, go to ESPN. For the video highlights, go to MLB.com. We have a Bullpen Workload page. Here's the win probability graph:

Source: FanGraphs
Up Next
For all intents and purposes, the road trip is over. The Yankees are heading back to New York for their neutral site series with the Rays at Citi Field. CC Sabathia and Jake Odorizzi will be on the mound in Monday night's opener. Hope everyone in Florida is staying safe.