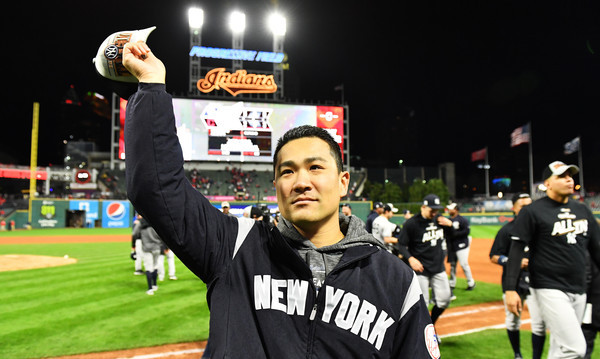 Earlier this evening, the Yankees announced Masahiro Tanaka will start Game One of the ALCS tomorrow night in Houston. He will be followed, in order, by Luis Severino, CC Sabathia, and Sonny Gray.
Here are the pitching matchups for ALCS:
Game One: Tanaka vs. Dallas Keuchel
Game Two: Severino vs. Justin Verlander
Game Three: Sabathia vs. TBA
Games Four: Gray vs. TBA
Both Tanaka and Severino will be on normal rest for their first ALCS starts. The Yankees trusted Sabathia with their ALDS Game Five start and, if the ALCS goes seven games, he'd get the ball in Game Seven as well. Gray has had some walk problems lately, so it's not too much of a surprise the Yankees are pushing him back.
I thought maybe the Yankees would try to push Tanaka back to Game Three so he could pitch at home given his big home-road splits, but I'm glad they didn't. Does Tanaka give you the best chance to win Game One given the available options (Tanaka, Gray, or Severino on short rest)? Yes, he does. Then start him.
As for Gray, his Game Four start will come 12 days after starting Game One of the ALDS. Joe Girardi said Gray will throw a three-inning simulated game today to stay sharp, and it'll also allow him to work on anything. That means he won't be available in relief in Games One or Two, however. Gray can't go 12 days between throwing though. The simulated game is a must.
The Tanaka vs. Keuchel game is of course a rematch of the 2015 Wild Card Game. That one didn't go so well for the Yankees. Not because of Tanaka specifically — he allowed two runs in five innings in that game, which isn't terrible — just in general. The 2017 Yankees are better than the 2015 Yankees, thankfully.