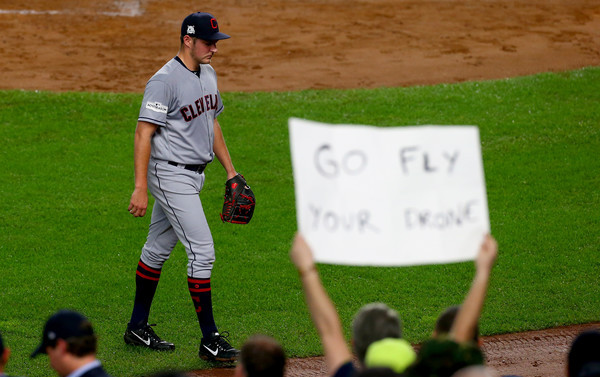 The 2017 Yankees are not going down without a fight. Did you expect anything else? This team has been resilient all season. The Game Four win last night means a winner-take-all Game Five tomorrow night at Progressive Field. The Yankees are 3-0 in elimination games already this postseason, you know. Lets get to some thoughts, shall we?
1. This probably sounds lame as hell, but man am I proud of Luis Severino. He got smacked around in the Wild Card Game and was booed off the field, then he came back last night and shoved against the best team in the American League in a win or go home game. Yes, Severino did allow those two home runs in the middle innings, but he shook them right off and finished the game strong. He was throwing upper-90s in the seventh inning with his pitch count over 100 and showing no fear. Going right after hitters. Severino's come a long way since just last season. Last year any little rally would snowball into something big and ugly. This year Severino limits the damage and goes back about his business. He's matured so much as a pitcher and we saw it last night. He rebounded from that Wild Card Game start like a champ. I'm proud of the kid. I don't care if it sounds lame.
2. Obvious statement is obvious: getting the top relievers a night off last night was huge. Chad Green and Aroldis Chapman did warm up during Game Four, though it was more like playing catch to get loose than getting on the bullpen mound intending to get hot and pitch in the game. A little catch is nothing. For all intents and purposes, Chapman and David Robertson will go into Game Five with two days of rest and Green will go into Game Five with four days of rest. Also, Sonny Gray was not needed last night, so he'll be available in the bullpen tomorrow (with an extra day of rest) in case things go haywire. This works both ways — Andrew Miller will go into Game Five with two days of rest too — but I'm feeling pretty good about the bullpen situation right now. Chapman, Robertson, and Green should be as close to 100% as we could reasonably expect after the last week.
3. I'm a big Sonny Gray fan but I think the Yankees are 100% making the right call starting CC Sabathia in Game Five tomorrow. No doubt in my mind. They're not going to ask him to dominate for eight innings, though they'd happily take it. Realistically, the Yankees need what, four good innings from Sabathia? They could piece together the final five innings from Green, Robertson, Chapman, and the suddenly untouchable Tommy Kahnle. You know Sabathia is not going to be overwhelmed by the moment and you know Sabathia is going to be motivated to beat his former club. Can you believe this? Sabathia was so terrible from 2013-15 and now here is, getting the ball in an elimination game in 2017 and pretty much everyone agrees he's the right man for the job. What a time to be alive. By the way, the last time the Yankees won a full postseason series? The 2012 ALDS against the Orioles, when Sabathia threw a complete-game in Game Five.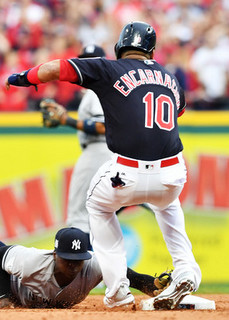 4. Know what's had a big impact on this series? Edwin Encarnacion's injury. That dude is a terror at the plate. He started slow this season — Encarnacion was hitting .199/.333/.356 (89 wRC+) as late as May 20th — yet he still finished the year at .258/.377/.504 (132 wRC+) with 38 home runs. He's that good. Encarnacion has not played since rolling his ankle at second base in Game Two and Michael Brantley, who has stepped in at DH for the time being, has gone 1-for-11 with a walk and four strikeouts. Brantley returned from an ankle injury of his own very late in the regular season — he got three whole at-bats before the start of the postseason — and looks very much like a player who is still searching for his timing at the plate. And hey, maybe he'll find it tomorrow. It can happen quick and Brantley is really good. For now though, the Indians lost their top power hitter and a very dangerous middle of the order presence. The Encarnacion injury has undeniably changed the series and helped the Yankees. Just think, how does Game Three play out if he's in the lineup? I don't even want to think about it.
5. Speaking of the DH, good gravy, I have no idea what the Yankees can do at that spot. Chase Headley went 0-for-4 with three strikeouts last night and the DH spot has now gone 0-for-18 in five postseason games. That's bad. Real bad. I was on board with starting Matt Holliday last night because he'll at least work the count and maybe pop a dinger, but tomorrow night, against Corey Kluber? Kluber will chew Holliday up. Holliday has been lost against righties the last few weeks, especially anyone with mid-90s gas, and Kluber is no ordinary righty. Starting Holliday at DH against Kluber in Game Five after having him sit on the bench for nine days seems doomed to fail. I dunno. I guess Jacoby Ellsbury is best DH option tomorrow. Neither he nor Headley have looked good lately, but, if nothing else, Ellsbury might be able to make something happen with legs. Force an error, beat out a double play, something like that. Headley gives you basically no shot at that. There's no good DH solution right now, and if the Yankees do manage to advance to ALCS, they have to seriously consider dropping Holliday from the roster in favor of Tyler Austin or Clint Frazier, someone who can bring a little more to the table defensively while still being able to hammer a mistake.
6. Speaking of Kluber, his Game Two performance was an aberration as far as I'm concerned. I don't think the Yankees have his number or have figured something out or anything like that. I think it was just an anomaly performance from a truly great pitcher. That said, if that Game Two performance gives the Yankees confidence and/or puts a little doubt in Kluber's mind, great! I'm just not sure it actually means anything. Kluber struggled to locate from the get-go in Game Two and the Yankees took advantage. Sometimes great players have bad days. That's all it was, probably. Kluber just had a bad day. The Yankees are going to have their hands full tomorrow. No doubt about that. Kluber is a monster. I wish that Game Two showing made me feel more confident.
7. I don't normally put much stock in "they're feeling the pressure!" and things like that, but geez, I have to think the Indians are starting to feel it a little bit, don't you? They had a 2-0 series lead and couldn't put it away in Games Three or Four, and now they have to play a decisive Game Five. Furthermore, this team blew a 3-1 series lead in the World Series last year, remember. And aside from Encarnacion and Jay Bruce, it's basically the same group of players. The Yankees are the Yankees, it's hard to consider them an underdog, but they absolutely are the underdog this series given everything that's happened the last 18 months or so. Cleveland was the best team in the league this season, they had that AL record 22-game winning streak, and they were supposed to win the ALDS after winning Games One and Two. The Yankees were supposed to quit on Joe Girardi after the non-challenge in Game Two and that would be that. It hasn't happened. If anything, the Yankees have rallied around Joe's blunder, and now suddenly the Indians are left wondering how a 2-0 series lead turned into a decisive Game Five. The Yankees? This is all gravy baby. No one thought they'd last this long after Game Two. Enjoy the ride.