It's hard to believe CC Sabathia's time with the Yankees may very well be over. The 2017 season was the final guaranteed year on Sabathia's contract — well, it was the vesting option year, not a guaranteed contract year — and he is currently a free agent able to sign with the highest bidder at a moment's notice.
The Yankees won a World Series and were never truly bad during Sabathia's nine years in pinstripes. Their worst season was 84 wins and, really, that's not that bad. The leaderboard among Yankees pitchers from 2009-17:
CC Sabathia: +28.4 WAR
Masahiro Tanaka: +12.8 WAR
David Robertson: +12.4 WAR
Hiroki Kuroda: +12.0 WAR
Mariano Rivera: +12.0 WAR
Even with the lean years from 2013-15, Sabathia has been far and away the Yankees' best and most reliable pitcher the last nine years, and their best pitcher since peak Mike Mussina. The Yankees gave him a seven-year contract worth $161M back in the day, then essentially tacked on two years and $50M. Sabathia provided the team with $212.8M in production in exchange for that $211M in salary, per FanGraphs' calculations. That doesn't include the financial windfall the Yankees received following the 2009 World Series title, to which Sabathia contributed greatly.
Following those lean years from 2013-15, the now 37-year-old Sabathia reinvented himself as a cutter pitcher in 2016, and he used the same approach in 2017. His 2016 and 2017 seasons were shockingly similar on a rate basis:
| | IP | ERA | FIP | K% | BB% | GB% | HR/9 |
| --- | --- | --- | --- | --- | --- | --- | --- |
| 2016 | 179.2 | 3.91 | 4.28 | 19.8% | 8.5% | 50.1% | 1.10 |
| 2017 | 148.2 | 3.69 | 4.49 | 19.3% | 8.0% | 49.9% | 1.27 |
Sabathia allowed a few more home runs in 2017 than 2016 because, well, everyone gave up more home runs in 2017 than 2016. Despite the increase in homers, Sabathia was able to lower his ERA this year because he had more success pitching out of jams — his strand rate went from 75.7% in 2016 to 79.0% in 2017 — and also because Joe Girardi had a quicker hook. Remember how many times he left Sabathia in only to watch him allow runs in his final inning last year? That didn't happen as much this year. His innings per start average went from 5.99 to 5.51.
Let's dig a little more into Sabathia's generally awesome 2017 season.
Postseason Hero
Maybe hero is too strong a word. Aside from Tanaka though, Sabathia was the Yankees' best starter in the postseason, and the team trusted him so much that they gave him the start in Game Five of the ALDS and Game Seven of the ALCS. Look at the game log:
ALDS Game Two: 5.1 IP, 3 H, 4 R, 3 ER,, 3 BB, 5 K
ALDS Game Five: 4.1 IP, 5 H, 2 R, 2 ER, 0 BB, 9 K
ALCS Game Three: 6 IP, 3 H, 0 R, 0 ER, 4 BB, 5 K
ALCS Game Seven: 3.1 IP, 5 H, 1 R, 1 ER, 3 BB, 1 K
There's a story behind each of those starts. In ALDS Game Two, Sabathia allowed the four runs early, then settled down to retire eleven of the final 12 batters he faced. In ALDS Game Five, he dominated for four innings before the Indians were able to string together some singles in the fifth.
In ALCS Game Three, the Yankees scored early and often, and Sabathia did exactly what you want a veteran pitcher to do with a big lead. He worked quickly and kept the other team off the board, and got his offense back on the field. In ALCS Game Seven, when Sabathia clearly had no command, he somehow got through 3.1 innings while allowing just the one run.
It's a damn shame the season ended in a Sabathia start given how well he pitched this season overall, though, to be fair, it's hard to pin that loss on the big man. The offense scored one run total in Games Six and Seven of the ALCS. Five earned runs in 19 total innings in the postseason (2.37 ERA)? Sign me up. With Luis Severino up there in innings, Sonny Gray struggling to throw strikes, and Tanaka being a bit of an unknown going into the postseason given his rough 2017 overall, Sabathia was the steady hand in October.
King of Soft Contact
For years and years, Sabathia was a power pitcher who overwhelmed hitters with velocity, a wipeout slider, and the sheer intimidation factor that comes with being 6-foot-6 and 300 pounds. As the years and innings piled up, that approach no longer worked, so last year Sabathia scrapped his four-seam fastball entirely. He started throwing a cutter. From Brooks Baseball: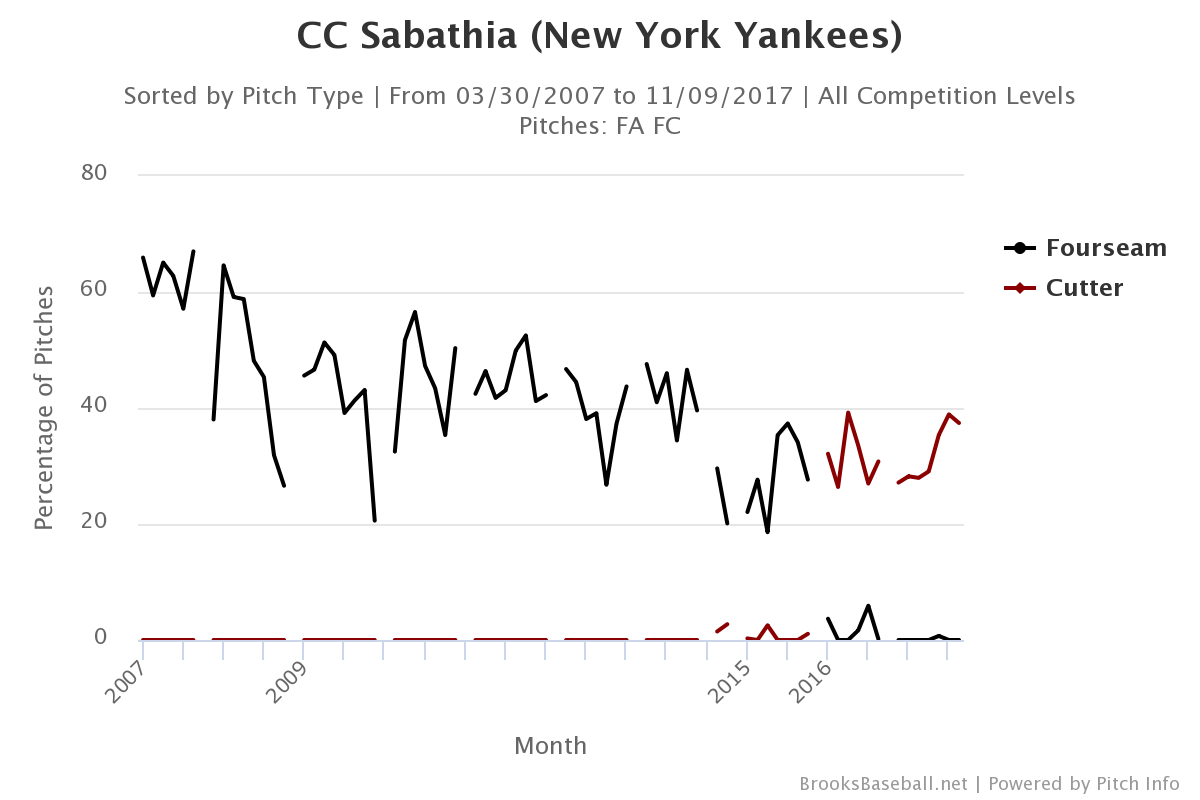 The cutter did a few things for Sabathia. One, it gave him a way to bust right-handed hitters inside. Righties punished him from 2013-15, but once Sabathia was able to get in on their hands, he was able to keep them at bay. And two, it allowed him to miss the barrel more often. The straight four-seamer was getting squared up far too often. The subtle movement on the cutter makes it more difficult for hitters to get the sweet spot on the ball.
As a result, Sabathia traded hard contact for soft contact last year, and this year he was again one of the best contact managers in the league. Hitters had as much trouble making hard contact against Sabathia this season than they did against guys like Corey Kluber and Chris Sale and Clayton Kershaw. Sabathia's rates (min. 140 IP):
Soft Contact: 27.2% (sixth highest)
Hard Contact: 24.1% (fifth lowest)
Average Exit Velocity: 83.9 mph (lowest)
Average Launch Angle: 6.2° (12th lowest) (what's this?)
Simply put, over the last two seasons Sabathia has made it very difficult to hit the ball hard against him. When he makes mistakes, they still get crushed. That's true for everyone. Sabathia gave up a 470-foot homer to Manny Machado back in April. It was the 19th longest homer in baseball this season.
Sabathia has been able to limit those mistakes the last two seasons. From 2013-15, there were a few too many of those each time out. Now he keeps them to a minimum. Sabathia embraced the cutter and embraced the finesse pitcher within, which he absolutely had to do to be successful at this stage of his career. He's transformed himself as a pitcher, and now that he's done it for a second year in a row, we know it's not a fluke. This is who Sabathia is now. He is one of the game's best soft contact pitchers.
2018 Outlook
Like I said, Sabathia is a free agent right now, free to sign with any team at any time. He has made it perfectly clear he wants to remain in New York, however. "This is my home. I want to see this thing through. I want to come back here and finish things off. This is where I want to be," said a very emotional Sabathia following Game Seven of the ALCS.
There are reasons the Yankees should re-sign Sabathia and reasons to stay away. They do need a fifth starter, and Tanaka not opting out means getting a big name like Yu Darvish or even Alex Cobb won't happen without blowing up the luxury tax plan. Sabathia won't cost a ton and won't require a long-term contract, plus there won't be an adjustment period of any kind. He knows the ropes and knows New York. Plug him into the rotation and go.
On the other hand, Sabathia is 37, and his balky right knee won't get better. Sabathia has admitted he'll likely need a knee replacement after his playing days are over. He did miss a few starts this season when the knee acted up. Also, Sabathia doesn't pitch deep into games anymore. He'll get through five and maybe six on a good day, and that's pretty much it. As with all players this age, Sabathia could lose it any moment.
The offseason is still young and right now the Yankees seem to be focused on finding a new manager and coaching staff. That's kinda important. Hard to make a good pitch to free agents when they don't know who the manager or coaching staff will be. I get the sense Sabathia is in no rush to sign a new contract. I think he wants to see if things can be worked out with the Yankees, and if not, he'll find a home elsewhere. If this is the end, Sabathia was a great Yankee. I hope he comes back for another season though.