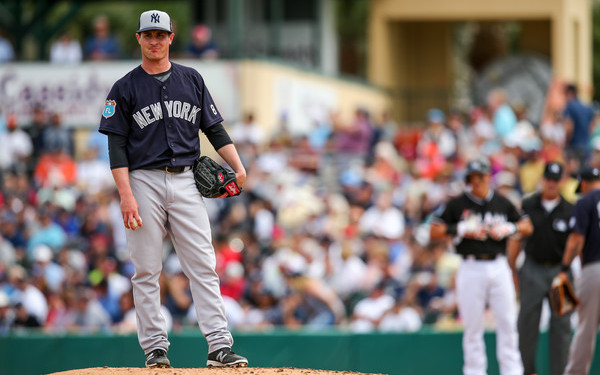 The Yankees have added outfielder Jake Cave and right-hander Nick Rumbelow to the 40-man roster, the team announced earlier today. Both players were due to become minor league free agents this offseason. The Yankees now have two open spots on the 40-man roster.
Cave, 25 next month, broke out this season, hitting .305/.351/.542 (145 wRC+) with a career high 20 homers — his previous career high was eight homers set last season — in 103 games split between Double-A and Triple-A. Cave attributed his breakout to some mechanical changes designed to get the ball airborne more often, and, well:
2015: 55.3% grounders
2016: 44.0% grounders
2017: 42.0% grounders
This is the second time Cave has been on a 40-man roster. The Reds grabbed him in the 2015 Rule 5 Draft, gave him a look in Spring Training 2016, then returned him to the Yankees. He replaces Mason Williams as the up-and-down spare center fielder next season. This also gives the Yankees a chance to see whether Cave's breakout this year is for real.
The 26-year-old Rumbelow has some big league time under his belt, allowing eight runs (seven earned) in 15.2 innings with the Yankees in 2015. He blew out his elbow in his very first appearance of the 2016 season and needed Tommy John surgery. Rumbelow returned with his new elbow ligament this summer and posted a stellar 1.12 ERA (1.89 FIP) with 29.4% strikeouts and 7.2% walks in 40.1 innings between Double-A and Triple-A.
It was reported a few weeks ago Cave would be added to the 40-man roster, though the Rumbelow decision is a bit of a surprise, at least to me. The Yankees must've really liked what they saw in his 40.1 innings back from Tommy John surgery this year. The deadline to add players to the 40-man roster to protect them from the Rule 5 Draft is coming up. The Yankees have a large class of eligibles and will have to open some spots between now and then.