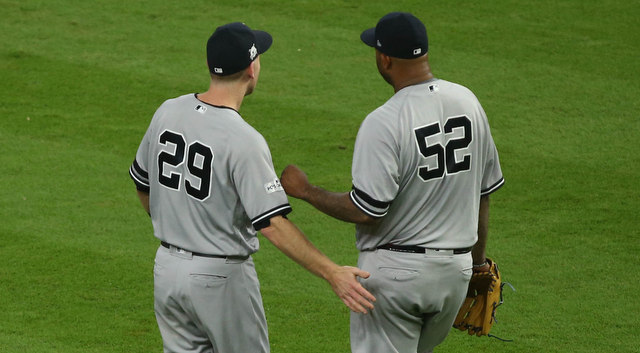 As expected, the Yankees did not tender the qualifying offer to any of their free agents prior to today's deadline. The qualifying offer is a one-year contract set the average of the top 125 salaries in baseball, and this offseason it is worth $17.4M. Free agents who reject the qualifying offer are attached to draft pick compensation.
The Yankees only had one free agent worthy of the qualifying offer this offseason: Masahiro Tanaka. He did not opt out of his contract over the weekend and will stay with the Yankees. Had Tanaka opted out, of course the Yankees would've made the qualifying offer. He's not going to walk away from three years and $67M only to take the one-year, $17.4M qualifying offer.
Matt Holliday, CC Sabathia, and Michael Pineda are the only other Yankees free agents eligible for the qualifying offer. Todd Frazier and Jaime Garcia are not eligible because they were traded at midseason. Pineda will miss most of next season following Tommy John surgery, so of course he didn't get the qualifying offer. Neither Holliday nor Sabathia is worth $17.4M these days. The Yankees still might re-sign Sabathia to a smaller contract.
Nine free agents received the qualifying offer before today's deadline. Here's the list. Big name free agents Yu Darvish and J.D. Martinez were not eligible for the qualifying offer after being traded at the deadline. Those nine players have a week to accept or reject the qualifying offer. The new draft pick compensation rules are pretty convoluted. Here's a primer.