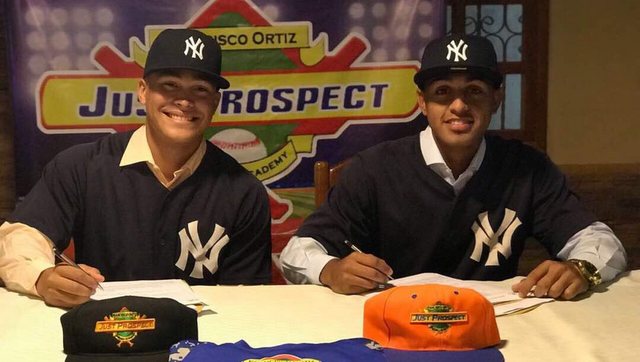 According to Ben Badler and Jesse Sanchez, the Yankees have signed 16-year-old Venezuelan outfielder Raimfer Salinas and 17-year-old Venezuelan catcher Antonio Cabello. Salinas and Cabello received at least part of the $3.5M in international bonus money burning a hole in the team's pocket after they lost out on Shohei Ohtani.
MLB.com ranks Salinas and Cabello as the sixth and eighth best prospects in the 2017-18 international class, respectively. Baseball America ranked them 10th and 15th, again respectively. Here is a piece of MLB.com's scouting report on Salinas:
He's also a sound defender and his plus arm is already an asset. Salinas is already a decent runner, whether it's on the basepaths or roaming the outfield … At the plate, Salinas has shown an advanced approach and good bat speed. He's been able to hit to all fields while also showing some home run power. Salinas' overall tools package could land him in the middle of the lineup one day as a possible run producer. Scouts like his makeup and his overall confidence in his abilities.
The report adds Salinas has the "potential to be a legitimate five-tool player and an impact player in the near future," so that's exciting. Now here is a piece of MLB.com's scouting report on Cabello:
Cabello could also play second base and center field. He has a strong body and has been clocked at 6.45 seconds in the 60-yard dash. Cabello also hits in games and his makeup is considered off of the charts. He has built a reputation as a tough and hard-nosed competitor who hates to lose … Cabello has been praised for his ability to block balls and a quick release that gives him a chance to throw out even the best of potential basestealers.
Teams don't sign international players for need, they're way too far away from the show to know how things will turn out, but the farm system is really short on catchers at the moment. Cabello will be a welcome addition. Of course, it's okay to be short on catching prospects when you have just turned 25-year-old Gary Sanchez at the big league level.
Anyway, the Yankees signed four of the top eleven and five of the top 16 international prospects during the current signing period according to MLB.com's rankings. (It's five of the top 20 per Baseball America.) In addition to Salinas and Cabello, the Yankees also signed Venezuelan OF Everson Periera (No. 4 international prospect per MLB.com), Dominican SS Ronny Rojas (No. 11), and Venezuelan SS Roberto Chirinos (No. 16). They signed a bunch of others too. Pretty nice haul this year.
There is no word on either Salinas' or Cabello's signing bonus right now, though I don't think they will split that entire $3.5M. The Yankees probably still have some hard cap space remaining for more signings. They've been connected to Cuban outfielder Julio Pablo Martinez recently. Martinez defected last month and it'll be a few weeks before he is eligible to sign. He is probably the best player on the market right now.