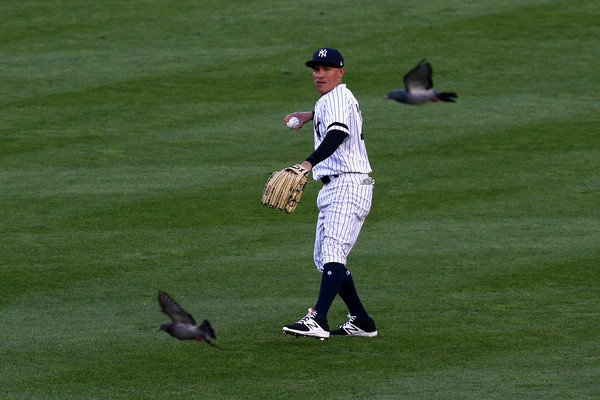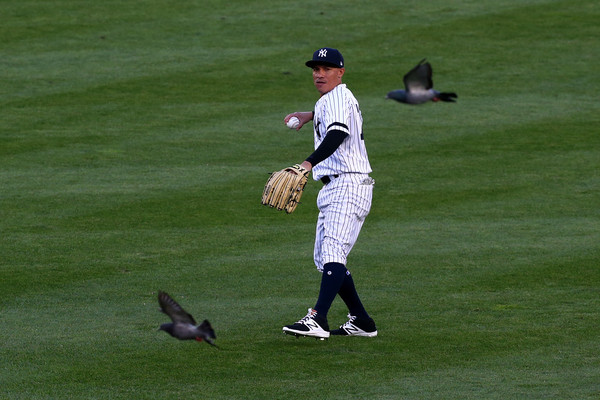 There are fewer than four weeks to go before the start of Spring Training, and so far the Yankees have done a pretty good job accomplishing their goals. They re-signed CC Sabathia to a reasonable contract, salary dumped Chase Headley, and are in position to get under the $197M luxury tax threshold. And they managed to pick up Giancarlo Stanton along the way. Not a bad winter's work.
The Yankees still have some work to do before camp begins, however. At least it feels that way. Second and third bases are open, and the team has been trying to add another high-end starter for so long that it almost feels like they consider it a necessity. All things considered though, the Yankees are in good shape. The rotation is set, the lineup is formidable, and the bullpen is widely considered the best and deepest in baseball. Could be worse.
Generally speaking, these last few weeks before Spring Training are the time for small moves and tweaks, not huge pickups. There are always exceptions (see: Rodriguez, Alex), but in recent years the Yankees have made smaller, low-key moves in the weeks leading up to camp. Let's look back at the team's moves in the month (give or take a few days) leading up to reporting day, and see whether they tell us anything useful. Come with me, won't you?
Trades
2013: Abe Almonte for Shawn Kelley
2014: None
2015: None
2016: Rob Segedin for Ronald Torreyes and Tyler Olson
2017: None
What does this tell us? The player(s) acquired in that seemingly minor trade could have more impact than you think. Kelley was a bullpen mainstay for two years with the Yankees after coming over from the Mariners, and while Olson was one (appearance) and done with the Yankees, Torreyes has become entrenched as the utility infielder. He might be starting at second or third come Opening Day! Who saw that coming?
The Yankees haven't swung a significant trade this late in the offseason in a very long time. The last was probably the A.J. Burnett salary dump in 2012, and you have to go all the way back to the Randy Johnson trade in 2005 for the last time the Yankees added a notable player this late in the offseason. Recent history suggests the Yankees won't make a significant trade before camp, but like I said, they are still looking for a high-end starter, so who knows.
Now, if the Yankees make a small trade between now and the start of camp, chances are they like the player(s) they add more than we realize. The new addition could hang around for a while. These late offseason trade pickups have a way of sticking around.
Free Agent Signings
2013: Travis Hafner (one year, $2M)
2014: Brian Roberts (one year, $2M), Masahiro Tanaka (seven years, $155M)
2015: Stephen Drew (one year, $5M)
2016: None
2017: Chris Carter (one year, $3M)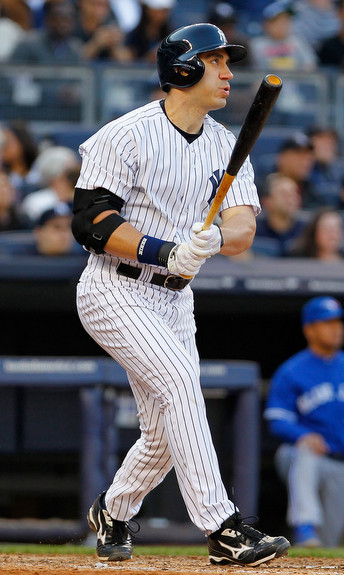 What does this tell us? First of all, the Tanaka contract is clearly a special case. The Yankees signed him in mid-January not because that's when they decided to get involved and make a big offer. That's when his 30-day negotiating window ended. The timing of the Tanaka signing was driven by his posting. The Yankees were always expected to make a big push to sign him. Everyone just had to wait a little longer than expected for him to be posted.
As for the other signings, the Yankees used the last few weeks of the offseason to patch those final few roster holes with low-cost veterans. Hafner, Roberts, and Drew were all signed on the cheap to be a short-term stopgap. In Carter's case, the reigning NL home run king was sitting out there unsigned, so the Yankees decided to bet $3M on him being a useful bench bat/platoon first baseman. It didn't work it. Such is life.
The Yankees currently have two great big openings at second and third base, though unlike previous years, they have exciting young players ready to step into the lineup. They signed Roberts in 2014 because they didn't have a second base prospect on the cusp of the big leagues. The Yankees don't have to sign anyone for second or third. It's just a question of how comfortable they are with Gleyber Torres and Miguel Andujar (or Tyler Wade).
Minor League Contracts
2013: Thomas Neal, Dan Johnson, Juan Rivera
2014: Yangervis Solarte, Chris Leroux
2015: Eddy Rodriguez, Scott Baker, Kyle Davies
2016: Anthony Swarzak, Tyler Cloyd, Carlos Corporan
2017: Ji-Man Choi, Jon Niese
What does this tell us? Don't laugh off these late offseason minor league contracts. Six of those 13 players spent time in the Bronx (Neal, Solarte, Leroux, Davies, Swarzak, Choi) and another (Rodriguez) became a three-year Triple-A mainstay. We complain when these players sign ("championship!") and complain when they get called up, but they're a necessary evil during a 162-game season.
Within the last week or so the Yankees have signed Jace Peterson and Wade LeBlanc to minor league deals and chances are more minor league signings are on the way. You just know one of those guys is going to end up spending, like, two months on the big league roster. Isn't that usually how this goes? Once in a while you strike gold with a Solarte. More often you get a Swarzak, who annoyingly sticks around.
* * *
This offseason is unlike any other in recent memory. Most top free agents remain unsigned and there are few (if any) indications the market will heat up before Spring Training. There's talk about collusion and a potential work stoppage down the line to make sure something like this doesn't happen again. Whatever the cause — causes, really, since it's never just one thing — this is a unique offseason.
And because of that, I'm not sure how instructive the Yankees' recent late offseason activity really is. Yeah, they could swing a small trade and make a cheap free agent signing, which would be the norm. But would it really shock anyone if they made a blockbuster trade for a young starter? What if they signed Yu Darvish and moved David Robertson to make it work under the luxury tax threshold? For the most part, the late offseason has been a time for small tweaks for the Yankees. This year though, there's the potential for something much greater.