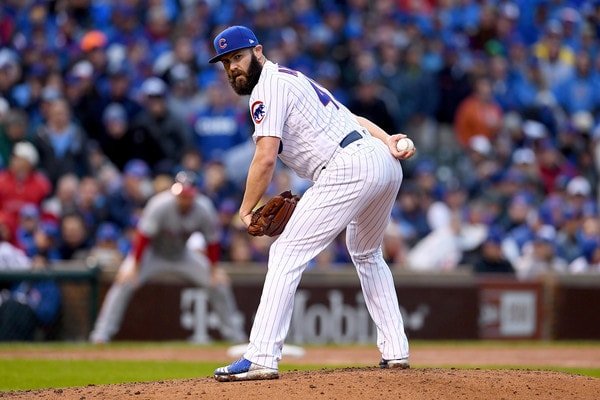 Spring Training officially began over a week ago, and, depending upon your baseball news outlet of choice, somewhere between "a lot of" and "way too many" quality free agent pitchers remain on the market. The Yankees have, of course, been linked to all of them in one way or another, and the notion that Brian Cashman could and/or should don his ninja apparel to swoop in and sign one to a bargain deal has only increased with time. The fact that the team has made no secret of its hope to add starting pitching even as players report to camp only fans the flame.
Jake Arrieta is the best starting pitcher on the market nowadays, and there is no shortage of discussion about what it would take for him to end up in pinstripes. Talking heads have suggested a deal akin to what the Red Sox gave J.D. Martinez – 5-years, $110 MM, with opt outs after 2019 and 2020 – and our own Mike Axisa suggested 3-years and $75 MM, with opt outs after each season; this includes signing Arrieta mid-season, but that's not important for the purpose of this post. While both options sound good for a pitcher with Arrieta's track record (and ignoring any luxury tax implications), I would not be comfortable giving the soon-to-be 32-year-old a multiyear deal with player options.
Why, you ask? I think Arrieta is one of the big free agent landmines of this class.
There is no denying that Arrieta has been brilliant on the whole for the Cubs, and that his post-Orioles career is another reason to make fun of that particular organization's inability to develop pitching. And there's no denying that he was quite good in 2017, despite a late season hamstring injury. There are simply too many red flags for me to overlook when considering locking Arrieta in for several years. To begin, take a look at his last three years, beginning with his Cy Young-winning 2015:

Arrieta's strikeout rate has slipped significantly, his walk rate went from elite to right around league-average, his groundball rate slumped from among the best in the majors to league-average, and his home run rate went from elite to average to below-average. As a result of this, Arrieta was a roughly average starter last year, posting 1.9 bWAR and 2.4 fWAR. And it wasn't just the production, either. Here's his velocity over the last three years: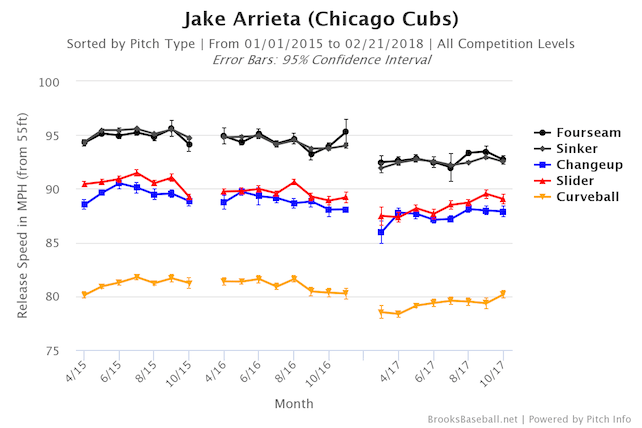 Arrieta lost between 0.5 MPH and 1.0 MPH on his offerings between 2015 and 2016, which is not necessarily disconcerting. However, losing between 1.5 MPH and 2.0 MPH across the board is scary. And that dip in velocity can't be explained away by his injury, either, as Arrieta's hamstring strain happened in August. Now, to be fair, his velocity did tick up right after the All-Star break – but it was still a MPH off of 2016's norm. That's less than ideal – as is being hit harder and harder over time: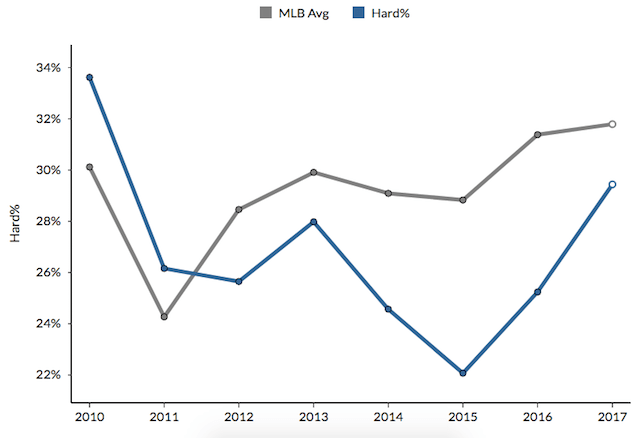 It's worth noting that players are simply hitting the ball harder now, and Arrieta is still allowing less hard contact than the average pitcher. Nevertheless, this is another example of him heading from elite towards average over the last year or so, and that's not what you want to see with a potential big-money signing – particularly one that will be 32 on Opening Day.
None of this is to suggest that Arrieta will be bad in 2018, or even 2019 or 2020. Rather, I just don't see him continuing to be a top of the rotation starter, and that is what he is hoping to be paid as (even in this depressed market). What we have here is a pitcher in his 30s who's striking out fewer batters, losing velocity, giving up more fly balls, and giving up harder hit balls in general, and the discussion is giving him a multiyear deal … and I feel that it is far riskier than has been let on.
Would I give him a fair bit of the Yankees remaining funds to join the rotation on a one-year pillow contract? Definitely. Would I blow up the luxury tax plan for this year for said pillow contract? Yes, I think so. But I wouldn't want to be tied to him for multiple seasons – and that's probably what it's going to take.