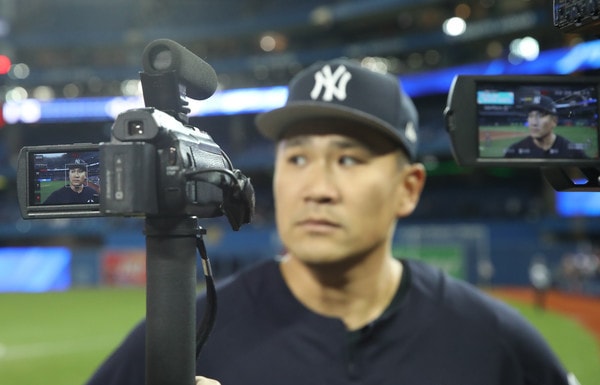 Yesterday afternoon, the Yankees snapped their six-year Opening Day losing streak, and they did it in style. Giancarlo Stanton homered twice and Luis Severino was awesome. Pretty much a perfect season opener, I'd say. Now the Yankees are trying to do something they've done only once in the last 12 years: Start 2-0. The Yankees started 2-0 in 2011. You then have to go all the way back to 2005 for the last time they did it. Seriously.
On the mound this afternoon is Masahiro Tanaka, the Opening Day starter the last three years and the No. 2 starter this year. Tanaka didn't have a good spring overall, but he was great in his last start, and he says he feels good physically, which I guess is better than the alternative. He was pretty good late last year and especially into the postseason. Hope we get to see that Tanaka again this evening. Here are tonight's lineups:
New York Yankees
1. CF Brett Gardner
2. RF Aaron Judge
3. DH Giancarlo Stanton
4. SS Didi Gregorius
5. C Gary Sanchez
6. 1B Neil Walker
7. LF Billy McKinney
8. 3B Brandon Drury
9. 2B Tyler Wade
RHP Masahiro Tanaka
Toronto Blue Jays
1. 2B Devon Travis
2. DH Josh Donaldson
3. 1B Justin Smoak
4. LF Curtis Granderson
5. 3B Yangervis Solarte
6. RF Randal Grichuk
7. C Russell Martin
8. CF Kevin Pillar
9. SS Aledmys Diaz
RHP Aaron Sanchez
The weather in Toronto is better today than it was yesterday, but it's still pretty cold out, so I'm sure the Rogers Centre roof will be closed. Tonight's game is scheduled to begin at 7:07pm ET. You can watch on YES locally and MLB Network nationally. Enjoy the game.
Injury Updates: In case you missed it earlier, Aaron Hicks was placed on the 10-day DL with an intercostal strain. That's why Gardner is in center and McKinney, who was called up to fill the roster spot, is in left field. He's wearing No. 39.