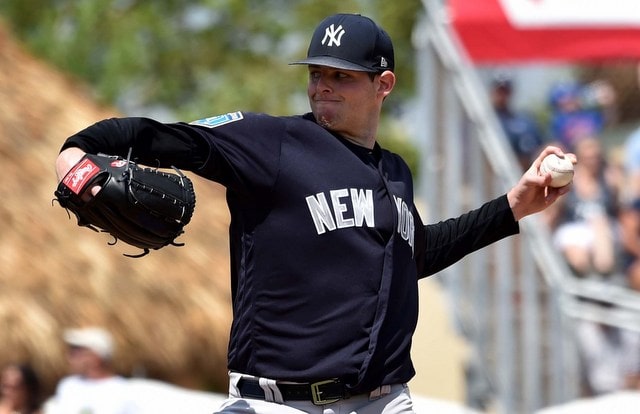 Around this time last season, we had no idea what the Yankees' rotation would look like in 2018. Luis Severino was coming off a dismal 2016 season, Masahiro Tanaka could opt out of his contract, CC Sabathia and Michael Pineda were due to become free agents, and who knew who the fifth starter would be? The long-term rotation picture was pretty dicey.
Luis Cessa, Chad Green, and Bryan Mitchell went to camp last spring as fifth starter candidates. Jordan Montgomery, who was neither on the 40-man roster nor a top prospect, beat them all out for the job and wound up leading all rookie pitchers in fWAR in 2017. Montgomery threw 155.1 innings with a 3.88 ERA (4.07 FIP) and strong strikeout (22.2%) and walk (7.9%) rates in 2017. He was rock solid.
Aaron Boone has already said Montgomery has a regular season rotation spot — apparently he was competing for a rotation spot with Cessa, but a great big LOL to that — and now he is expected to produce. He's not a fun rookie surprise who sneaks up on everyone. Montgomery is an important part of the team and the Yankees will need him to perform to contend in 2018. Let's preview the southpaw's sophomore season.
Finding the changeup
Perhaps the most impressive thing about Montgomery's rookie season is that he did it without confidence in his changeup, which he says is his best pitch. "I really kind of got through the year with two pitches. If I hadn't had my curveball and been able to throw it for strikes and expand with it, who knows what would have happened. It's kind of good knowing I got through it without my best pitch, my changeup," he said at the outset of camp.
Montgomery did throw his changeup last year — he threw it approximately 13% of the time overall — but he used it less and less as the season progressed, and by September it was non-factor. Couldn't get grounders with it, couldn't get swings and misses with it. That he pitched so well overall without the changeup is a testament to Montgomery's stuff and pitching know-how. Finding that changeup could allow him to take a step forward this year.
So far Montgomery has made four appearances and thrown eleven innings during Grapefruit League play, though only two appearances and five innings were televised. He definitely threw changeups during those televised outings, but was he confident in it? Did it behave the way he wanted? Those are things we wouldn't be able to tell by watching on television. To our untrained eyes, Montgomery's changeup was always going to look good.
Following his most recent outing, Montgomery admitted his changeup is still a work in progress, but he is working on it, and hopefully it'll click at some point. There's not much else he can do other than throw it and continue to throw it. If it clicks, great. If not, well Montgomery showed last season he can be effective even when he doesn't have the changeup working, which bodes well. He doesn't absolutely need that changeup to be successful.
Will the Yankees take the reins off?
The Yankees handled Montgomery very carefully last season, especially in the second half as his innings total climbed into uncharted territory. He threw 163.1 total innings last year — Montgomery was on both the ALDS and ALCS rosters, though he didn't appear in a game — above his previous career high of 139.1 innings in 2016. Remember though, most of his innings last year were big league innings, and those are more taxing.
Montgomery is an important part of the future — quality big league starters in their pre-arbitration years are damn valuable — and the Yankees are right to be careful with him. That was part of the motivation for the Jaime Garcia trade. Garcia made it easier for the Yankees to ease up on Montgomery and protect his arm. How many innings will he be allowed to throw this year? Hard to say. The Yankees usually don't put a hard innings number on guys. They instead monitor them and adjust as necessary.
Beyond the overall workload, I'm interested to see how deep into games the Yankees let Montgomery pitch. Joe Girardi had an awfully quick hook at times last season. Montgomery made 29 starts and he completed six innings in only 12 of them. He threw as many as 90 pitches only 14 times. Only five times did he throw 100+ pitches. Montgomery averaged 87 pitches and 5.35 innings per start. Hmmm.
The sample isn't large, but Montgomery's numbers the third time through the lineup weren't terrible. He was actually least effective the first time through the order, which is one of those things I suspect will change as the sample grows. The numbers:
First time through the order: .275/.335/.436 (111 OPS+)
Second time through the order: .188/.243/.317 (44 OPS+)
Third time through the order: .252/.323/.409 (84 OPS+)
Montgomery faced one batter the fourth time through the order and that batter (Ben Zobrist) tripled. That's an 864 OPS+, in case you're wondering.
During one of his in-game interviews with YES a few days ago, Boone said he hopes to get length from his starters this season, easing the load on the bullpen and allowing the relievers to stay fresh deeper into the season. Does that mean Montgomery will get a longer leash? I guess it depends how he's performing on a given day. There were definitely some "why is he taking him out he's pitching fine" moments last year. I hope those are limited now.
"I think I'm a big guy. Big lefty. I'm more than capable of going out there seven innings every five days," said Montgomery to Ken Davidoff and Dan Martin over the weekend. "In order to do that, my fastball command has got to get better and I've really got to lock down my changeup. That's what I've been working on."
So what can he improve this season?
The changeup is one thing. So is pitching deeper into games. And, by Montgomery's own admission, his fastball command "has got to get better." That sounds like typical young pitcher stuff, doesn't it? Work on the changeup, work on the fastball command, figure out how to be more efficient and pitch deeper into games. As effective as he was last year and as polished as he is, Montgomery is still a kid. He has a lot to learn.
Beyond that stuff, there is one thing Montgomery can improve that really stands out to me: His ground ball and home run rates. I guess that's two things, but they are tied together. Montgomery had a 40.7% ground ball rate and a 1.22 HR/9 (11.2% HR/FB) last season. Weirdly enough, the more ground balls he generated, the more homers he allowed: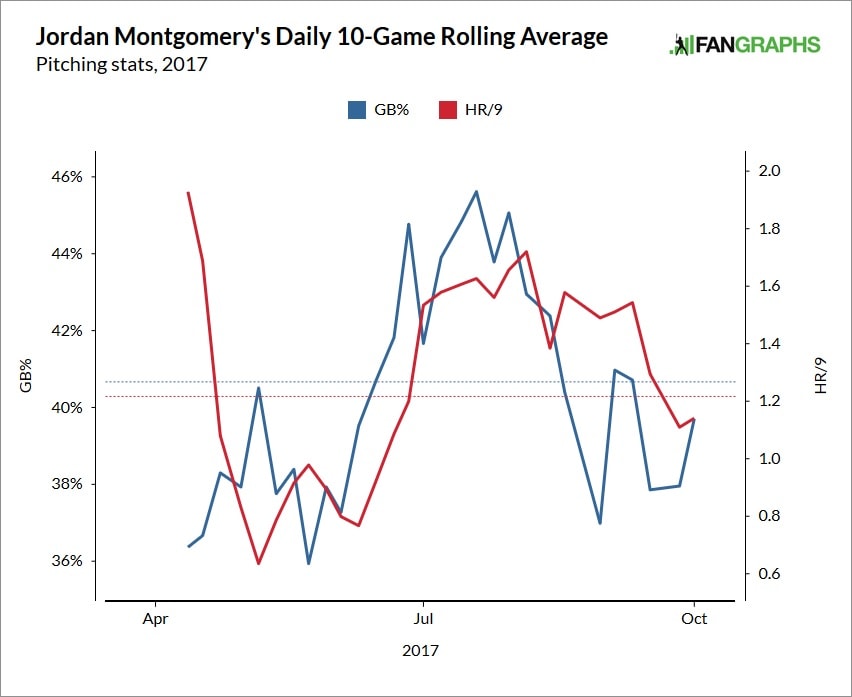 Huh. That is … interesting. Probably an anomaly too. Montgomery is a big dude (listed at 6-foot-6) and he releases the ball from … *waves hand high above head* … way up here, so at times it can be tough for him to drive the ball down to the bottom of the zone. Not surprisingly, almost all of the 21 home runs Montgomery allowed last year came on pitches belt high and out over the middle of the plate. He didn't give up many golf shots on pitches at or below the knees.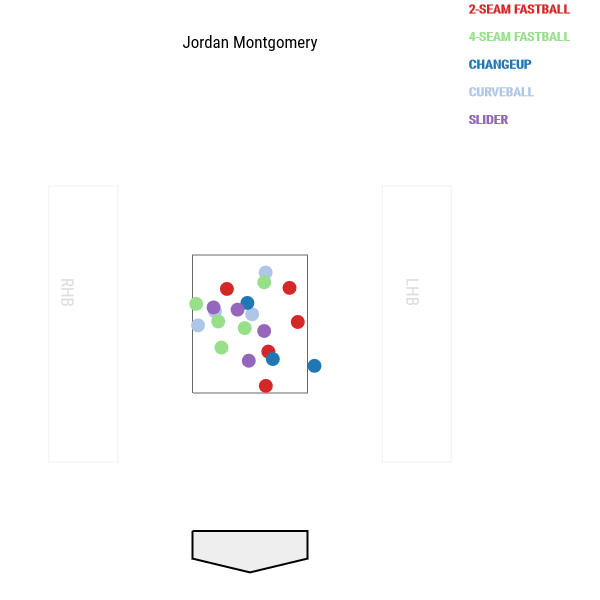 I get the sense Montgomery will never be a big time ground ball pitcher, which isn't necessarily a bad thing as long as they're mostly pop-ups and medium deep fly balls rather than long fly balls to or near the warning track. Yankee Stadium is not the best place for a fly ball pitcher. Montgomery will have to make do.
One-hundred-and-thirty-four pitchers threw at least 100 innings in 2017, and among those 134 pitchers, Montgomery had the fourth lowest hard contact rate (26.5%) and the 13th highest chase rate (35.2%). As long as he continues to expand the zone effectively and generate weak contact, he can mitigate the damage from those fly balls. Montgomery might always be home run prone. That just might be who he is. But if he figures out a way to keep the ball in the park as he gains experience, there's no telling how good he can be.
* * *
I'm more curious to see what Montgomery does this season than any other pitcher in the rotation. I think there is room for considerable growth, but also a risk factor due to his workload and the lack of ground balls. If he finds his changeup, commands his fastball better, and keeps the ball in the yard, Montgomery might be a top 30 pitcher in baseball. If the changeup doesn't come around and limiting homers continues to be an issue, he's a candidate to take a step back statistically.
A year ago the Yankees were desperate for a young starter to come out of the farm system and establish himself as a long-term rotation piece, and Montgomery did exactly that. That he's a lefty makes it even better. Quality southpaws are a necessity in Yankee Stadium, and the history of the Yankees is littered with top notch southpaws. Lefty Gomez, Whitey Ford, Ron Guidry, Andy Pettitte, CC Sabathia … maybe Montgomery won't be that good, but he sure looks like a keeper to me.