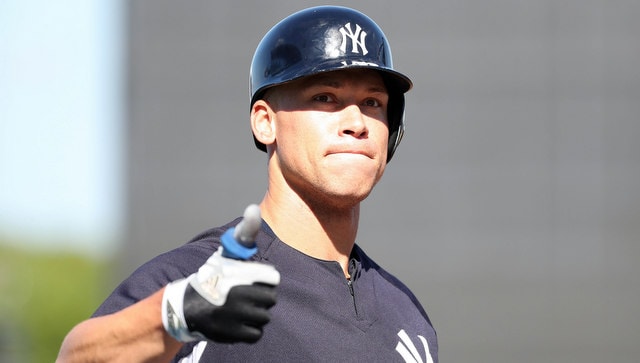 The Yankees are nearly done signing all their pre-arbitration-eligible players. Over the weekend we learned they've signed Gary Sanchez, Chad Green, and 13 others to one-year contracts for 2018, and according to Ronald Blum, the Yankees have now signed five more pre-arb players, including Aaron Judge and Luis Severino.
As a reminder, pre-arb players have less than three years of service time, and teams can essentially pay them whatever they want. The Yankees, like most clubs, have a sliding salary scale based on service time, with escalators for awards voting and things like that. Also, pre-arb players sign split contracts that pay them one salary in MLB and another in the minors. Here are the latest pre-arb signings:
| | Service Time (years.days) | MLB salary | MiLB salary |
| --- | --- | --- | --- |
| Greg Bird | 2.053 | $582,000 | $272,500 |
| Luis Severino | 1.170 | $604,975 | $275,488 |
| Aaron Judge | 1.051 | $622,300 | $272,250 |
| Tyler Austin | 1.029 | $558,600 | $230,814 |
| Jordan Montgomery | 0.153 | $580,450 | $228,413 |
Judge has the largest salary among New York's pre-arb players and that makes perfect sense given everything he accomplished last season. Rookie of the Year, MVP runner-up, AL home run champ, so on and so forth. Judge will still make less than I expected, however. I thought he'd get $750,000 or so. Shows what I know.
As with Judge, Severino also signed for less than I expected, though he still receved a nice raise by pre-arb standards. Jose Fernandez got $635,000 after finishing third in the Cy Young voting as a rookie. Severino finished third in the Cy Young voting last year, had more service time than Fernandez, and still got less. Huh. Again, shows what I know.
Bird's salary this season is easily the smallest among pre-arb Yankees with more than two years of service time — Ronald Torreyes got $615,500, for example — because of his injuries. He has 2.053 years of service time but has played only 94 MLB games. Getting hurt will cost you. Austin and Montgomery received representative raises given their roles.
The Yankees have now signed 20 of their 25 pre-arb players. The unsigned: Albert Abreu, Domingo Acevedo, Kyle Higashioka, Jonathan Holder, and Billy McKinney. Abreu, Acevedo, and McKinney will get league minimum ($545,000) deals because they don't have any MLB time. Higashioka and Holder will get a little bit more.