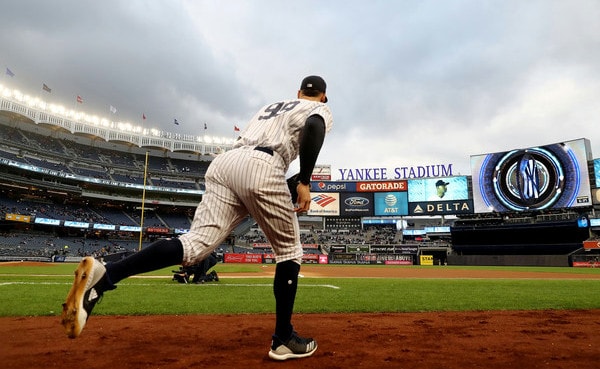 The Yankees started this 18 days in 18 games stretch with a win last night, and they've now won three of their last four games overall even though it feels like they're the suckiest bunch of sucks that ever sucked. Seriously, the Yankees have a ton of injuries, the bullpen isn't nearly good as expected, and they're playing defense like a Little League team … and they're still 9-8. Could be worse.
Sonny Gray is on the mound tonight and, as Marc Carig chronicled, he's make some adjustments to his delivery since his last start. Specifically, Gray says he's moved his hands away from his body and he's quickened up his tempo. We'll see how tonight goes. Austin Romine is not catching Sonny tonight despite their numbers when paired up though. "We feel like it's a relationship that needs to work," said Aaron Boone to Bryan Hoch about Gray and Gary Sanchez. Here are the lineups:
New York Yankees
1. CF Brett Gardner
2. DH Aaron Judge
3. SS Didi Gregorius
4. RF Giancarlo Stanton
5. C Gary Sanchez
6. CF Aaron Hicks
7. 1B Tyler Austin
8. 3B Miguel Andujar
9. 2B Ronald Torreyes
RHP Sonny Gray
Toronto Blue Jays
1. RF Curtis Granderson
2. LF Teoscar Hernandez
3. 1B Justin Smoak
4. 3B Yangervis Solarte
5. C Russell Martin
6. DH Kendrys Morales
7. CF Kevin Pillar
8. SS Aledmys Diaz
9. 2B Lourdes Gurriel Jr.
RHP Marco Estrada
The sun was actually out in New York today, so that was nice. It's still cold and windy though. Tonight's game will begin at 7:05pm ET and you can watch on YES locally and MLB Network nationally. Enjoy.