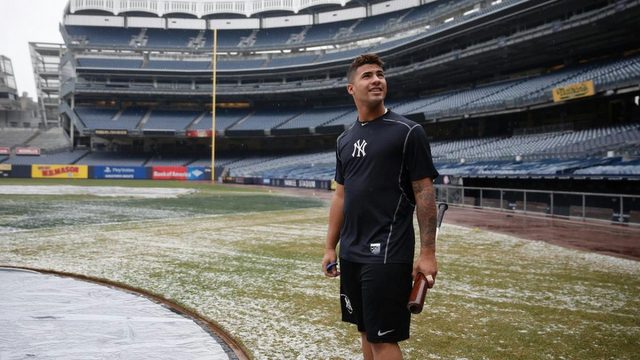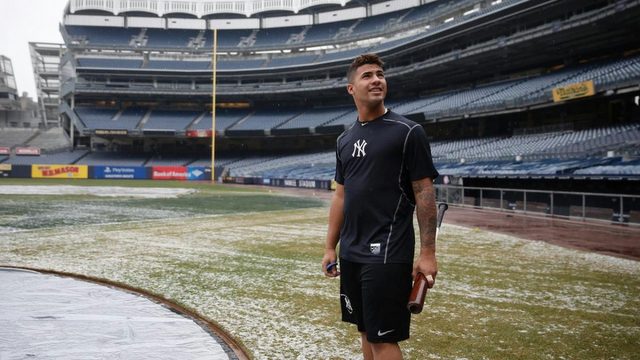 Less than two years ago the Yankees plotted a course that changed the direction of the franchise. They decided to sell at the 2016 trade deadline, not buy, and as good as the Yankees were last year and as talented as the roster is this year, we've yet to see the impact of those 2016 deadline trades. Adam Warren is still around and Clint Frazier was up for a few minutes last season, but that's about it so far.
Today, the prized 2016 trade deadline pickup arrives in the big leagues. As expected, the Yankees have called up Gleyber Torres, and he is in this afternoon's starting lineup at second base. Aaron Boone made it clear this morning that the plan does not call for Torres to be a short-term addition to the lineup. He's here for the long haul. The plan is primarily second base, but Gleyber may see some shortstop and third base as well, depending on the team's needs.
"I think you all realize how much we value him as a player short-term, and certainly for our future," said Boone this morning. "(Calling him up has) been something we've been having conversations about over the last week. When's the right time? It just felt like today — lefty going — we just feel like he's ready. We feel like he helps up on the short-term, but we feel like he's checked the boxes we've wanted him to to be here. We're excited to have him."
Torres hit .370/.393/.510 (154 wRC+) with one homer in 13 Triple-A games and, interestingly enough, Boone seemed to indicate Gleyber would've been called up sooner had he not missed time with back stiffness last week. The Yankees wanted to make sure he's right physically — both the back and after last year's elbow surgery — and is back up to speed at the plate before calling him up. They feel he is, and now here he is, starting at second base in the Bronx.
Oh, and by the way, the Yankees have a chance to win a series this afternoon. Kind of a big deal. The Yankees have won two of the first three games of this four-game series with the Blue Jays, and they have their ace on the mound this afternoon, so locking down this series win over a division rival would be appreciated. The Yankees have yet to win a series of at least three games this year. To be fair, they've only played three such series, but still. Here are the lineups:
New York Yankees
1. CF Aaron Hicks
2. RF Aaron Judge
3. SS Didi Gregorius
4. LF Giancarlo Stanton
5. DH Gary Sanchez
6. 1B Tyler Austin
7. 3B Miguel Andujar
8. 2B Gleyber Torres
9. C Austin Romine
RHP Luis Severino
Toronto Blue Jays
1. RF Curtis Granderson
2. LF Teoscar Hernandez
3. 1B Justin Smoak
4. 3B Yangervis Solarte
5. C Russell Martin
6. DH Kendrys Morales
7. CF Kevin Pillar
8. 2B Devon Travis
9. SS Lourdes Gurriel Jr.
LHP Jaime Garcia
It is a wonderful day for baseball in the Bronx. Nice and sunny with a slight breeze. A little chilly, but that's better than freezing cold. This afternoon's game will begin at 1:05pm ET, and you can watch on YES locally and MLB Network out of market. Happy Gleyber Day, everyone. Enjoy the game.
Roster Moves: As expected, Tyler Wade was optioned to Triple-A Scranton to clear a spot for Gleyber. Wade will play everyday for the RailRiders (duh). Torres was already on the 40-man roster, so no other move was required … Also, the Yankees have called up righty David Hale to serve as a long man. He'd been starting in Triple-A and is stretched out to 90-ish pitches, so he's available for super long relief, which I hope is not needed. Jace Peterson was designated for assignment to clear 25-man and 40-man roster space for Hale. The Yankees are now carrying eight relievers and three bench players.
Injury Updates: Brandon Drury (migraines) has been diagnosed with irritation in a tendon running up his neck and into his head, which is causing his headaches and blurred vision. Doctors have developed a treatment plan. Drury is taking batting practice and fielding grounders and all that in the meantime, though his return is not imminent. He'll need a minor league rehab assignment first … Greg Bird (ankle) feels good and is expected to increase his hitting and running workloads this week. He's still looking at a return at some point in mid-to-late May.