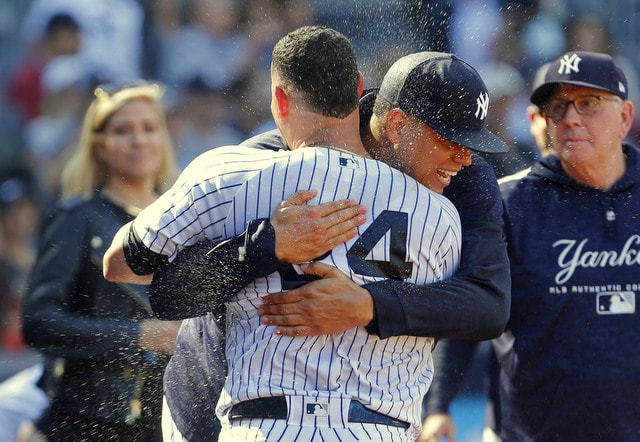 The Yankees just completed a very successful 8-2 homestand and now they're out on the road for three games against the Angels and four games against the Astros. Very possible they will see those two teams in the postseason, though let's not get ahead of ourselves here. Still lots of regular season to go. The Yankees are kicking butt right now and they come into tonight's series opener against the Halos riding a six-game winning streak.
The good news: Luis Severino is the mound tonight! He's pretty awesome. The bad news: The Yankees have a 24-man roster. Tyler Austin will begin serving his four-game suspension tonight, and because the Yankees are carrying eight relievers, they currently have a two-man bench. Not ideal, but what can you do? Austin (and Brandon Drury) will be back soon enough. Here are tonight's starting lineups:
New York Yankees
1. CF Aaron Hicks
2. RF Aaron Judge
3. SS Didi Gregorius
4. LF Giancarlo Stanton
5. C Gary Sanchez
6. 1B Neil Walker
7. DH Miguel Andujar
8. 2B Gleyber Torres
9. 3B Ronald Torreyes
RHP Luis Severino
Los Angeles Angels
1. 2B Ian Kinsler
2. CF Mike Trout
3. LF Justin Upton
4. 1B Albert Pujols
5. DH Shohei Ohtani
6. SS Andrelton Simmons
7. 3B Zack Cozart
8. RF Kole Calhoun
9. C Martin Maldonado
LHP Andrew Heaney
As always, the weather is pretty much perfect in Anaheim. Best weather for the Yankees so far this season. Tonight's game will begin at 10:07pm ET and you can watch on YES. Enjoy the game.
Injury Updates: Drury (migraines) played in his second rehab game with Triple-A Scranton tonight and Aaron Boone said there is "no hard set plan" for his return. They're essentially monitoring him day-by-day. He could return during the road trip though … Greg Bird (ankle) and Billy McKinney (shoulder) both traveled to Tampa today to continue their rehab while the Yankees are on the road … Jacoby Ellsbury (oblique, hip, foot) has started light baseball activities but is "probably still a ways off," according to Boone … Brett Gardner is fine. Just an off-day against a lefty.
Roster Note: So long, David Hale. He was claimed off waivers by the Twins, the Yankees announced yesterday. He made one appearance in pinstripes, throwing two scoreless innings in a blowout win earlier this week. Hale was designated for assignment after that game to clear a roster spot for A.J. Cole. Don't be surprised if the Yankees make a minor move to add a depth arm at some point, just to make sure Triple-A Scranton has enough pitching and the actual prospects don't get overworked.