Ten questions in this week's mailbag. Send any and all questions to RABmailbag (at) gmail (dot) com and I'll answer as many as I can each week.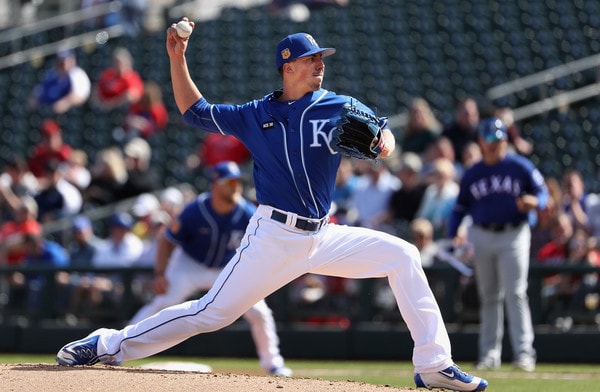 Andrew asks: Just saw KC DFA'ed Kyle Zimmer. Worth a shot for the last spot on the 40 man?
I think so, but this is one of those situations where I wouldn't blame the Yankees (or any team) for passing. Zimmer is so very talented. He just can't stay healthy. We're not talking about minor nagging injuries either. He's had serious arm problems. Zimmer threw a career high 108.1 innings in 2013 and was a consensus top 30 prospect in baseball at the time. Here's what happened from 2014-17:
2014: 14.1 innings (biceps and lat)
2015: 64 innings (labrum and rotator cuff surgery)
2016: 5.2 innings (Thoracic Outlet Syndrome surgery)
2017: 36.2 innings (shoulder soreness)
The 26-year-old Zimmer also missed time earlier in his career with hamstring problems and surgery to remove bone chips from his elbow. He made one appearance in Spring Training before being shut down with what the Royals called arm fatigue. They designated Zimmer for assignment at the end of camp to clear 40-man roster spot for someone else, and Maria Torres says they hope to retain him as a non-40-man player.
This is Zimmer's final minor league option year, so if a team claims him on waivers, they can stash him in the minors and see what happens. In their 2018 Prospect Handbook, Baseball America ranked Zimmer as Kansas City's 30th best prospect, and they might have the weakest system in baseball. Here's a snippet of their scouting report:
His fastball velocity was down earlier in the (2017) season, but later it was back up to 94-97 mph. When right, his fastball has natural sinking action, and he gets good bite and 12-6 movement on a 77 mph curveball that grades as plus. But Zimmer's stuff generally hasn't been the same, and his consistency and ability to bounce back from appearances remains a big question.
Back in the day Zimmer had nasty, nasty stuff. Mid-to-upper-90s gas, knee-buckling curveball, and a quality slider and changeup as well. The injuries have taken some of that nastiness away. It's a shame. Zimmer, the fifth overall pick in 2012 and older brother of Indians center fielder Bradley Zimmer, had a chance to be special.
The Yankees do have an open 40-man roster spot after losing Trayce Thompson yesterday, so roster space isn't an issue. Like I said earlier though, I wouldn't blame the Yankees or any other team for passing. The injury history is ugly and the stuff isn't what it was a few years ago. There's more name value here than on-field value.
Jacob asks: What do you think is up with Sevy's near nonexistent use of his changeup so far? I understand not needing to use it much in starts where hitters can't touch the fastball/slider, but it would be a bad situation if he lost the feel for his change against better offenses when he'll need it.
Luis Severino averaged 14.5 changeups per start last year (13.3% of pitches thrown) and so far this year he's thrown 13 total changeups in two starts (7.1%). I think part of it is the opposing lineups. The Blue Jays only had three left-handed batters in the lineup on Opening Day and the Rays had four in the lineup the other day, but guys like Joey Wendle and Mallex Smith aren't going to make a pitcher work hard for outs, you know?
It's worth noting Severino didn't hit his stride with changeup until midseason last year. He had several starts with only six or seven changeups thrown early in the season. Severino threw 9.0% changeups in April and 9.6% changeups in May. It wasn't until June that he got until into the 12%+ range.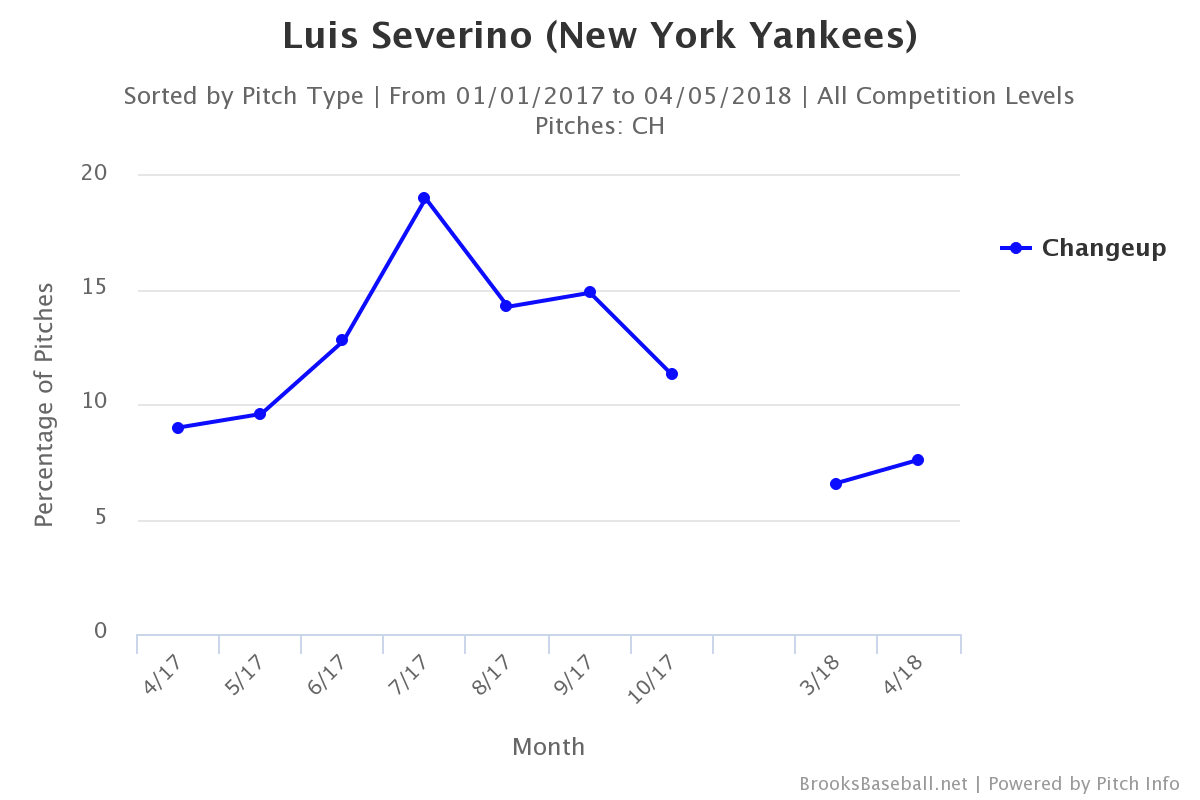 I don't really have an answer here. I agree Severino will need his changeup against better offenses, and it is a feel pitch, so if he doesn't throw it regularly, he might need some time to get it back. It's also two starts against crummy lineups that couldn't handle the fastball and slider. Getting outs is the priority over maintaining feel for the changeup, I think. This is a #thingtowatch. My guess is this is just some early sample size noise and we'll see more changeups from Severino as the season progresses.
Michael asks: When a player signs a one year contract, is it a season, or a calendar year? I assume the teams pay the player over a 12-month period, but is the player obligated to the team in any other way during the off season until a new deal is signed? Thanks. Love the site.
Players get paid during the regular season only. Not during Spring Training or the postseason. During the 186-day regular season only. I know CC Sabathia had it written into his original contract with the Yankees that he get paid year round rather than only during the regular season, but I don't know of any other players who've done that.
When players sign a one-year contract, they sign for one Championship Season, which the Collective Bargaining Agreement defines as the regular season plus Spring Training and postseason duties. Once the World Series is over, the player has no obligation to the team. Technically they have no obligation before Spring Training either, though many agree to do winter caravan events or whatever. One-year contracts are a mid-February to early-November contract. They don't cover a full calendar year.
Steve asks: Why do you think Judge and Sanchez have such a pronounced reverse platoon splits? They both have career numbers that are devastating against RHP and good not great numbers facing LHP.
I think this is small sample size noise more than anything. Here are their career splits going into last night's game:
| | PA | AVG/OBP/SLG | wRC+ | HR | BB% | K% | xwOBA |
| --- | --- | --- | --- | --- | --- | --- | --- |
| Judge vs. RHP | 622 | .285/.399/.620 | 166 | 49 | 15.6% | 32.0% | .426 |
| Judge vs. LHP | 178 | .214/.421/.450 | 136 | 8 | 25.3% | 33.1% | .418 |
| | PA | AVG/OBP/SLG | wRC+ | HR | BB% | K% | xwOBA |
| Sanchez vs. RHP | 588 | .289/.350/.558 | 139 | 39 | 7.0% | 22.4% | .375 |
| Sanchez vs. LHP | 191 | .240/.330/.551 | 130 | 15 | 12.0% | 26.7% | .396 |
Aaron Judge and Gary Sanchez are both very good hitters against left-handed pitchers. It just so happens they've been even better against right-handed pitchers so far in their relatively brief big league careers.
Expected wOBA, which is based on exit velocity and launch angle and things like that, suggests Judge and Gary have hit lefties pretty hard. Neither guy is at 200 career plate appearances against lefties and they're both closing in on 200 career games. Give it some more time. Their splits will even out. I don't see any reason to believe either guy will have long-term reverse splits.
Mark asks: Isn't it time for Yankees management to publicly tell their fielders that they do not need to crash into walls or the stands in order to earn their "TrueYankee" status? In just a little over a year, we've seen Jacoby Ellsbury, Clint Frazier, Dustin Fowler, Aaron Judge and now Billy McKinney suffer injuries due to overly aggressive defensive attempts. A regular season out just isn't worth the potential for weeks on the DL or, as was the case with Judge, weeks of performance-sapping pain. Thanks for all the great work you do.
Wednesday afternoon Judge pulled up and played a ball off the wall rather than attempt a leaping catch that would've sent him plowing into the wall and I was very happy to see that, especially after the shoulder woes. Fowler's injury was a bit fluky because he didn't hit the wall that hard, he just hit it in the wrong spot, at that electrical box. But the point stands. The Yankees have had a lot of outfielders suffer wall-related injuries since Opening Day last year. It's getting annoying.
Teams will tell you they don't want to take away a player's aggressiveness. Asking a player to go against his instincts could lead to trouble. What if an outfielder races to make a catch, stops to avoid the wall, and tweaks his knee? I do think there's a happy medium somewhere. Tell the outfielders to avoid crashing into the wall in lopsided games, like Judge the other day, or in Spring Training. I don't think you can give a blanket Bobby Abreu style "don't crash into the wall" edict. You want your players playing hard! But you want them playing smart too.
Peter asks: Does a manager have to go out to the mound to change pitchers? In an effort to save mound visits, could Boone just order the active pitcher off the mound via signal and have the new pitcher run in from the bullpen via telephone?
Pitching changes don't count as mound visits. Only visits to talk things over with the pitcher count against the limit. Including pitching changes in the mount visit limit would be pretty silly. The rule would essentially limit teams to six pitching changes per game, which is a lot, but sometimes you need more. And each pitching change would eliminate the possibility of a mound conference to talk things over. Yes, the manager (or a coach) has to go to the mound to change pitchers. These pitching change visits do not count against each team's mound visit limit.
Isaac asks: In your recent article where you discussed the Yankees ability to pull off a potential blockbuster at the deadline, you mainly mentioned pitching as a target. Do you think the Yankees would be able to pull off a blockbuster for Byron Buxton if the Twins start to tank? If not, during the offseason? Buxton is an elite defensive CF and controllable for a few years, even if his bat is very inconsistent. Thanks.
That would be amazing. I see no way this happens. The Twins aren't going to tank. They have a lot of young talent and they spent some money in free agency to upgrade their roster. I expect them to be in the postseason race all year. Squinting my eyes, I could see that team winning 90 games this season. I really could.
Now, even if the Twins do tank, as unlikely as it may be, Buxton would presumably be untouchable. He's the guy they'd want to build around. He's only 24, he's under control through 2021, he started to figure out how to hit last year (.300/.347/.546 for a 130 wRC+ in the second half), and he is absolutely unreal in center field. Teams tank to get young players like Buxton.
The defense alone makes Buxton a +3 WAR player. If he's truly figured out how to hit, he's a superstar. The Yankees do need a long-term center fielder — Aaron Hicks will be a free agent after next season and who knows whether Estevan Florial will work out — and Buxton would be as good a trade target as anyone in the game. The Twins wouldn't be wrong to ask for Gleyber Torres and more. Never say never, but I just don't see them making Buxton available.
Gai asks: What do you think Ohtani has to do as both a hitter and pitcher combined to be worthy of MVP? I'm not talking him having a Cy Young season that rivals guys like Sale, but a combination of above-average hitting and pitching to achieve an MVP-type season in total. Something like 2-3 WAR as a hitter and 4-5 WAR as a pitcher for a total of 6-7 WAR? I don't know, just spitballing. Thoughts?
With any luck, Shohei Ohtani's greatest accomplishment will be proving once and for all that Spring Training doesn't mean a damn thing. Ohtani didn't look good during Cactus League play, either at the plate or on the mound, then he went out firing 98 mph gas with a razor blade slider and a wipeout splitter in his first start, and taking Corey Kluber deep to the opposite field in his third DH start.
I think Ohtani is going to be lights out on the mound. The stuff is so good. I'm a little more skeptical about his ability to hit, mostly because he did swing-and-miss a lot in Japan (27.9 K% from 2015-17) and he's going to see more high-end velocity here, but man I hope he makes it work. He's so fun. Too bad he didn't even listen to the Yankees' pitch. His loss.
Anyway, getting to +2 WAR or +3 WAR as a DH is going to be real tough. Edwin Encarnacion hit .258/.377/.504 (132 wRC+) with 38 homers last year and only got to +2.5 WAR. It seems like the plan right now is to give Ohtani two DH games between starts — the Angels have a six-man rotation and he rests the day after a start and the two days before a start — so that's what, maybe 60-65 DH games during the season? He might not get to 300 plate appearances.
Here's the thing though: MVP is, to some degree, a narrative award. The guy with the best stats doesn't always win (example: Jose Altuve over Judge last year). If Ohtani is a top 30-ish pitcher who socks 15-20 dingers as a part-time DH, and the Angels stay in the postseason hunt all year, he's going to get a lot of MVP love I think. Dan Szymborski ran some projections before the season and the numbers were on par with Jacob deGrom on the mound and Evan Gattis at the plate. If he does that, he'll be a serious MVP candidate.
Adam asks: I asked during the open chat last Friday how you felt about Boone using Chapman with a 5 run lead on opening day. You were fine with it, which at the time I agreed with. Here were are again, with a 5 run lead going into the 9th and Chappy's coming in. If we're going to use Chapman in more than just save situations, I'd prefer the other side of the equation, bringing him in when we're down a run.
This question was sent in Wednesday, after Aroldis Chapman tossed a perfect ninth in the 7-2 win over the Rays. Chapman pitched Opening Day with a five-run lead because he was already warmed up when it was a four-run lead. Giancarlo Stanton then hit a homer to make it a five-run lead. Chapman was warm and he hadn't pitched since the exhibition game at SunTrust Park on Monday, so might as well use him.
On Wednesday, Chapman pitched with a five-run lead because he needed work. He hadn't pitched since Friday. Going more than four days between appearances is when you start to push it with Chapman, who's really good, but can see his command come and go. This isn't a video game where you can leave someone in the bullpen for a week, then bring him into a game and have him be effective every time. Chapman needed work Wednesday, so he pitched. That's all it is. It's not ideal, but neither is bringing a rusty closer into a close game.
Tamir asks: If you had to switch every Yankee starters position how would you most efficiently play them? Rules: 1) Outfielders cannot play the other outfield positions. 2) You are allowed to use the DH to your advantage. 3) The players must play positions they rarely/have never played.
Fun! And not as easy as I thought. I'd go with this defensive alignment:
Catcher: Brandon Drury (seems like someone who'd embrace the challenge)
First Base: Brett Gardner (lefty thrower can't play other infield spots)
Second Base: Giancarlo Stanton (process of elimination)
Shortstop: Aaron Hicks (best athlete among the outfielders)
Third Base: Aaron Judge (feels like he has the quick twitch athleticism for third)
Left Field: Gary Sanchez (hiding the slow-footed catcher)
Center Field: Didi Gregorius (seems like a natural fit, no?)
Right Field: Neil Walker (process of elimination)
Designated Hitter: Tyler Wade (plays everywhere, so not really eligible for other positions)
For all intents and purposes, the rules say you have to play infielders in the outfield and outfielders in the infield. The Yankees only have one left-handed throwing outfielder (Gardner), which makes things easy. Having to move lefty throwers to third or short (or behind the plate!) would be suboptimal. Judge and Stanton on the infield would be a sight. Reaching down to field grounder after grounder when you're 6-foot-7 doesn't seem fun.